Charity pursuits and coastal happenings in Newport Beach
By Newport Beach Magazine Staff
Breath of Life Gala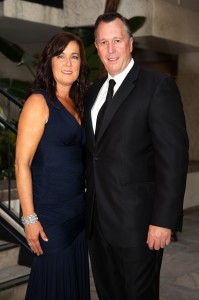 More than 425 guests helped children and adults afflicted with cystic fibrosis breathe a little easier at the Cystic Fibrosis Guild's 31st annual gala, held May 31 at the Newport Beach Marriott Hotel and Spa. Raising more than $624,000 for cystic fibrosis research and care, guests bid on  10 live auction items, including two autographed Katy Perry guitars and a weekend use of a sports car from Ferrari Newport Beach, as well as silent auction packages that included curated collections of favorite products by adults and children living with the disease. After sampling fine wine and hors d'oeuvres, guests entered the ballroom for a three-course gourmet dinner and heartwarming presentations by guild members. Additionally, those whose lives were touched by cystic fibrosis shared powerful stories, including the Stremick family, who pledged to match $100,000 in bids. Following dessert and closing remarks, guests made their way onto the dance floor as local band The Droppers took the stage. —A.T.
Life Without Limits Gala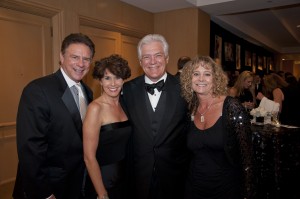 On the evening of May 9, United Cerebral Palsy of Orange County (UCP-OC) honored Dr. Michael Muhonen, Dennis Kuhl and Edwards Lifesciences during its annual Life Without Limits Gala, which raised $437,000 for the organization to provide treatment and services to children with cerebral palsy, Down syndrome, autism and developmental delays. The event, held at the Island Hotel, began with a cocktail hour and silent auction featuring items such as courtside Lakers tickets and trips to wine country. After guests enjoyed passed hors d'oeuvres and photo booth snapshots, they were escorted into the dining hall where the first courses of dinner were served during an exciting live auction. Attendees raised their paddles to bid on items such as a Pelican Hill golf and spa day for eight, a ride on the Goodyear Blimp for two and a pitching lesson with Angels baseball legend Chuck Finley. The evening's presentations concluded with musical performances and touching speeches by several of Michael's patients. A live band took the stage later in the evening and guests spent the night dancing away and celebrating the organization's achievements. —B.B.
Newport Beach Wine Festival Grand Tasting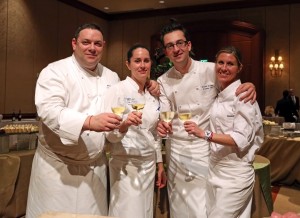 Some of the nation's top wineries gathered at Balboa Bay Resort over Memorial Day weekend for a celebration of world-class food and wine. The weekend included a packed schedule of educational seminars, pairings and more. On May 24, the Grand Tasting took place in the main ballroom, bringing together nearly 100 wineries, including Sanford, Flor de Campo, Francis Ford Coppola, OneHope, Ferrari-Carano and many others. Knowledgeable representatives from each of the wineries were on hand to offer tasting notes and share information about the vineyards. Meanwhile, the resort's culinary team—including Executive Chef Vincent Lesage and Chef de Cuisine Rachel Haggstrom—prepared a savory menu of small bites with a diverse array of flavors, ranging from beef sliders and freshly carved meats to sushi, charcuterie and petite desserts. Live music played throughout the evening's festivities, which served as the showcase event for the 2014 wine festival. —A.H.
Arts & Business Leadership Awards Dinner
A brand-new event for Segerstrom Center for the Arts, the inaugural Arts & Business Leadership Awards Dinner brought together 240 individuals on July 10 to honor two local business leaders for their commitment to the arts. Mark Perry presented John Evans and Wells Fargo with the Distinguished Leader Award; John is now retired, but during his time as the regional managing director of Wells Fargo, he helped guide the bank's philanthropy efforts in support of Segerstrom Center, Pacific Symphony and Orange County Museum of Art, among others. Lisa Vogel, co-president of Raj Manufacturing, received the Rising Leader Award for service as a Segerstrom Center Angel of the Arts. The 1960s-themed evening, which featured an outdoor cocktail reception and a three-course dinner, concluded with a performance of "Jersey Boys" in the main theater, followed by an exclusive cast party. The sold-out crowd helped raise $250,000 for Segerstrom Center's education and community engagement initiatives. —A.H.
Wine & Dine Benefit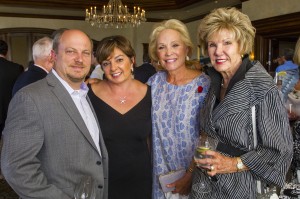 Laura's House, which provides shelter and assistance to victims of domestic violence, received an outpouring of support at its third annual Wine & Dine Benefit at Big Canyon Country Club on May 30. More than $20,000 was raised at the event to help fund the nonprofit's programs and services in Orange County and beyond. More than 130 people attended the event, which included wine tastings, a blind tasting contest, gourmet dishes, live music and a silent auction. A woman who received help from Laura's House also shared the inspiring story of how she escaped an abusive relationship in Texas and found refuge at the nonprofit's south Orange County shelter. Margaret, whose last name was withheld for her protection, said she was trying to escape her controlling husband but was turned away from other shelters because she was blind. "I don't know what I would have done without [Laura's House]," she told attendees. Celebrating its 20th anniversary this year, the organization has aided more than 4,000 battered women and children, in addition to providing counseling, life skills and prevention education, and legal assistance to more than 45,000 people in the past two decades. —S.S.
Summer Fun at Gatehouse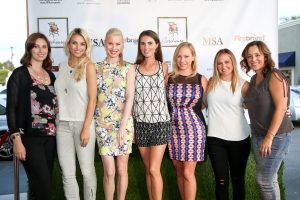 Firebrand Media and Costa Mesa's Gatehouse celebrated the start of summer on June 26 with a special evening of cocktails, hors d'oeuvres and shopping; 10 percent of all sales from the home decor shop were donated to the Newport Beach-based John Wayne Cancer Foundation. The step and repeat from Mark Scott Associates Landscape Architecture and Southwest Greens provided a Southern California-inspired backdrop for guests as they entered via a red carpet. Guest sipped a selection of Anne's Boutique Wines and a fruit-filled signature cocktail from No. 209 Gin while enjoying Mexican cuisine from Avila's El Ranchito. Throughout the evening, models showcased fashions and jewelry by Z Collection and Jewels by Joseph. Before the end of the event, a few lucky winners received raffle items that included bracelets from Jewels by Joseph, ottomans from Lee Industries, and gift certificates to Z Collection and Spade Skin Care. —L.D.