Brush Off Contest
Aug. 4; Marine Avenue, Balboa Island
From 4 to 6 p.m. the weeklong Just Plein Fun event organized by the Debra Huse Gallery will culminate with a good, old-fashioned paint-off. Participating artists will compete to complete a plein-air painting in just two hours that successful captures Balboa Island's essence. The paintings will be on display and awards given starting at 6:30 p.m. at the Debra Huse Gallery. (949-723-6171; debrahusegallery.com)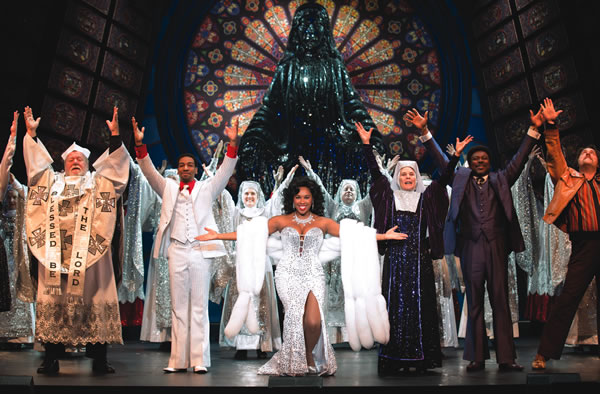 "Sister Act"
Aug. 6 – 18; Segerstrom Center, Costa Mesa
Sometimes life takes the reigns and leaves people in unlikely situations; such is the life of the crime-witnessing protagonist in "Sister Act" who finds herself living in a convent. Now see the action play out for yourself in a Broadway version of the movie Whoopi Goldberg made famous in the early 1990s. (714-556-2121; scfta.org)
"Annie"
Aug. 10 – 11, 17 – 18; Julianne Argyros Stage at the Segerstrom Center, Costa Mesa
The Segerstrom Center welcomes its Summer Players program participants—students grades five to 12—to the stage to perform the iconic and timeless tale of a young redhead named Little Orphan Annie. (714-556-2121; scfta.org)
Pixar in Concert with the Pacific Symphony 
Aug. 17; Irvine Amphitheater, Irvine
Come out for an evening of fun for the whole family as the Pacific Symphony brings favorite Pixar moments to life in Irvine for one night only. This is the first ever Pixar-inspired concert of its kind; it features music from 13 memorable films, such as "Toy Story," "Wall-E" and "Up" and will be performed by symphonies nationwide. (714-755-5788; pacificsymphony.org)
Wavelength Festival of Music
Aug. 22 – 25; Pacific Amphitheatre, Costa Mesa
Post-Orange County Fair blues need not last long; the Pacific Symphony will light up the Pacific Amphitheatre stage with its take on mixing contemporary with classical sounds. The symphony will playing alongside Bonnie Raitt, Delta Spirit and The Airborne Toxic Event, while the final night will feature the entire "Dark Side of the Moon" album by Pink Floyd.  (714-755-5788; wavelengthfestival.org)
Begonia Show
Sept. 7 – 8; Sherman Library & Gardens, 
Newport Beach 
Begonias are one of the most diverse flowers with close to 1,500 species, and Sherman Library & Gardens is offering a one-stop shop to view the perennials. A large variety will be on display and for sale at the Begonia Show, which is hosted by the American Begonia Society. (949-673-2261; slgardens.org)
Conrad Tao Plays Rach 3
Sept. 25 – 28; Segerstrom Concert Hall,
Costa Mesa
Conrad Tao is not your typical 18-year-old; he grazed the Forbes "30 under 30" list in 2011 for his mastery of the piano. Now back by popular demand, the young phenomenon will take the stage to perform Rachmaninoff's Piano Concerto No. 3. (714-556-2121; scfta.org)
Orange County's Children's Book Festival
Sept. 29; Orange Coast College, Costa Mesa
The 10th Annual Children's Book Festival hopes to build upon last year's 35,000 attending participants, including more than 150 authors, to spread the joy of children's literature. The festival features various author and illustrator presentations, book signings and children's activities such as face painting, animal petting and train rides. (kidsbookfestival.com)
"Ex-pose: Beatriz da Costa"
Through Sept. 29; Laguna Art Museum,
Laguna Beach
The fourth show of the museum's "Ex-pose" series brings late artist Beatriz da Costa's work, which consists of a video installation and an interactive collection, "Anti-Cancer Survival Kit," meant for those living with cancer as well as their loved ones. (lagunaartmuseum.org)

Summer Night Concerts
Jazz up your summer with the Hyatt Regency Newport Beach's 2013 summer concert series featuring a lineup packed with skilled jazz, rock and jazz-rock hybrid musicians. The series will undoubtedly have guests at the Back Bay Amphitheater, located on the Hyatt property, swaying to the mellow harmonies every Friday night until Oct. 18.
Food and beverages will also be available for purchase throughout each installment. The concerts come as a celebration just a few short months after a $15 million hotel renovation was completed to include new amenities for guests, such as the Shor American Seafood Grill.
Although artists for several nights are still to be determined, the following is a look into the lineup guaranteed to make those summer evenings a little livelier: Aug. 2: Chris Isaak; Aug. 16: Boney James; Sept. 6: Jeffrey Osborne; Sept. 13: BWB: Rick Braun, Kirk Whalum and Norman Brown; Oct. 4: Jesse Cook and Euge Groove; Oct. 11: Keiko Matsui and Hiroshima. (949-360-7800; series.hyattconcerts.com)