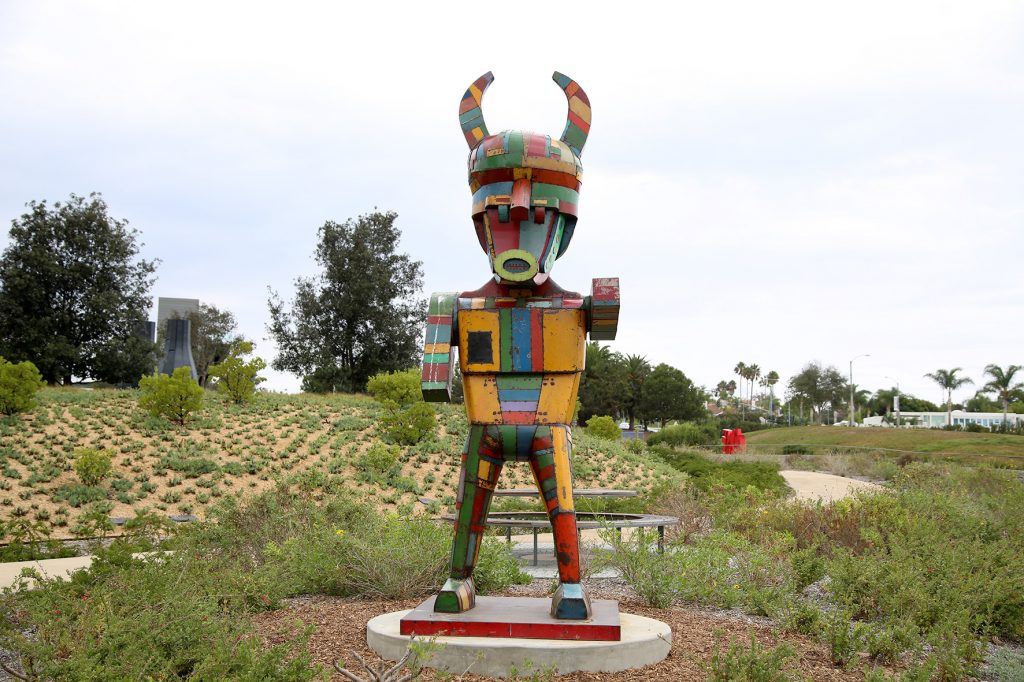 Ten eye-catching new sculptures in the Newport Beach Civic Center and Park allow visitors to enjoy the open-air space in an entirely new way.
Section by Bria Balliet | Photos by Jody Tiongco
The larger-than-life stone rabbits that decorate the lawn of the Newport Beach Civic Center and Park as landscape fixtures now have some artistic company: a trio of bright green origami bear cubs, a blue dog made of steel and a tribal-inspired found metal figure, just to name a few of the eclectic sculptures that arrived this September. Part of the park's first major art installation since its opening in April 2013, these pieces, along with seven others, bring a touch of whimsy and lots of creative ambience to an already beautiful space.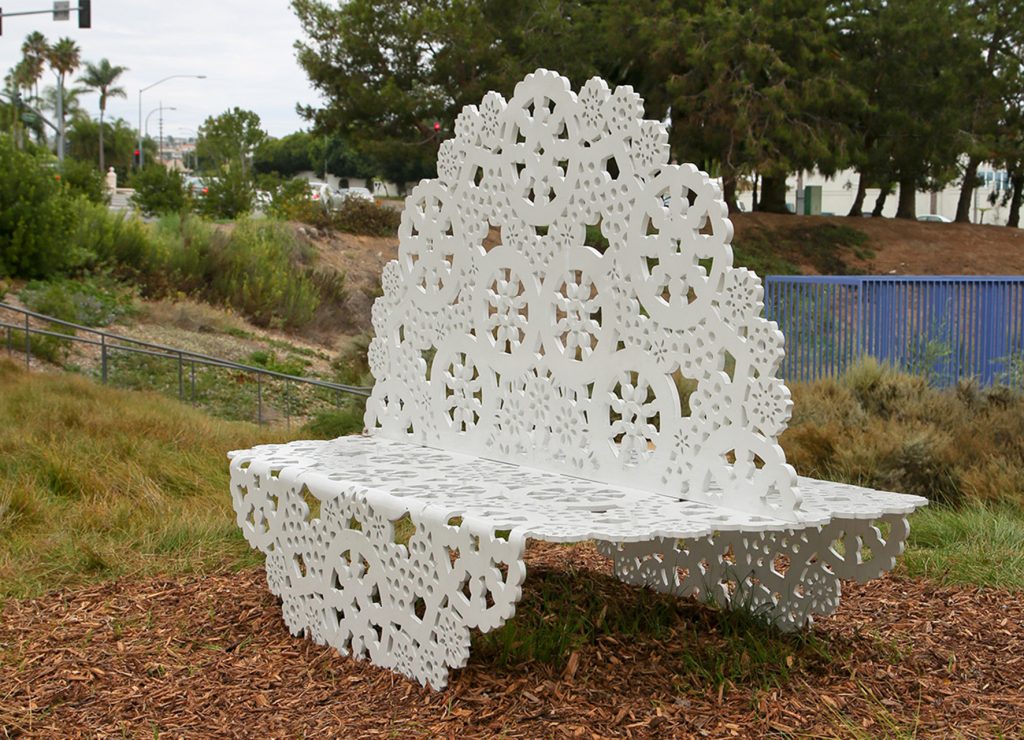 The sculptures, which are strategically scattered around the green, were handpicked by the Newport Beach Arts Commission and sourced from artists across the country. Though the quirky collection is new, the commission always intended to fashion an artistic enclave in the Civic Center space, according to Robert Smith, a member of the Newport Beach Arts Commission.
"When the Civic Center was built, Peter Walker, who is the landscape architect, … had developed a master plan for sculpture in the park," says Robert, who is also chair of the Sculpture Exhibition Committee. "[This plan] … called out for about 40 different locations where you could put sculpture."
With a shared goal of beautifying the space, an expert jury panel—which included Robert; OCMA Chief Curator Dan Cameron; city arts commissioners Rita Goldberg and Charles W. Ware Jr.; arts conservator Christina Varvi; and Chapman University professor emeritus and artist Richard Turner—embarked on the challenging task of gathering nominations and narrowing down the list to 10 finalists.
"What we were trying to do was make sure we had the benefit of arts professionals," Robert explains of the panel's role in the selection process. "[They] looked at the pieces and made sure they would hold up in the environment we put them in, and that they were of high [enough] quality for what we were doing."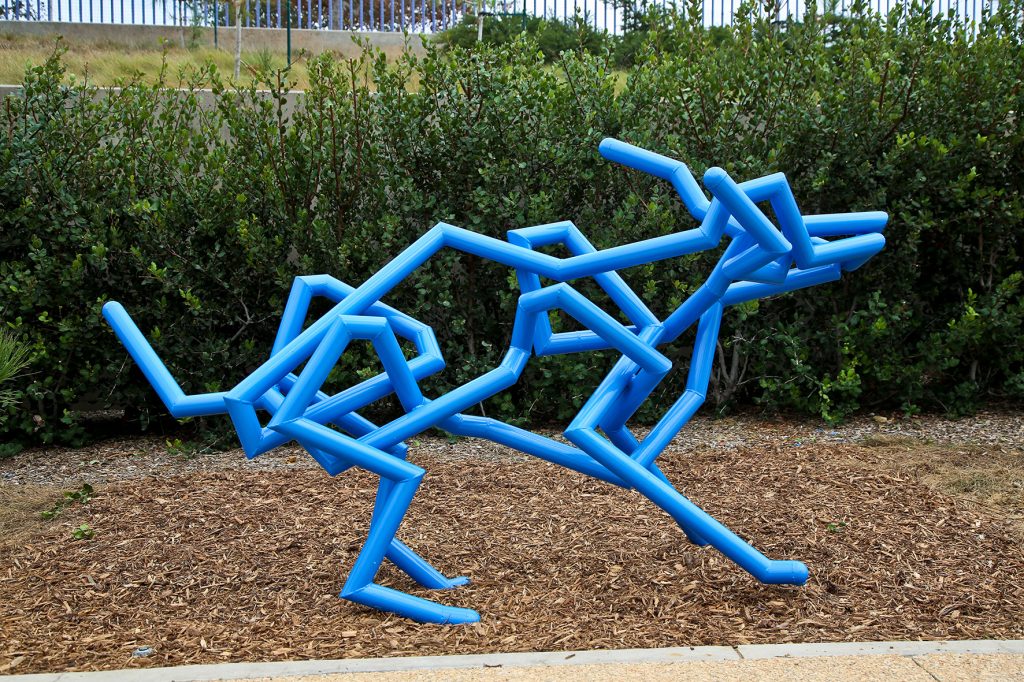 Since the Civic Center plans were designed to draw people to the park and make their time spent there more enjoyable, it was important to the committee that each piece was carefully selected to resonate with visitors. And despite the volume of submissions—260 individual works by 171 different artists—the undertaking proved to be surprisingly easy, Robert says. Once they unanimously agreed on five pieces, the panel members chose the remaining five within an hour, in addition to mapping out specific placements shortly thereafter.
The result of their efforts is a collection that showcases a range of styles to please a discriminating audience. For example, Brandi, Curt Brill's 5-foot-tall bronze sculpture, depicts a distorted, slouching female figure that's reminiscent of a whimsical Tim Burton creation, while Jonathan Prince's Red, fashioned from Zimbabwe black granite, takes on an abstract, circular shape. The tribal-inspired Pretty Boy by David Buckingham is juxtaposed with Ray Katz's 22-foot-high Odyssey, which calls to mind images of a futuristic alien spaceship.
Despite their differences in medium, aesthetic and background, all of the participating artists were excited to display their art in Newport Beach for similar reasons: the open-mindedness of the residents and, of course, the stunning location.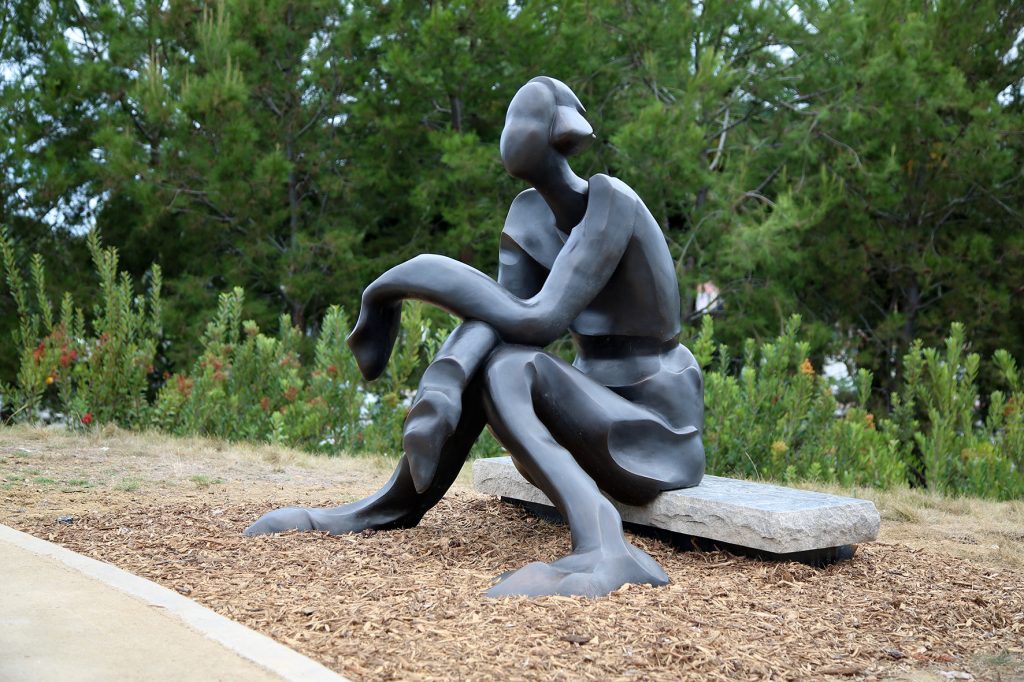 "Sharing my art with a receptive community is a very important part of the creative process," Curt says. "Having a place like Newport Beach to share the work is a wonderful way of communicating visually in an outdoor setting with a receptive community."
Likewise, artist Arny Nadler—whose painted steel work, Wintering, is part of the collection—is excited for his first California exhibition.
"I'm thrilled to have this opportunity to share my work with a new audience," he shares. "Newport Beach seems like an ideal location to experience outdoor sculpture."
On display through September 2016, the 10 works in this inaugural installation are paving the way for future art to arrive at the Newport Beach Civic Center—beginning with 10 more sculptures that have already been budgeted for next year.
"The park is a real treasure," Robert says. "We're hoping that the sculpture will just add another dimension."
Calendar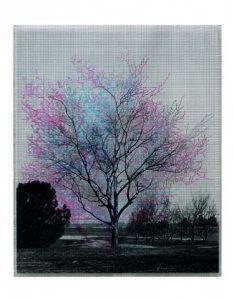 "The Avant-Garde Collection"
Through Jan. 4, 2015;
Orange County Museum of Art
Featuring works that span five decades, "The Avant-Garde Collection" highlights works from OCMA's own collections that illustrate how the definition of avant-garde changed with time, as well as how certain artists managed to stay ahead of the curve. (949-759-1122; ocma.net)
Art in the Park
Oct. 11; Civic Center
Presented by the Newport Beach Arts Foundation, the 11th annual Art in the Park event offers a free opportunity for visitors to mingle with artists and art lovers, purchase works of art and sample bites from local eateries during the daylong fair. (newportbeachartinthepark.com)
"Sentient Forms"
Oct. 12 – Jan. 25, 2015; Laguna Art Museum
Intricately carved marble sculptures, sketches and paintings from Elizabeth Turk are on display in this mixed media solo exhibition, which features both new and previous works in the museum's main gallery. (949-494-8971; lagunaartmuseum.org)
"Zealot"
Oct. 17 – Nov. 16; South Coast Repertory, Costa Mesa
A world premiere production, Theresa Rebeck's enthralling tale follows a diplomatic tea that turns into a devastating event. As the British consul serves the American undersecretary of state during a meeting in Saudi Arabia, a group of women protesters set a carefully established plan into motion that leads to an unprecedented battle of wills. (714-708-5555; scr.org)
"China's Lost Civilization: The Mystery of Sanxingdui"
Oct. 19 – March 15, 2015; Bowers Museum, Santa Ana
The latest exhibit to highlight various important artifacts from around the world, "China's Lost Civilization" presents treasures from a 1986 discovery of more than 200 sacrificial sculptures, tools and animal bones dating back to 1200 B.C. The vast collection of items has been deemed the "ninth wonder of the world" and will travel to the Houston Museum of Natural Sciences in 2015. (714-567-3600; bowers.org)
Orange County Arts Awards
Oct. 22; Samueli Theater, Costa Mesa
The annual awards ceremony at Segerstrom Center for the Arts recognizes individuals and groups contributing to the local arts scene; this year's legacy award honorees includes Corona del Mar-based Ed Hardy, along with numerous others. (714-556-5160; artsoc.org)
"Cathedrals of Sound"
Oct. 23-25; Segerstrom Hall,
Costa Mesa
This awe-inspiring evening of music features classical cathedral sounds from the Pacific Symphony, along with the talents of guest organist Paul Jacobs, who will play on the William J. Gillespie Concert organ. The vocals for the evening will be provided by the Norbertine Fathers of St. Michael's Abbey. (714-755-5799; pacificsymphony.org)
Donna Young and Andrea Razzauti
Nov. 7-8; Lahaina Galleries, Fashion Island
Lovers of wine and colorful artwork will feel at home when Lahaina Galleries at Fashion Island hosts artists Donna Young and Andrea Razzauti. Browse the colorful selection of island-inspired work while sipping on vino from Four Lanterns Winery and listening to the sound of soothing jazz. (949-721-9117; lahainagalleries.com)
"Pippin"
Nov. 11-23; Segerstrom Hall, Costa Mesa
The Broadway favorite that first debuted more than 40 years ago is back with a reimagined concept on the Segerstrom stage. Directed by Tony Award-winner Diane Paulus, the musical is revived with lively songs by composer Stephen Schwartz and acrobatics by the circus group Les 7 Doigts de la Main. The production, which is the winner of four 2013 Tony Awards including Best Musical Revival, takes audiences on a daring journey with the titular character as he decides what to make of his life—whether it's to settle for a simple life or choose to be extraordinary despite the risks that come with it. (714-556-2787; scfta.org)
"Boeing Boeing"
Nov. 15 – Dec. 15; Newport Theatre Arts Center
This comedy of errors follows the story of one businessman and his three foreign flight attendant fiancees. All is well until changes in their fight schedules land them in town at the same time—and each woman decides to pay a visit to her soon-to-be husband at his apartment on the same evening. (949-631-0288; ntaconline.com)
"BOOM"
Nov. 29-30; Irvine
Barclay Theater
Written, directed and performed by Rick Miller, this one-man-show chronicles the turbulent journey of the baby boomer generation. From pop culture to politics and everything in between, this performance is nostalgic for those who lived it, educational for those who didn't and entertaining for all. (949-854-4646; thebarclay.org)