design duo behind Davis Ink
Expect the unexpected when the design duo behind Davis Ink revitalizes a living room.- By Somer Flaherty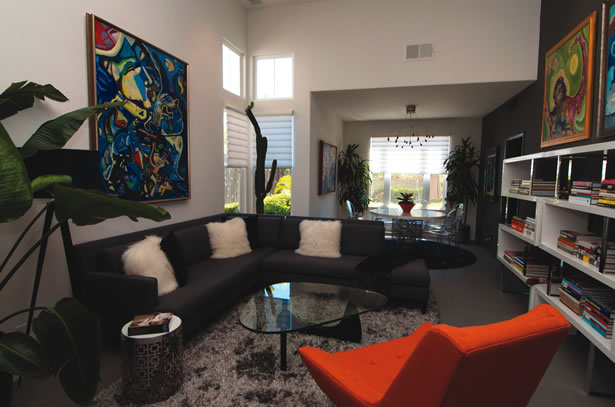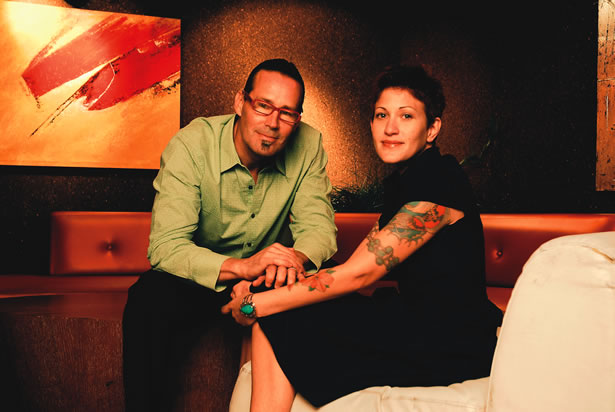 "We are known for approaching design in an open-minded and unconventional way," says Davis Krumins, half of the design duo of Newport Beach-based Davis Ink. His other half is his wife Andrea, and together they've been creating unique spaces for a decade. The pair believes in approaching each project as an opportunity to push boundaries while still adhering to a philosophy that design should be practical as well as aesthetically pleasing. For Davis, interior design is all of the things he loves bundled in one profession—architecture, furniture design and art. He and Andrea bring a background rooted in award-winning nightclub design to an outside-the-box perspective on residential living room design. The key to designing a space, they explain, is to know who will be utilizing it. "Design should be based on the way you live, work and play. There is no one way of doing things," Davis says. "When designing a home, the most important thing is to understand who is living in the space."
NBM: A living room can be a large area to design; what should readers keep in mind when creating the space?
DK: Don't question your decisions that will work as a whole. The first thing completed may often look awkward—you have to avoid second-guessing and it will all fall into place. Look at yourself and the things you like to do and incorporate your personality into the space because it is an extension of who you are.
NBM: What's the one living room item to splurge on?
DK: Lighting! It is the most effective way to manipulate the personality, mood and feeling of an environment. Lighting is also a way of highlighting important features and bringing attention to "wow factor" elements.
NBM: What about a design element that's easy to incorporate on a budget?
DK: Color is the easiest way of making significant change on a limited budget. Art, living green pieces, water features and fire elements can also create a huge impact in a cost-effective way.
NBM: Color choice is very strong in your design; any tips for choosing a color palette?
DK: Color is a personal thing.
For people who want a sexy and romantic environment, we recommend rich neutrals such as grays, charcoals and warm whites. We like to break this up with splashes of moody color—deep reds, blues and maybe some funky purple accents.
We prefer to bring out most of our color through accessories, furniture and art.
NBM: If you're completely re-doing the living room, what should you purchase first?
DK: Furniture first, as this will set the mood for things to come. I prefer to start with seating such as sofas, lounge chairs and ottomans. The first step is to determine what the space is going to be used for—for example, deep low sofas with soft textured fabrics and pillows are excellent for relaxation, reading or intimate conversation.
NBM: What about a living room that is just undergoing a small update?
DK: Paintings, sculptures, water features, vases, mirrors and rugs.
Living Room Look-Book
Discover uncommon touches to put a personal stamp on your space.- By Somer Flaherty
| | |
| --- | --- |
| AVA Mirror, available atZ45 Westcliff Dr.; 949-650-8570; barclaybutera.com). | Como Coffee Table, available at Kreiss (401 Newport Center Dr.; 949-729-9194; kreiss.com). |
| Garbo Chair, available at Pal + Smith (3323 Hyland Ave., Ste. A, Costa Mesa; 888-725-7684; palandsmith.com) | Painted wood floors, available at Warren Christopher (2435 E. Coast Hwy., Ste. 1; 949-645-1406; hardwoodwideplankflooring.com). |
| Hourglass, available at Hermes, South Coast Plaza (3333 Bristol St.; 714-437-1725; hermes.com). | |