Balboa island
With a century's worth of history, Balboa Island continues to attract residents who fall in love with its beachside village charms. – By Jean Hastings Ardell  | Photos by Jody Tiongco
Mention "Balboa Island" to a native Southern Californian, and you often get an outpouring of happy memories about vacationing in one of Newport Beach's best-loved communities. Part of its charm is its history: In the early 1900s, William S. Collins began dredging operations, piling residue on a convenient mud flat. Thus was an island born. (Today there are three islands: Little Island off the east end of the main island and Collins Island off the west end.)
Early entrepreneurs often fell in love with the lots they were selling and became local fixtures. Joseph Allan Beek acquired a contract in 1919 to operate a ferry between the Island and Balboa Peninsula, which his family has run ever since. Connected to the mainland by a two-lane bridge adorned with seasonal decor on its north shore and by the Beeks' ferry on its south shore, Balboa Island remains a waterside village that continues to tug on residents' hearts.
Family Ties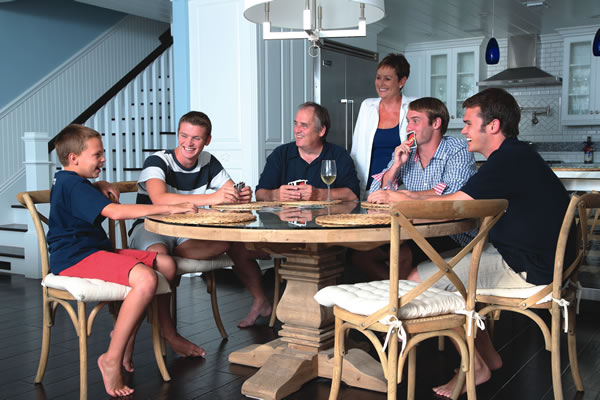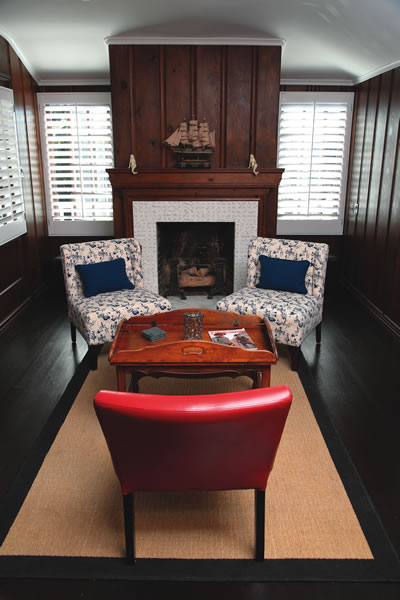 The Simpkins home on Onyx exemplifiesthe feelings residents have for the island. Kelley spent childhood summers here, a tradition that continued after she married. For years, James and Kelley Simpkins and their four children rented here with friends every August. Kelley had always dreamed of owning a home on the Island, though. "It's a great location," she says. "Onyx is one of the streets where the original families from Pasadena settled, and it's still so neighborly." This particular house had a special pedigree. The Buffum family (of Southern California department store fame) had built the house and still owned it. Kelley had always appreciated old homes, and this one was filled with the Buffums' family history and artifacts—antiques, literature, bookcases filled with books on California history, sailing, Catalina Island and magic. She loved it.Only one obstacle stood in the way: The living room was walled off from the kitchen and dining room. The wall was structural, requiring the installation of a steel beam to open up the rooms. Upstairs, Kelley found a wood-paneled den, which immediately suggested a "man cave" for her husband and four sons. Most of the old wooden floors were refurbished, and the kitchens and bathrooms updated—excepting one bath, which kept its original green and yellow painted tile work. Kelley also retained the original balconies, which wrap around three sides of the house upstairs and provide a sense of openness to the bedrooms. Kelley was able to purchase several of the home's antiques, including an armoire, hutch, four-poster bed and side tables. A book dating to the 1800s, given to the Simpkins family by the Buffums, sits in a place of honor in the man cave. Kelley also saved the brass doorknocker, inscribed "Dick Buffum," as a reminder of the past. The Simpkins are thrilled with their updated "old" home. They enjoy it on weekends, holidays and during the summer. Someday, Kelley and James vow, it will become their retirement home.
FAMILY FACTS:James, Kelley, Patrick (24), Brennan (20), Blair (17) and Sean (10) Simpkins, and beagles Surfer Dude and Bailey.
DAY JOBS:James is the president of Meggitt Corporation, a British-owned aerospace manufacturing firm. Kelley is a stay-at-home mom.
SPACE:2,451 square feet, four bedrooms, 3.5 baths, plus a shower-only room.
TIMELINE:Built in 1934, purchased in 2010, remodeled in 2010.
FABULOUS FEATURE:The upstairs wood-paneled man cave
Through the Generations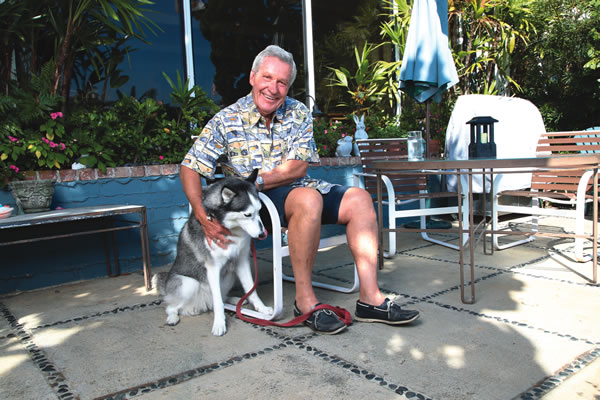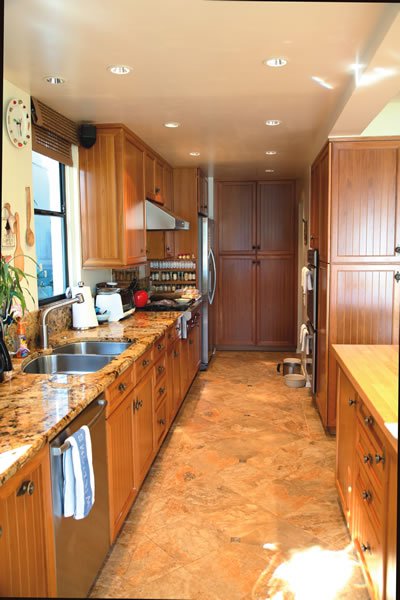 Geof Wickett cannot remember a time when his home on Little Island's East Bayfront was not a part of his life. His grandfather bought the house in 1946 for Geof's parents, for about $22,000. "Grandfather owned the house next door, and he put a door in the side of their house so there was access to my parents' carport. I remember the large parties they gave," Geof recalls. "Most of the parties included people from Fullerton Christian Church, [which] my great-grandfather started, and I remember the many hymns we sang before, during and after dinner." (Geof's great-grandfather was Charles Clark Chapman, the first mayor of Fullerton and a board member of California Christian College of Los Angeles. When the college moved to the city of Orange, the name was eventually changed to Chapman University.)
Built in 1931 as a three-story Spanish pueblo, the home was remodeled in 1950 by Geof's father, an architect, who installed picture windows across the front of the house. Geof, who grew up in Fullerton, spent his summers there and visited during the winter. "I swam and sailed in the Flight of the Snowbirds," he says. "The Snowbird—it's a thing of the past now—was a great little sailboat." (Geof still gets out on the bay these days in his kayak.)
Geof's parents had lived in the house since 1970. After his mother's death in 2007, Geof moved in. He waited for more than a year before making any changes to the house he now shares with roommates Norm Lessard and Brian Barber. "I have approximately 30 different roses on the carport roof," he says. "And through a pop hatch in the ceiling of the second story, you will come into my happy place—my rooftop garden—where I have pots of trees … three avocado, two lemon, one orange, one apple, one peach and one nectarine. … During the summer I grow tomatoes, pineapples, cucumbers and orchids." Geof also uses his produce in his cooking (he renovated the kitchen in 2009).
Continuing the tradition of hospitality, Geof hosts his three grown sons and friends for weekly brunches and dinners. "And we still sing hymns around the table, just as we did when I was growing up."
FAMILY FACTS: Geof Wickett, Norm Lessard, Brian Barber, and Pepper (an adopted Siberian husky), Smokey (a gray and white cat) and Bandit (a ginger cat).
DAY JOBS: Geof owns a Del Taco franchise; Norm is an information technology consultant; Brian is a self-employed chauffeur.
SPACE: 2,300 square feet, two bedrooms, two baths.
TIMELINES: Built in 1931, remodeled in 1950, 1970 and 2009.
FABULOUS FEATURE: The rose garden atop the carport and the rooftop garden, filled with fruit trees, vegetables, and orchids.
Discovering the Island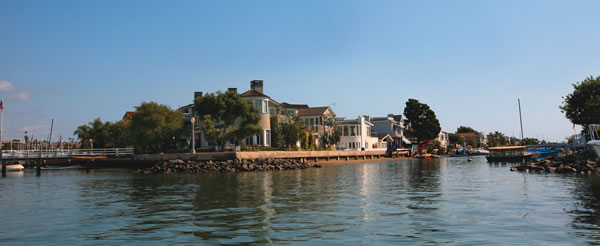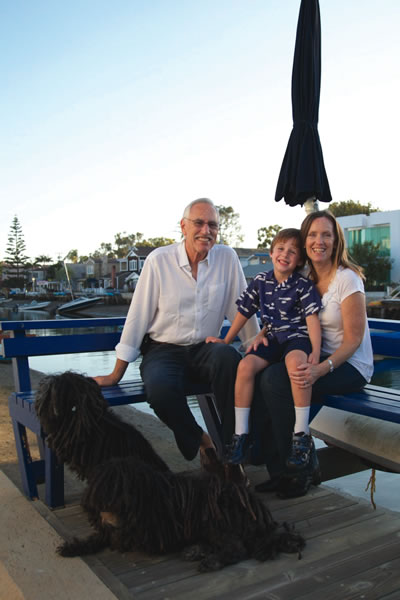 Don Abrams had lived in Newport Beach for several years when a friend invited him for walk on the island. "I fell in love with it and decided I should move here from Harbor View Homes," he says. Don took to running the island's three-mile bay front sidewalks, always looking for a likely house for sale. "This one," he says of the home he shares with his wife and son, "has 50 feet on the water (most lots are only 30 feet wide), and the canal was more affordable than the bay front."
Since  purchasing the house in 1992, Don has made many renovations. "It's an upside down house," he explains (the living area is upstairs). He expanded the kitchen, reclaimed a dining room from a former small deck that had been made into a bedroom and replaced the fireplace in the sitting area. The result is a great room that takes advantage of the water views. Just outside the dining room is a deck, which used to be Don's home office. Now a G-scale model railroad sits on its platform. Another O-scale model railroad sits in the living area, on a platform Don and Benjamin made last Father's Day. The railroad motif began with Thomas the Train when Benjamin was younger.
As Don worked on the house, its mysteries were revealed. "One day a lady knocked on the door. I found out that her mother had built the house as a single story, with the structure to someday add a second story. After seeing her old photos, I decided to return the north façade to its original curved shape. It's a character house, and I've made the changes without interfering with that."
Don still likes to walk or run the island—and he can walk to his real estate office on Marine Avenue. He appreciates the friendly neighbors and the cool breeze that always blows through the canal. "We have a dock with a kayak and paddleboard," he says. "We play soccer on the sidewalk—if the ball goes in the water, it's time to get on our bathing suits and go get it."
"This is a true beach house," he concludes, "with real wood—no fake products. And it's still a work in progress. It suits me. Whenever I come down the hill and onto the bridge, I can see my house from there. It still feels so good." NBM
FAMILY FACTS: Don, Gwenn and Benjamin (5) Abrams, and dogs Mason and Tora (Pulis)
DAY JOBS: Don is the owner of Abrams Coastal Properties; Gwenn is a stay-at-home mom.
SPACE: 1,900 square feet, four bedrooms, 3.5 baths.
TIMELINE: Built in 1937, purchased in 1992, remodeling is ongoing.
FABULOUS FEATURE: The upstairs deck with expansive views of Grand Canal and the bay.
[portfolio_slideshow]