The Harbor View Homes neighborhood puts kids first, with pools and greenbelts perfect for families.
By Nicole Nelson  | Photos by Jody Tiongco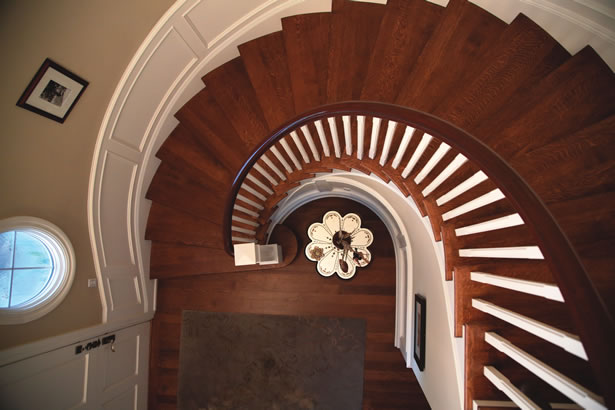 Newport Harbor View Homes neighborhood has the reputation of being one of the most sought-after, family-friendly communities in Orange County. Its residents, who live on streets with names like "Port Provence" and "Port Stirling," refer to the neighborhood as "the Port streets." The community, which lies between MacArthur Boulevard, San Miguel Drive, Bonita Canyon Road and San Joaquin Hills Road, was built in the late 1960s and early 1970s. The neighborhood still contains original tract homes—some remodeled, others completely rebuilt.
Each of the three phases of the community has its own pool, clubhouse and homeowners' association. A private Yahoo group helps residents do things like sell a bike, find a used coffee table, or find a piano teacher. With safe, flat streets, nearby parks and fields, front- and backyards, and several other child-friendly amenities, it is easy to see why it's a popular place for families.
Cape Cod Tranquility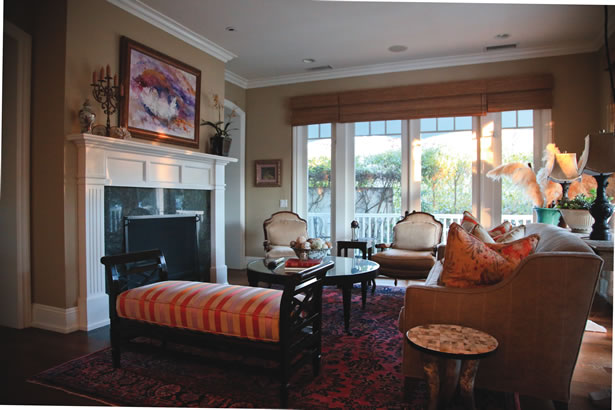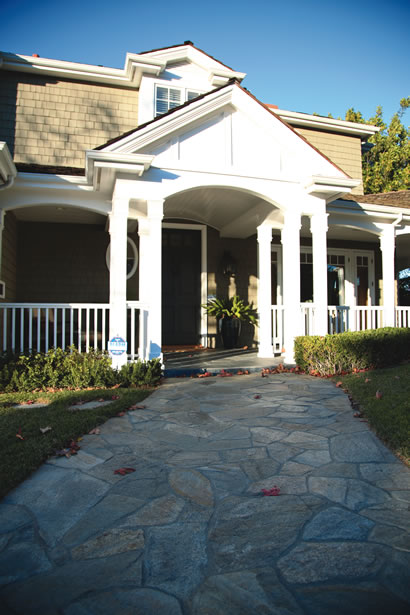 Traci and Paul Azer came here to escape the noise and traffic of Los Angeles. Traci grew up in Corona del Mar's flower streets and was happy to get back to the beach. After looking at several neighborhoods in Orange County, the couple was drawn to the large green spaces in the Port streets. They also liked that there was no guard gate and that it was close to Corona del Mar High School. The Cape Cod-style house was the first that Paul was enthusiastic about: "The previous owners had built it from the studs up, and put a lot of love into the house, into every single detail," Traci explains. The entryway is tall and open, with the option to enter several different areas of the home. Deep earth tones give the space a relaxing energy, and an orchid on a table in the hallway enhances the simple elegance of the clean lines.
Paul likes the convenience of the neighborhood. "We don't have the maintenance of a huge yard, and then right down the end of this street is this park and a large swimming pool and tennis courts. … It just looked like the perfect place."
In their downsized yard, the Azers have patio furniture for entertaining and enjoying the mild weather, and the calm.
They also appreciate the freedom that the safety and layout of the neighborhood allows them to give their son Gabe, who was 8 when they moved into the home in 2008. "It took me a while to get used to the freedom of just letting your kid go. … Letting him go down the block was a big deal," Traci says. "But now, at 13, he gets on his bike and takes off.
Beyond their large porch that extends in both directions stands a basketball hoop. It is one of many that characteristically dot the neighborhood.
"The dads on our street stop their cars, roll down their window, and wave at my kid when he's playing basketball," she adds. "What more can you want? For a dad on his way home from work, who's tired, to stick his hand out the window and go, 'Hey, good shot, Buddy!' to my kid? That's the best."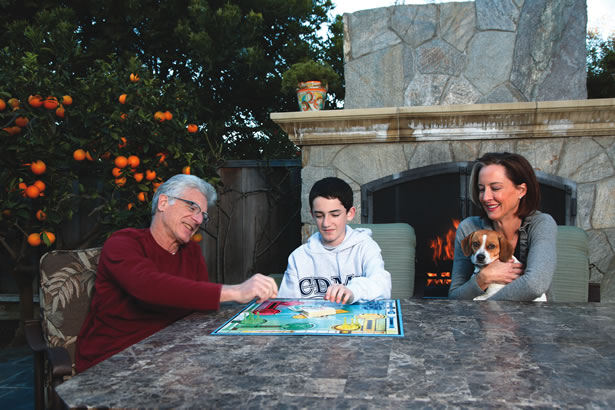 FAMILY FACTS: Traci, Paul, Jeff and Daniel (Paul's grown sons) and Gabe (13) Azer, and two dogs, Penelope and Winnie.
DAY JOB: Paul is an endocrinologist in Beverly Hills and Newport Beach. Traci is a busy mom and also does medical billing and marketing for Paul's practice.
SPACE: 4,000 square feet, five bedrooms, six baths.
TIMELINE: Built in 2003, purchased in 2008.
FABULOUS FEATURE: The inviting entryway is what sold Paul on the house, and stands out to guests.
Great Outdoors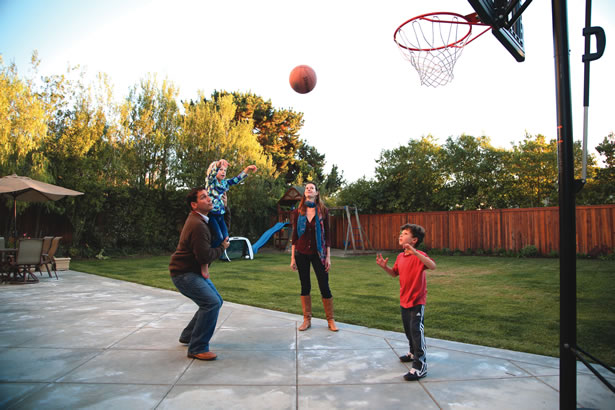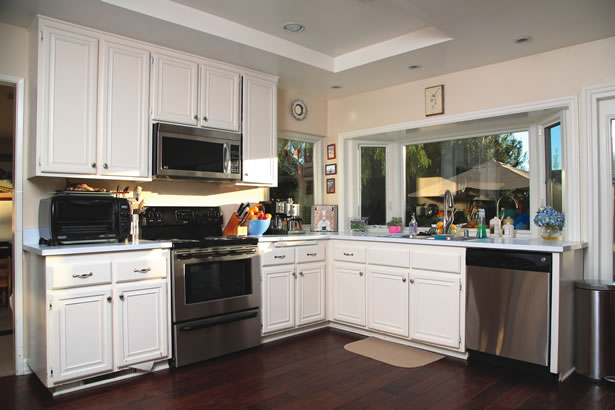 Kari Vasquez was born in the Port streets area. She lived here for only a year or two before her family moved away. But upon returning from Northern California when she and her husband were ready to start a family, the community was an obvious choice. "It's a family neighborhood," she says. "I knew that from visiting my sister who has lived here for 14 years." Now Kari lives one street away from her sister and her family.
The house they chose has two stories, with a large window extending to the top of the tall, pointed roof. An exposed brick chimney stands to the left of the entryway. Inside, they liked the open floor plan, with a connected family room and kitchen, high ceilings, and all four bedrooms upstairs. Kari calls it "a family-oriented floor plan." It is also close to the elementary school, where both of their children go. The biggest selling point of the house—which is immediately striking upon entering the home—is the spacious, square backyard.
When they moved in, they changed little about the house. Besides painting and putting in new carpets, the bigger projects were adding overhead lighting and changing the fireplace from brick to marble. That change opened it up, Kari says.
The kids get to grow up with their cousins close by, and day-to-day activity is centered on the family. Both kids swim on the neighborhood's vibrant swim team. "[It's] like having a play date every single day for the kids," Kari says.
When it comes to planning get-togethers at home, Kari counts on the yard playing a big part in hosting and entertaining. Her family is large, so the yard comes in handy during holiday parties. The kids play soccer, ladder ball and other sports on the large grass area. Another portion includes sand, a play structure and a basketball hoop. Especially in streets like hers, which are in the "inner loop" where no busy street separates the homes from the school, a yard large enough for all of these activities is rare.
But the unique yard doesn't keep them from visiting the nearby parks and greenbelt because there are other families there. "You go down to the fields, and there's soccer, baseball … people are just so friendly. It's a great community."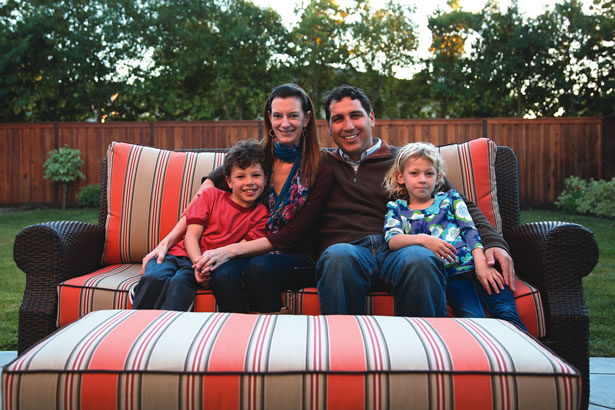 FAMILY FACTS: Kari, David, Donavan (7) and Annalyse (5) Vasquez, and Boomer and Laylah (dogs), and Cosmo the cat.
DAY JOB: Kari does accounting/bookkeeping, and David is a CPA.|
SPACE: 2,300 square feet, four bedrooms, 2.5 baths.|
TIMELINE: Built in 1970, purchased in 2007.
FABULOUS FEATURE: The large backyard is distinctive in the neighborhood. They take advantage of it by hosting their large family for parties, with the kids playing soccer, climbing the play structure and shooting hoops.
Open Spaces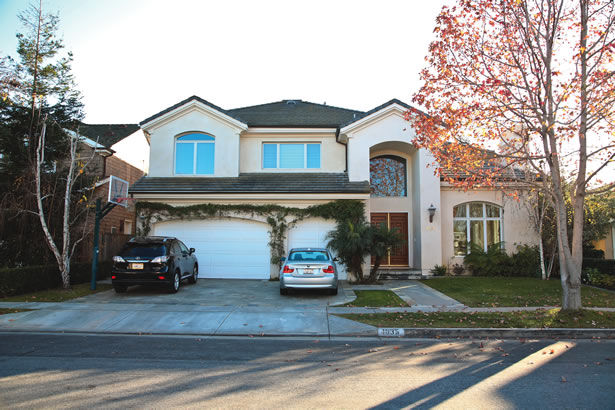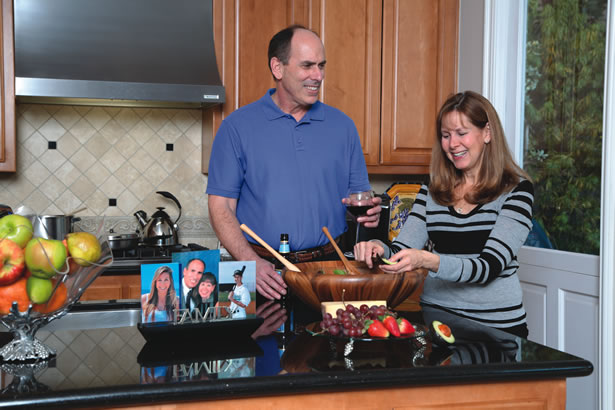 The Zelner family moved to the Port streets in 1988 after looking at neighborhoods all across the county. They were looking for an area with great schools and tight families. Once they focused on the Port streets, they were drawn to this house because of the large lot, the big backyard and the proximity to the park. Elissa remembers the neighborhood back in the late 1980s: "They had a buffalo ranch across the street, and they didn't have any of the streets going through, so we were in our own little nestled corner, and everybody wanted to be here."
Their two children, Lauren and Brandon, thrived in the family friendly neighborhood, participating in swim team, soccer, baseball and basketball, as well as bike-riding on the Port streets' greenbelt and in the nearby nature park.
In 2000, Elissa says, they were bursting at the seams. They considered moving, but decided to rebuild. In designing their new home, they wanted openness, lots of windows, flexible space and an open kitchen and family room to look out at the backyard. They also wanted bigger bedrooms for the kids and a first-floor guest room for when their parents visited. They went from 1,800 to 4,000 square feet. Working with architect Craig Hampton was an artistic outlet for them. Once they had accounted for the three upstairs bedrooms, a game room and an office, Rick realized there might be room for a small workout room. The space he carved out with the architect is large enough for two machines and has a lot of natural light from a skylight above.
The home is contemporary, with vines outlining the garage doors and a large window looking out from the living room. When you walk in the oversized front door, it is easy to see that the family achieved the openness they sought. The light-colored walls and flooring—marble and carpet—accentuate the large living room and formal dining room, which have high ceilings. Like a breath of fresh air, the space feels expansive and relaxing.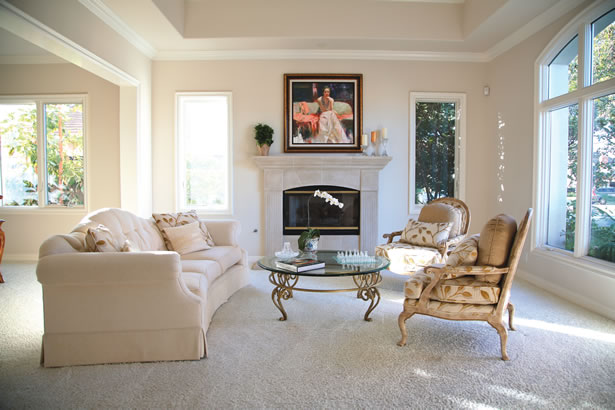 The Zelners' youngest child has left for college at USC, but they have no plans to move. Rick adds with a smile: "We have already been warned by our kids not to sell it." NBM
FAMILY FACTS: Elissa and Rick, and their grown children Lauren and Brandon Zelner, plus Traveler and Kaela (dogs).
DAY JOB: Rick is a gastroenterologist, and Elissa is a physician who retired to raise her children, but is considering returning to medicine.
SPACE: 4,000 square feet, six bedrooms, four bathrooms.
TIMELINE: Built in 1970, purchased in 1988, rebuilt in 2000.
FABULOUS FEATURE: The workout room has hardwood floors, piped-in music and a generous skylight. Elissa calls it Rick's "man cave," and he uses it every day.