Angels Eyewear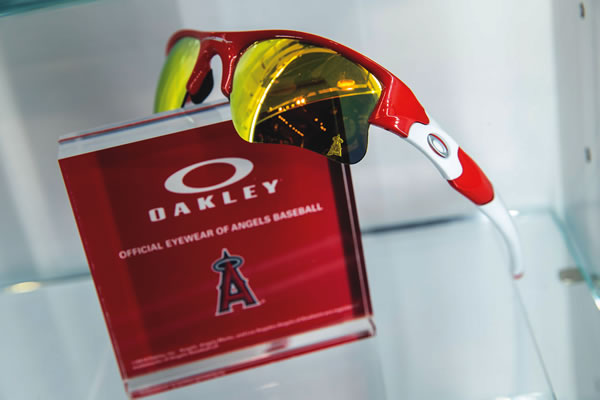 This month in the Newport Beach Buzz…
Soon Howie Kendrick and Mark Trumbo won't be the only ones sporting Oakleys at Angel Stadium. New in the 2013 season, Oakley opened its first-ever sports venue retail store at Angel Stadium of Anaheim. Located in section 113, the stadium store will be open for fans at home games throughout the season. The 1,000-square-foot space showcases a custom eyewear bar where customers can create personalized shades from a variety of frames, lens options and colors. Angels' fans can also have the team's official logo etched onto their lenses (and so you don't miss the game, Oakley hand-delivers the finished product to your seat).  Also find a new line of Oakley Angels apparel, watches and other accessories, in addition to products from the Infinite Hero Foundation, an organization that supports veterans facing service-related mental and physical injuries. (oakley.com) —A.B.
Raising the Par
The Resort at Pelican Hill recently unveiled its latest addition, a new Golf Pavilion at Pelican Hill Golf Club. The pavilion, which spans more than 7,000 square feet, features both indoor space and an outdoor terrace and is now the five-star, five-diamond resort's largest event space, accommodating up to 500 guests. "[It's] designed to accommodate a broad array of customizable event formats including golf outings, group events and social gatherings," says Amanda Reeve, director of meetings and special events at the resort. "This space allows golfers to seamlessly proceed from tournament play on Pelican Hill's two Tom Fazio-designed ocean-view courses to open-air barbecues or alfresco receptions. For formal affairs, the outdoor terrace can be completely enclosed with a large canopy tent." (855-467-6800; pelicanhill.com). —A.B.
Rolls Rossi 
OC Housewife Gretchen Rossi is collaborating with Rolls-Royce to create the custom 2013 Rolls-Royce Ghost Gretchen Christine Edition that will be exclusive to Southern California customers.
Supreme Court Favors New Park
Following more than two years of courtroom battles, the Sunset Ridge Park project finally got the OK and is expected to break ground this fall, pending the arrival of a permit from the California Coastal Commission, City Senior Civil Engineer Andy Tran explains. The decision came after the Supreme Court declined a petition to present an appeal by the Banning Ranch Conservancy, whose intention was to block commercial and residential development in the former oil fields. The park, which an Orange County Superior Court judge initially voted in favor of and was later approved by a state appellate court in December, will include nearly 14 acres featuring a baseball diamond, two soccer fields, a recreation pathway and a play area among other amenities. Newport Beach Mayor Keith Curry was quoted to have said this was a victory for local youth. The initial discrepancies arose because an entry road to the park was believed to be connected to another residential development proposal of 1,375 Banning Ranch homes as well as a coastal inn and commercial space. —K.P.
*17,000 square feet: The amount of space added to the original Central Library building in the Central Library Expansion Project. The project expanded the children's area on the lower level and created more study spaces and reading areas on the upper level.
*Hoag Hospital has been placed on Becker's Hospital Review's annual list of "100 Great Hospitals in America" for 2013, and is the only Orange County hospital on the list.
Perfect Fit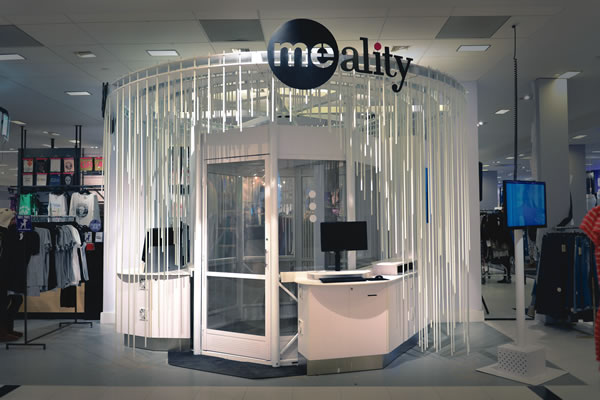 Bloomingdale's, in partnership with Me-Ality, is attempting to take the guesswork out of shopping for the perfect pair of jeans. Rather than taking an armload of jeans to the fitting room only to find half are too small and the other half too big, customers can now step into a Me-Ality Size-Matching Station and within 10 seconds, they'll receive a free, fully-clothed scan offering denim sizing in brands including J Brand, 7 For All Mankind, True Religion, Hudson, Citizens of Humanity and others. The South Coast Plaza store is one of the first to provide the technology. (714-824-4600; bloomingdales.com) —M.M.
Grand Openings
A Haute Heritage
This fall, Halston Heritage is slated to bring its first Orange County boutique to Newport Beach. Opening at Fashion Island, the high-end designer brand favored by celebrities will offer ready-to-wear apparel and handbags with an emphasis on "luxury made approachable." At the new boutique, find eponymous designer Roy Halston Frowick's signature draped silhouettes, dresses, accessories and more. (halston.com)
Beauty Buzz
Once a small, family-owned business, Beauty Collection has since opened its fourth boutique in Corona del Mar Plaza in May. Beauty Collection brings an array of prestigious cosmetics brands, including Smashbox, philosophy, Frederic Fekkai and more. Browse the intimate space and discover gems ranging from a hair curl putty from Doop to graphic nail applications from Minx, and everything in between. (949-717-6554; beautycollection.com)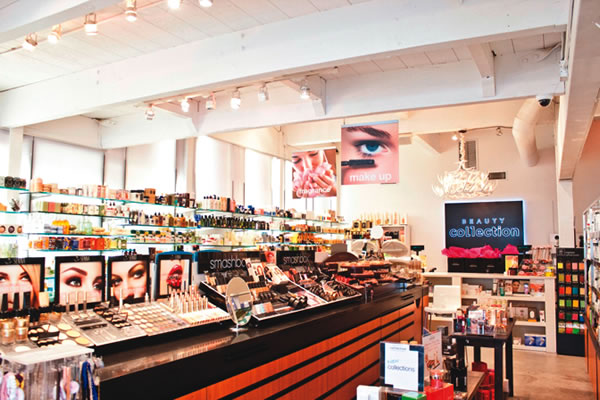 Beach Bliss
Paddle Board Bliss arrived in Newport with a grand opening on May 23. Its new location stands apart with joint retail and yoga space. The retail shop features stand-up paddleboard equipment as well as women's apparel like bikinis, yoga clothing and casual wear, all with a summery feel. Instructors teach traditional yoga as well as conduct classes on boards to help students get ready for the actual experience of stand-up paddleboard yoga on the water. (paddleboardbliss.com)
Fit Fashion
Bringing a passion for active living to local women in Newport, Lorna Jane opened at Fashion Island in early May. Offering a selection of the latest styles in active wear, the Australian-based brand features 70 to 100 new looks each month. The fashions are ideal for athletic women participating in everything from Pilates and yoga to running, dancing and outdoor activities. (lornajane.com)
Makeup and More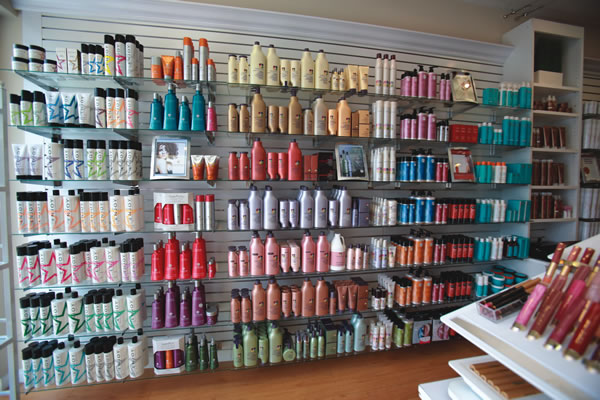 Taking over the former L.A. + Jo clothing boutique space, Planet Beauty landed in Corona del Mar off Coast Highway in early May. The cozy boutique offers a wide selection of retail products from brands that include Pureology, Clarisonic, Jane Iredale and more. (949-261-6788; planetbeauty.com)
A Sight for Four Eyes 
One of the largest optical retailers in the country, See Eyewear, brings fashionable frames to Newport's bespectacled set. Opened at Fashion Island in May, the store offers hand-picked frames from top artisans around the world, made exclusively for See Eyewear. In addition to reading glasses that are ready-to-wear, the shop can add a prescription to sunglasses or traditional frames for a chic look at an attractive price. (949-629-9099; seeeyewear.com) —A.H.
Coastline Community College Sustaining Excellence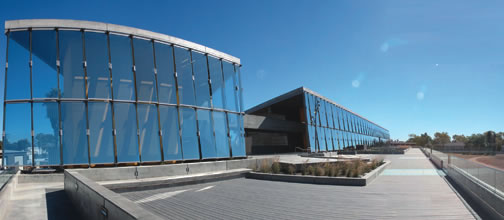 The Coastline Community College Newport Beach campus has been getting kudos for its sustainable facilities. Deemed the Sustainable Project of the Year by the American Society of Civil Engineers and honored with an Engineering Project Achievement Award by Orange County Engineering Council, the LEED Gold-certified building—designed to perform at an impressive 33 percent below California's Title 24 energy standards—boasts green roofs and living walls, natural ventilation and day-lighting, a unique storm water management system and sweeping ocean views in its 66,800-square-foot vertical structure. —A.B.
Sprouting Environmentalists 
Newport's Environmental Nature Center recently announced plans to build an environmental preschool, with the mission to educate and foster nature exploration among Orange County's youth. The ENC Nature Preschool's programs would aim to increase early environmental awareness and appreciation. Serving as a model nature learning institution, the school plans to teach preschool basics but engage its students mostly outdoors, where they will learn about the natural world through hands-on experiences. (encenter.org) —A.B.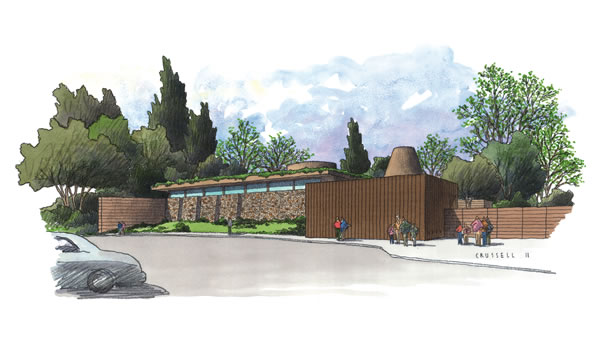 Activities 
Concerts in the Parks
Through August; various city parks 
As part of its summer Concert in the Parks series, the City Arts Commission features three free music performances. From 6 to 7:30 p.m. Sundays, enjoy bluegrass sounds from The Bracken Band, Hollywood U2 tribute band and others. (949-717-3870; newportbeachca.gov)
Summer Concert Series 
June – October, The Hyatt Regency Newport Beach
Enjoy talented musicians and delicious fare at the newly renovated hotel. Setting off June 21 with Grammy award-winning, singer-songwriter Michael McDonald, the series also features renowned artists like Chris Isaak and The Commodores. (949-360-7800 or hyattconcerts.com)
An Evening of Classic Lily Tomlin
June 22, Segerstrom Center
Comedienne Lily Tomlin returns to Segerstrom stage to deliver an evening of laughter with a performance by more than a dozen of her classic characters, from Ernestine to Sister Boogie Woman. (scfta.org)
Live at the Coach House
June and July; Coach House, San Juan Capistrano 
Rock out to performances by ABC, June 16; Marshall Tucker Band, June 22; Donavon Frankenreiter, June 29 – 30; Todd Rundgren, July 8; The Fixx, July 19; Jonny Lang, July 24; Jefferson Starship, July 28; among many others. (949-496-8930; thecoachhouse.com)
Russo and Steel Car Auction
June 20 – 22; Newport Dunes Waterfront Resort
Russo and Steele holds its legendary auction locally for the first time, featuring European sports cars, hot rods, American muscle cars and custom vehicles. A charity preview to benefit the Children's Hospital of Orange County kick-starts the auto affair with dinner, dancing and a live auction. (602-252-2697; russoandsteele.com)
Moonlight Kayaking 
Select dates June and July, Newport Aquatic Center
Venture out under the glow of the moon on Newport's Back Bay. Expert guide Danny Hough leads the mellow kayak tour at sunset, where novice and experienced kayakers alike can admire the beauty of the bay. (newportaquaticcenter.com)
Tour of Tuscany 
June 12 and 26; The Resort at Pelican Hill, Newport Coast 
With a complimentary glass of Prosecco in hand, get a splash of culture on a guided tour through the resort's Italian landscape and Palladian architecture, as well as its collection of paintings, tapestries and antiques. Top off the tour with wine and anitpasta in the Great Room. (800-820-6800; pelicanhill.com)
Artisan Market
Sundays; Lido Village, Newport Beach
The Lido Village Artisan Market joins the farmers market, hosting a variety of vendors throughout the summer. From 9 a.m. to 1 p.m., discover new and vintage treasures, from clothing and jewelry to furniture and books. (facebook.com/lidovillageartisanmarket)
World Team Tennis
Through July; Breakers Stadium, Newport Beach
The Orange County Breakers season kicks off July 7, serving up an exciting season of World TeamTennis for Newport fans. For a complete schedule visit breakerstennis.com.
US Open of Surfing
July 20 – 28; Huntington Beach Pier
Huntington Beach celebrates the country's most prestigious annual surf and skate pro competition. Hosted by Vans, this event pairs with The Boardroom Surfboard Show July 23 – 27, featuring shaping competitions, entertainment and autograph signings, among music performances, fashion shows and other highlights. (usopenofsurfing.com)
Summer Camps
Learn and Grow 
Through August; Environmental Nature Center, Newport Beach
ENC hosts a variety of summer camps for youngsters of all ages and interests, centered around themes including Time Travelers, Outdoor Creativity and Science Safari, where kids can do anything from write poetry to learn how to protect the planet. (encenter.org)
Ocean Exploration
Through August; ExplorOcean, Newport Beach
ExplorOcean Academy offers weekly, ocean-themed summer camps to kids ages 8-12 on the harbor. Through hands-on explorations, kids will learn about the world through "courses" like Navigation Investigation and One Big Ocean. To view the summer schedule and register visit explorocean.org.
Into the Wild
June 24 – 28; Crystal Cove State Park, 
Laguna Beach
California State Parks hosts half-day outdoor adventure camps for kids ages 7-11, where naturalists will lead them in activities aimed to increase awareness and instill a sense of pride in their natural surroundings. Held at various parks in the county, including Crystal Cove. To register, contact Winter Bonnin at 949-497-7647 or [email protected]
Charity
Gentleman's Smoker
June 26; Balboa Bay Resort, Newport Beach
Enjoy a seafood soiree on the bay at the 19th Annual Gentleman's Smoker and Lobster Clambake, featuring a cocktail party, multi-course meal prepared by master chefs and live music. Proceeds benefit the 1221 Club Foundation, whose mission is to support local exemplary college-bound student (balboabayresort.com)  NBM
Visit ocinsite.com to view the latest happenings around town and to sign up for a free weekly e-newsletter.
To submit your event, please email [email protected]
[portfolio_slideshow id=3497]