By Bria Balliet, Linda Domingo, Tess Eyrich, Allison Hata, Karlee Prazak and Sharon Stello
With hundreds of businesses, restaurants and nonprofits, Newport Beach is a thriving community filled with people determined to make a difference in our coastal enclave. Whether these men and women work diligently behind the scenes or step forward into the spotlight to advocate for change, no one can doubt the lasting impact they're creating through their work.
For the second consecutive year, Newport Beach Magazine scoured the coast to find a sampling of the city's influential individuals. From philanthropists to community activists to seasoned business executives and entrepreneurs, these 10 men and women represent this year's top trailblazers in their respective fields.
---
 The Foodie
Wing Lam
Best known for: Wing co-founded the now-international restaurant chain Wahoo's Fish Taco with his brothers, Mingo and Ed. The first Wahoo's location opened in Costa Mesa in 1988, and began serving up what Wing calls "surfer's food"—the result of combining Mexican, Asian and Brazilian cuisines. But beyond this, Wing says his commitment to the town he lives in is what makes him one-of-a-kind—what's beyond the board-short-clad, sandal-wearing surfer. "Around town, what I'm best known for is my involvement in the community," Wing says of his efforts to sit down with local nonprofits to review their business models.
Little-known fact: It isn't uncommon for Wing to be approached and asked if he is "Mr. Wahoo"—and for good reason. The restaurateur eats at Wahoo's somewhere between three to five times a week, which fluctuates depending on his schedule. Aside from being "Mr. Wahoo," Wing is part of a very entrepreneurial-minded family. His wife is co-founder of a corporate wellness company—The Whole Purpose—and his son recently launched an Internet-based company called Kneon. According to Wing, he knew it was a big deal when his son no longer had to use dad's connections.
What he would like to see change in Newport: For someone so involved in the consumer- and tourism-oriented sides of Newport Beach, Wing wants to see the barriers between the "haves" and "have-nots" break down. "If everybody pitched in more, I think you could get a lot more done because a lot of people out there are still struggling," Wing explains. "It's not money—it's advice, it's time, it's all these other things that are more important than just giving them money. Nobody wants a handout. … It's about the sharing because we are so privileged to live in Newport."
What he would like to see change in his field: Wing says he'd like to see real estate costs lowered for businesses. "If we could pay less rent, the consumer doesn't have to pay as much," he explains. It's unnerving for Wing to see potential customers travel out of Newport to get a delicious, inexpensive meal, but he says this is all a natural progression in supply-and-demand.
Future plans: The future is simple for Wing—"We're just opening stores as people are coming to us with proposals," he says. So look for several soon-to-be locations in California, Las Vegas, the East Coast and overseas—you never know where a new Wahoo's location will wash ashore.
---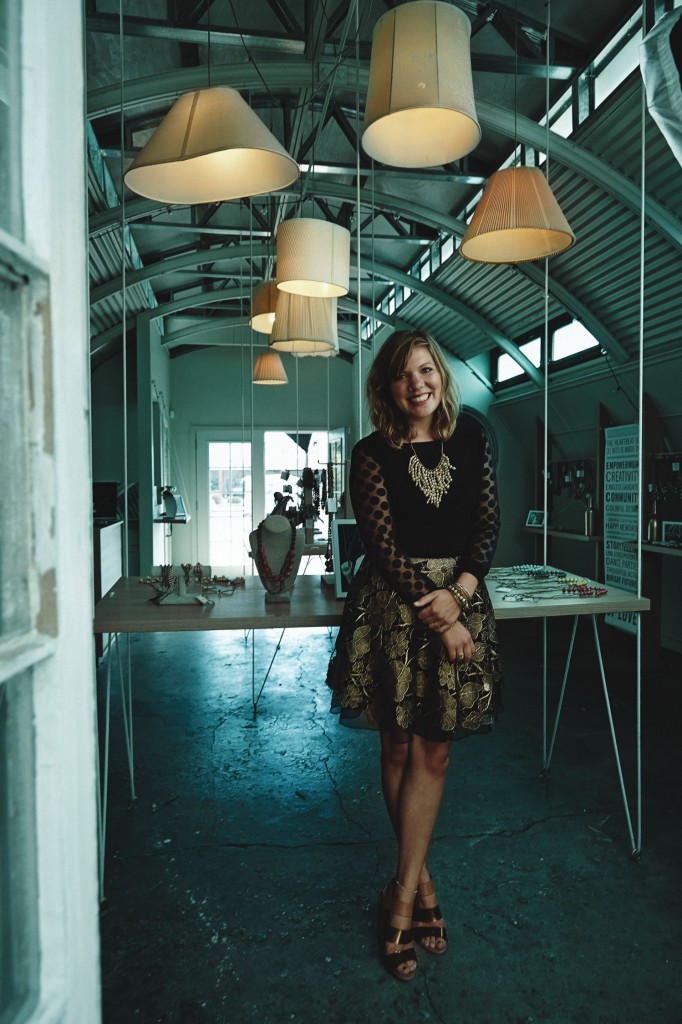 The Young Achiever
Kallie Dovel
Best known for: Far from the model of a typical Newport business leader, Kallie has planted a seed for change and grown her socially conscious business, 31 Bits, exponentially in just five years. She founded the company in August 2008, empowering women in Northern Uganda to rise above poverty by creating popular paper bead jewelry that's sold in nearly 400 stores across the country, including several here in Newport Beach. With just a small idea and a network of six Ugandan women, she launched a nationwide philanthropic jewelry movement. The demand has grown so much that 31 Bits has recently welcomed more than 100 additional Ugandan designers into the program, allowing women in need to develop careers and support their families independently.
Little-known facts: "I was not expecting to start this company at all," Kallie says. During her first visit to Uganda in 2007, the orphanage where she was volunteering closed and she was left with three months before she could return home. She stayed with a group of friends who were in the early stages of building Krochet Kids, another OC-based nonprofit supporting Ugandans, and met local women who asked her to take their jewelry home to sell in the U.S. Today, she's happily married to one of the Krochet Kids leaders who was on that trip.
What she would like to see change in Newport: Kallie, who loves the city's beach-casual lifestyle, would like to see the community come together more as a whole. "Villa Nova [restaurant]—I want something like that back," she says. "All different types of people come together, older [and] younger, with live bands. … It was my favorite place in the world."
What she would like to see change in her field: "I would love our communication to get better. Uganda is like another world. To connect the two is so difficult," Kallie says. "I would like our customers to really understand the development and the change that's happening through the products that they're purchasing."
Future plans: Kallie, who today serves as 31 Bits' international director, is in the works of opening a second facility with her team in Uganda's capital.
---
The Leader
Steve Rosansky
Best known for: A city councilman for nine years and mayor for one term, Steve's new goal is keeping the Newport Beach Chamber of Commerce relevant since stepping in as interim president and CEO in January 2013 (he was appointed to the permanent position in August). During the past year, he has significantly boosted attendance at chamber events like the monthly Government Affairs Committee meeting, which was recently rebranded as Wake-Up Newport. A new Leadership
Circle program—10 large businesses taking on a higher level of sponsorship and participation—generated $100,000 in revenue, and within nine months, the chamber reduced debt by $90,000.
Little-known facts: Steve does all the grocery shopping and cooking for his family; his best dish is linguine with clam sauce. He also knows how to let loose—during law school at UCLA, he organized a weekly dance club, the Lizard Lounge, which had a tag line of "slither in, crawl out."
What he would like to see change in Newport: A city resident with his wife since 1985, Steve says, "It's so perfect here, what would you want to change? … I'd want to see the relationship between the city and the business community enhanced. I don't think it's a bad relationship, but I think it could be even better."
What he would like to see change in his field: Times have changed and the challenge is to see how the Chamber of Commerce stays relevant in the coming years, Steve says. He's making the chamber influential in the community by engaging in an education program about the city's General Plan Land Use Element update. Finally, the chamber is talking with Newport Beach & Co. (umbrella company for Visit Newport Beach) about how to elevate the Christmas Boat Parade to the next level.
Future plans: The longtime civic leader and real estate broker is starting coastal commission consulting with Schmitz & Associates and he's interested in getting into mediation services. He was accepted into the Straus Institute for Dispute Resolution at Pepperdine University and took his first class two weeks before starting at the chamber. As Steve says, "I like to stay busy."
---
The Philanthropist
Victoria Collins
Best known for: Victoria, who helped establish First Foundation, a wealth management firm that oversees $2 billion in assets, has authored or co-authored seven books on managing wealth and building family legacies. For six years, Worth Magazine has named her among the 250 best financial advisers in the U.S. and she was among National Philanthropy Day Orange County's 2013 outstanding honorees. "I've been so blessed in my life. … I want to do whatever I can to help those who are less fortunate," Victoria says. Her charity work focuses on empowering women with financial capability and confidence. She was a founder of United Way's Women's Philanthropy Fund and the World Vision Women's International Loan Fund, and serves on the board for Human Options.
Little-known facts: Victoria spent part of her childhood in South Africa, where she learned to speak and write Afrikaans. Her father, a Pan Am pilot, would fly to exotic places and share stories of his adventures, inspiring in her a love of travel and an appreciation for different cultures.
What she would like to see change in Newport: "There is always room for improvement. … [but] there's so much I like. I think it's the best place in the world to live," says Victoria, a Corona del Mar resident since 2002.
What she would like to see change in her field: "I would like to see more women involved in the financial services industry," Victoria says. She hopes women will be inspired by the recent nomination of Janet Yellen to chair the Federal Reserve when Ben Bernanke retires in January, which would make her the first woman to hold that position.
Future plans: Victoria is considering writing another book, this time on the importance of preserving a family's legacy. She is also instilling her values into the next generation by sharing her views with her eight grandchildren. At Christmas, she asks them to purchase chickens for a family or malaria treatment for children through World Vision, rather than buying her a gift. "I really want them to get into the habit of thinking of other people and making a difference," she says.
---
The Promoter
Gary Sherwin
Best known for: Gary wrote the book on promoting a community to potential visitors—literally. Since co-authoring "Destination BrandScience" (2005), he's spoken around the country on the topic. As president and CEO of Visit Newport Beach,
Gary sells the city as a lifestyle destination. Since taking the helm in 2006, he has positioned Newport as an international travel destination, opening offices in London and Sydney. Gary and his team also successfully negotiated for Newport Beach to serve as the host city for the NCAA's Vizio BCS National Championship Game on Jan. 6, 2014, at Pasadena's Rose Bowl Stadium. "Every hotel in Newport Beach will be filled," Gary says.
Little-known fact: As teens in the San Fernando Valley, Gary and a friend developed a way to sneak onto Hollywood studio lots by penning a newspaper column about famous actors who lived in the area.
What he would like to see change in Newport: Rather than a change, Gary seeks a continued tradition of "good civic leadership" as four Newport Beach City Council seats come up for election in November 2014. He says the city has been blessed with council members who think like entrepreneurs and understand the importance of infrastructure maintenance. "My hope is whoever comes to the council will continue that type of thinking," he says.
What he would like to see change in his field: Collaboration is key, Gary says. "It's about maximizing the use of our assets," says the 25-year industry veteran who also has worked in Palm Springs, Long Beach and LA. "My hope for my industry is that more communities embrace this approach."
Future plans: Gary seeks to make the Newport Beach Christmas Boat Parade more guest-friendly by adding bleacher seating and possibly TV coverage. He's also talking with city leaders about promoting Newport as a filming location and managing Newport Beach TV, the local government access channel. He'd like to add shows that celebrate the local lifestyle by featuring chefs and events like the Fourth of July at Newport Dunes. "It will be a paradigm shift," Gary says. "It's kind of revolutionary, but it makes sense."
---
The Sports Enthusiast
John Hamilton
Best known for: John channeled his love of sports and knack for collecting into something that the whole community can benefit from—the Newport Sports Museum. He opened the shrine to sports memorabilia 20 years ago after his personal collection, which started in 1953, began growing exponentially. Today, Newport Sports Museum regularly hosts athletes as guest speakers for youths from varying backgrounds. "It's been my contention for a number of years that in spite of some of the antics of athletes today, that athletes still are better role models than politicians and rock stars," John explains. "Bringing an athlete in, in my opinion, ensures us at least that a majority of the kids are going to pay attention because of who they are."
Little-known fact: John is also the chairman and co-founder of the Pacific Club Impact Foundation, which awards the Ronnie Lott Impact Trophy, an annual collegiate football award that gives weight to both athletic performance and character.
What he would like to see change in Newport: It's no secret that sports are John's passion—he also played sports growing up and encouraged his now-grown children to do the same—but he believes there are some changes that need to be made at the formative young age levels on the field. "I'd like to see the coaches and the parents focus more on character and learning and less on winning," John says.
What he would like to see change in his field: Making an impact is at the forefront of the museum's mission statement, and achieving this would admittedly be easier with an influx of several key components, John explains. "We could always use more kids, and we could always use more athletes," he says. "I'd like to have better fundraising … as you and I know, there's no free lunch; we have to find the money someplace, and fundraising is a huge task for us."
Future plans: John has scored, so to speak, with his ideal Newport Sports Museum location and set-up, so beyond rotating memorabilia throughout the display cases, he says all he'd really like to see change in the future is the acquisition of even more notable collectables and volunteer athlete speakers.
---
The Developer
Scott Burnham
Best known for: Scott is chairman of the board and CEO of Burnham USA, the Newport Beach-based commercial real estate construction, leasing and management company whose portfolio includes a significant number of the buildings in Newport Center, such as the one that houses the Newport Beach Athletic Club, in addition to many of the buildings where Newport's residents work, eat and play, such as the South Coast Collection in Costa Mesa.
Little known facts: For a man whose career is centered on buildings, Scott enjoys the outdoors. He explains that he's always out walking and appreciates all that Newport has to offer.

What he would like to see change in Newport: Scott is a fan of unique restaurants and he'd like to see more in Newport. "… [I] really think there is a strong 'appetite' here for more independent chef-driven restaurants that provide for unique food options, thus fewer chains."
What he would like to see change in his field: As a property owner in Newport Beach, Scott believes those in his industry should focus on making a lasting positive impact on the community. "[Our projects] are all very personal to us," he says. "We are very hands-on and we want each property we own to somehow improve the demographic that it serves."
Future plans: Scott's family takes priority over all else, and his plans include perfecting the balance of work and personal time. "Life is fleeting and, the older I get, the more I realize how important work-life balance really is," he says. But he doesn't plan on slowing down anytime soon.
---
The Education Advocate
Marian Bergeson
Best known for: A force in the Newport Beach political circle since the 1960s, Marian is a longtime champion for the betterment of education, serving locally as a Newport Beach City Council member and later making history as the first woman to serve on both the California State Assembly and state Senate. She served for three years as the California secretary of education and continues her work to this day, partnering with various programs to improve the state's education system.
Little-known fact: As a prominent figure in Newport Beach for many years, there is very little that the public does not know about Marian (she is well-known for her love of skydiving, and has gone five or six times). One fact, however, stands out above the others: "I have an aquatics center named after me," she shares, "… and I don't know how to swim."
What she would like to see change in her field: "We need to get more flexibility in the classrooms," Marian says, referring to the top-down management style employed by the public education system. "I've always felt that teachers are the solution to almost every one of our problems if we get the right teacher in the right place."
What she would like to see change in Newport: "Education is always top on my priority list," Marian says. She is also concerned with beach safety. Marian would like everyone, especially children, to learn to be more aware of their surroundings to prevent tragic accidents.
Future plans: Marian has a great deal to keep her occupied. She is offering her support to a number of education groups, including the Environmental Nature Center's Capital Campaign for its new nature preschool and The Academy, Orangewood Children's Foundation's new charter high school, for which she serves on the board of trustees. Marian says The Academy is a "phenomenal" program for kids who need the kind of education that the charter school will be able to provide.
---
The Activist
Eyal Aronoff
Best known for: Eyal is a Newport Beach resident who's set on changing the world on a global scale. He's co-founder of Quest Software, a company purchased by Dell in 2012, and now helms the Fuel Freedom Foundation. The organization's goals include reducing the cost of fuel in the U.S. by introducing competition—in the form of cleaner, American-made fuels—to the market and ending the country's dependence on foreign oil.
Little-known fact: Eyal starts his workday around 6:30 a.m. and usually finishes between 8 and 10 p.m., so his favorite activity may not come as a surprise. "The thing I like to do the most is to sleep," he says. "The brain still thinks; I'm just not conscious. It's a form of meditation."
What he would like to see change in Newport: There are many successful people in Newport, Eyal says, but the area isn't known as one that is effecting change on the world. "We are known around the country as a very materialistic, kind of shallow society," he explains. "And I don't think that's the case. I think there are people here that are very thoughtful and caring, but … we have not concentrated resources on specific … visions. I would really like to challenge [Newport] to find common passion and bind together to achieve bigger goals."
What he would like to see change in his field: Fuel Freedom's entire mission is about changing the fuel industry. Eyal describes the ideal price of fuel as between $2 and $2.50 per gallon, and would like more fuel to be made from natural gas.
Future plans: Through his organization, Eyal is working to change U.S. regulations that require an expensive and lengthy certification process in order to convert a vehicle to run on natural gas.
---
The Cinephile
Gregg Schwenk
Best known for: In 1999, Gregg co-founded the Newport Beach Film Festival (NBFF), a weeklong celebration of cinema that welcomed an unprecedented 53,000 attendees in 2013. Each year, the festival screens more than 350 films, hosts 20 galas and receptions, presents a highly acclaimed seminar series and integrates hundreds of local restaurants, hotels and businesses into its proceedings, boosting local commerce across several industries.
Little-known fact: "I've been an adjunct faculty member at California State University, Fullerton, for the last 14 years," he says. "The College of Communications, department of communications, and the entertainment and tourism program … provide our students with a unique advantage in the hypercompetitive marketplace."
What he would like to see change in Newport: "Newport Beach is the best place to live," Gregg says, suggesting that locals simply take time to experience more of the city. "I've made a personal commitment to take the time to enjoy the many special amenities that our city has to offer … and, yes, [that includes] watching a movie for fun at the Lido, Port or Big Newport [theaters]."
What he would like to see change in his field: Gregg hopes to see local nonprofits be able to thrive despite difficult economic conditions. "As a small, nonprofit charity, we've been challenged with the same burdens as most businesses over the past several years," he admits. "As the economy and industry improve, we are hopeful that the stresses placed on the nonprofit community will also improve."
Future plans: Gregg will continue to prepare for the upcoming 15th anniversary of the NBFF, which is slated to run April 24 to May 1, 2014. "We'll be adding several special events and screenings," Gregg says. "The festival and our partners are building an amazing lineup of films, fashion shows, gala events and celebrity tributes."