Bruins vs. Trojans
When it comes to athletics, two local high schools go nose-to-nose.- By Patrick Mott , Illustration by Rob Donnelly

Newport Beach, the home of tranquil day sailing, languid Sunday brunches, lazy summers at the beach and general sophisticated pursuits guaranteed never to break a finely manicured nail is also the home of one of the most ferocious high school rivalries in Southern California.
"It's as exciting as it gets," says Mike Zimmerman, the athletic director at Newport Harbor High School. "When we play against Corona del Mar [High School] in anything, you can throw all the records out. It's pure energy."
The two high schools are almost walking distance apart, perched on the heights on either side of Newport Beach's Back Bay, but such geographic familiarity breeds, if not contempt, certainly a spirit of nose-to-nose competition that occasionally reaches the highest levels of high school athletics.
But unlike other legendary rivalries elsewhere, where vandalism, post-game parking lot fights and rancorous grudges are commonplace, athletic contests between teams at Newport Harbor and Corona del Mar high schools inevitably end amicably, say students and school officials.
"It's not an intense sort of 'we hate them' kind of rivalry," says Tim Bryan, Corona del Mar High's principal. "It's a really cool rivalry between two schools where the kids all know each other. Newport Beach does such a great job of putting together activities for families—through churches, community-based institutions, club sports, junior lifeguards—and these kids may have participated in these and spent a lot of time together growing up. But, depending on where they lived, they ended up going to different schools. So you see everyone sticking their chest out and yelling during the games, but at the end they end up hugging each other."
Battle of the Bay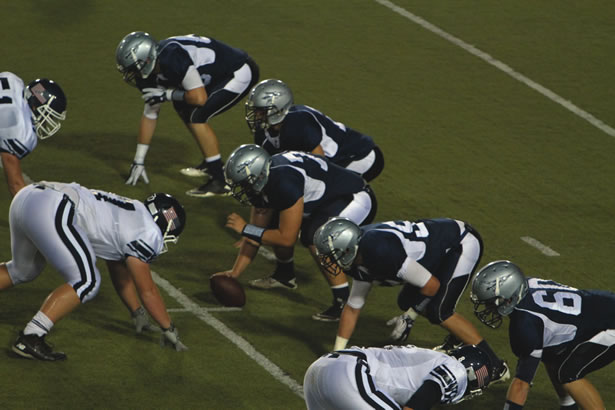 Whenever the two high schools meet in a varsity sporting event, it's known as the "Battle of the Bay." At stake are citywide bragging rights, which tends to eclipse the importance of contests with the other two high schools in the Newport Mesa Unified School District: Estancia and Costa Mesa high schools. In fact, say school officials, the Battle of the Bay is often considered more significant than higher-echelon league games for each school (Corona del Mar's teams play in the Pacific Coast League, and Newport Harbor's teams play in the Sunset League).
And occasionally the two teams meet at the highest levels. In February, the girls' water polo teams clashed for the CIF Division 1 Championships (the Newport Harbor Sailors came from behind to defeat the top-seeded Corona del Mar Sea Kings 8 – 7).
"That was a huge deal," says Mike Vossen, Newport Harbor's principal. "There was huge attendance at that match."
One of the Newport Harbor players in the pool that day was 16-year-old junior Carly Christian, who scored one of the goals in the Sailors' fourth-quarter surge.
"I'd known about the rivalry for a long time," says Carly, who grew up in Newport Beach competing on the same club water polo team with her future Corona del Mar opponents. "It's been a tradition for a lot of years, and it's fun to keep it alive. I have plenty of friends who go to Corona del Mar, but when you get into the sports we really want to beat one another. It's really fun."
The atmosphere at the matches, she says, can get pretty intense. "There's not much interaction before the games because we want to focus on beating one another," she says. "And at the games you'll see kids telling each other off or parents yelling at the coaches or the referees. It can get a little wild sometimes."
Win or lose, however, the matches often end with hugs between the players and occasionally an after-game bite to eat at a local restaurant with two or more of the competitors sitting across the table from each other.
"You may hate them for beating you, but you're still friends," Carly says.
Rivalrous Roots
How nail-biting can it get? Consider that the CIF Division 1 Championships was the second time the two girls' water polo teams had met this past season, the first match being the Battle of the Bay. "Every year both schools enjoy some win based on some spectacular play," says Tim, "but this contest was particularly stunning." On Dec. 16, 2011, Corona del Mar's goalie, Alex Musselman, scored on a length-of-the-pool shot in the last second to beat Newport Harbor 6 – 5.
The rivalry is often stoked by parents, say school officials, who may have gone to one high school and now have sons or daughters competing at the other school. And alumni, whether they still live in the area or not, tend to retain the passion for their alma maters they had as teenagers.
Melanie Salata Fitch, a Newport Beach resident and the CEO of the Orange County charity known as Irrelevant Week (a kind of loopy pageant that celebrates and honors the college football player chosen dead last in the NFL draft each year), was the head cheerleader at Corona del Mar High School in the early '70s. When she returned to the school in 1977 as a math, science and gym teacher, she was persuaded by friends to dig out her old cheerleader's uniform and wear it for the Battle of the Bay football game. A total of $1,000 for charity sweetened the pot.
"I got that moth-eaten thing out and put it on and went to the game," she says. "Anything for the Sea Kings."
The rivalry was just as intense 40 years ago, Melanie recalls, and the pranks just as benign. She recalls writing pro-Corona del Mar slogans on walls with shaving cream, toilet-papering houses, and even taking barnacles off the dock and putting them under people's bushes. "They couldn't see them and after a couple of days, they'd smell," she says.
Still, she says, "a lot of my friends would get invited to the Newport Harbor prom. My friends used to say the cute girls went to Corona del Mar and the cute guys went to Newport Harbor."
Keith Samuels, a 1971 graduate of Corona del Mar, who, today is the vice president of broadcast media sales for a mobile marketing company in Los Angeles, set passing records when he was quarterbacking for the Sea Kings' varsity football team. He can recall opposing Newport Harbor players by name and remembers, with a wince or two in his voice, the grittiness of the Battle of the Bay.
"We never beat Newport Harbor while I was there," he says. "They were hard fought and really tough battles, and they were always the first game of the year. It was a very big deal. Newport Harbor was big and mean and they just wanted to assassinate me. But it was a great rivalry. Our goal in life was to beat Newport Harbor.
"I'd actually like another shot." NBM
Bruins vs. Trojans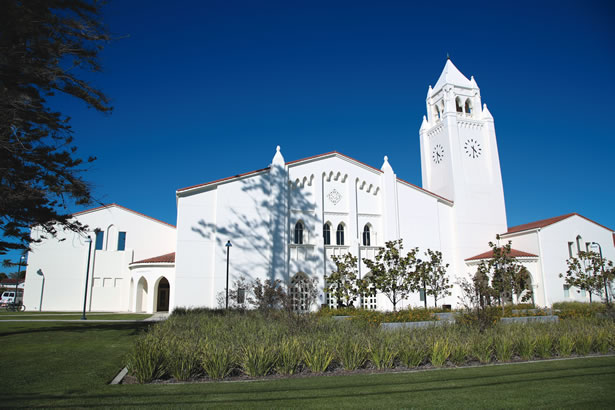 During the last days of the college football season, as winter begins to bury the northern and eastern U.S. in snowdrifts and fans huddle beneath thick stadium blankets and shearling coats against the wind off Boston Harbor or Lake Michigan, brightly colored flags begin to appear in the cool, sunny air of Newport Beach.
Almost like the first robin of spring, the powder blue-and-gold and cardinal-and-gold banners flutter over doorways throughout the city, heralding the approach of another USC-UCLA football game.
Like the Newport Harbor-Corona del Mar rivalry, the USC-UCLA dust-up in Newport Beach is largely civil, and just as heartfelt. However, unlike the high school tussle, the collegiate version is, by many accounts, decidedly one-sided: Newport Beach traditionally has been a USC town.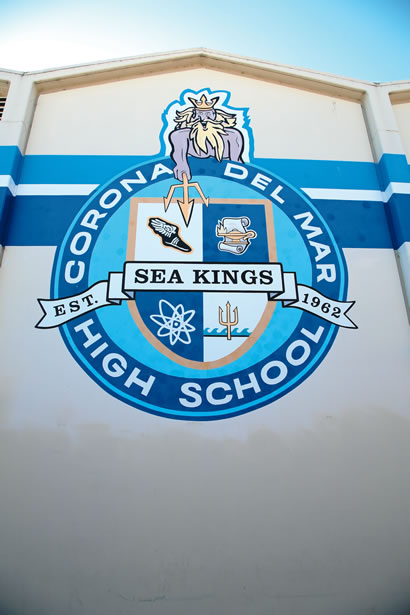 Statistics bear this out. A USC spokesman says there are just over 1,800 USC alumni living in Newport Beach. According to the UCLA Alumni Orange County Network, there may be about half that number of UCLA alumni in the city.
Still, metaphorical swords do cross in the days leading up to the yearly battle in either the Los Angeles Memorial Coliseum (USC's home turf) or the Rose Bowl.
"I think there's very much a rivalry," says resident Keith Samuels. "Just walk around Balboa Island on almost any fall day, and you'll see a mixture of flags flying from various houses—including, sometimes, that famous 'house divided' banner, where one spouse is a Bruin and one is a Trojan. I know that certainly there's a very strong SC presence, and we tend to be a little more vocal about it."
Vocalizing on USC's behalf used to be Keith's stock in trade. A Los Angeles resident, Samuels entered USC in the early 1970s hoping to play on the football team. Realizing that he would likely not make the starting squad, he tried out as a cheerleader and was soon named Yell King—the leader who invented stinging cheers and personally exhorted the crowd to yell.
Some of that yelling has gone on at Woody's Wharf, a restaurant on the Balboa Peninsula that has long catered to USC fans and players.
"We don't have USC flags out front to keep the UCLA people away," says co-owner Mark Serventi, "but I know that by far it's more USC fans coming in here to watch the games. We get some of the players in here, too. [Former USC quarterback] Mark Sanchez has been in here quite a bit and [former quarterback] Matt Leinart. It can get loud, depending on the game."
Balancing the cardinal-and-gold crowd somewhat is occasional customer Terry Donahue, the former UCLA football coach who lives in Newport Beach—"down there in the lion's den," Keith says.
Still, the rivalry remains genteel.
"During that week different people kind of go to their different corners," says Melanie Salata Fitch, a longtime Newport Beach resident and USC graduate. "I have a lot of friends who are UCLA fans and during that week they kind of go underground, like they're on radio silence. Some of my friends are from mixed families. They don't legally separate but … when the game starts they really get amped up."