Considered by many as the Willy Wonka of Newport Beach, Brandy Valdez of B. Candy reveals her recipe for an ideal day.
By Kirsti Correa | Photos by Jody Tiongco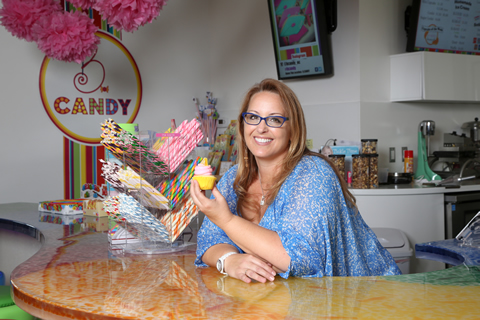 Brandy Valdez lives a pretty sweet life. As owner of B. Candy in Corona del Mar, she's surrounded by sugar on a daily basis—even the novelty gifts in the shop are candy-themed. Through B. Candy, Brandy adds a dash of happiness to the lives of locals and visitors who stop by for a specialty treat, which are all selected by Brandy and made in-house by her team whenever possible. Running the candy emporium is a family operation that even includes her dentist husband, Arnold (the store stocks flavored dental floss as a compromise). When she's not cooking up an idea for a new ice cream flavor or serving a sugar high at the shop, this mother of four is shuffling from lacrosse games and birthday parties. Here, step into her shoes as she shares her favorite ways to spend a day in town.