By Christopher Luu | Photos by Chad Mellon
Newport is a town where laid-back, beach-casual meets the buttoned-up business suit. For every man that loves living in his three-piece, there's a waxed-moustache hipster scouring vintage shops for one-of-a-kind finds. Here, get sartorial secrets from four decidedly different yet still fashionable gents: a serial surfer, a globe-trotting CEO, a doctor to the rich and famous, and a savvy sailor. Trust us—these guys have style to spare.
MATT MEDDOCK
West Coast Cool: The sandwich maestro has grown out of skate brands and embraced high-function fashion.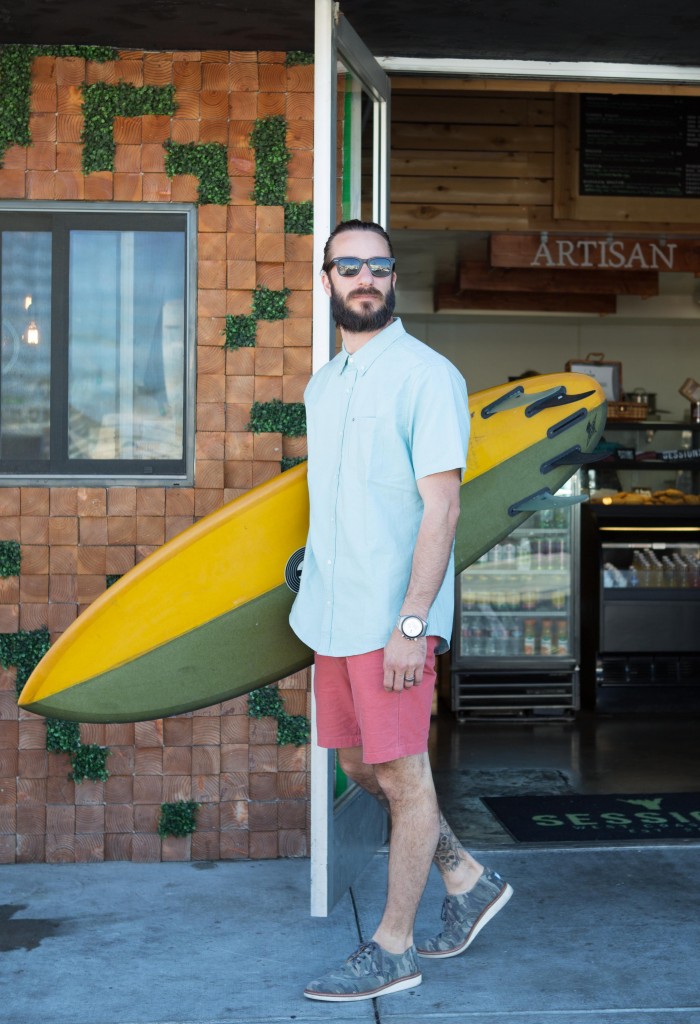 Matt, who opened Sessions West Coast Deli last year, blends high performance with high style by drawing from his background in the surf and skate industries. Growing up on boards of all sorts, he's just as focused on utility as he is on style now that he's a successful businessman behind one of the United States' most popular sandwich shops (it recently ranked 31st on Yelp's list of top 100 places to eat in the country).
"As I've grown up, my love for brands has been taken over by function," he explains. "I now wear what I think looks good, but also fits the best, works the best, keeps me warm and keeps me cool."
His uniform of choice is a Hurley T-shirt and board shorts, but he also loves one-of-a-kind finds he digs up at The Lab and The Camp boutiques in Costa Mesa. "We are entering an era where people really appreciate well-thought-out goods," he says. "We take for granted the quality of handmade."
Matt is proof that even seasoned surfers don't just live in wetsuits and graphic tees. "I wear a variety of styles and looks—I try to change it up often," he says. "I have the kind of style that most people might look at something and go, 'Who could rock that?' I'd answer, 'I will, and I'll make it look dope.' "
SHANE BAUM
International Appeal: This worldly designer brings together influences from around the globe.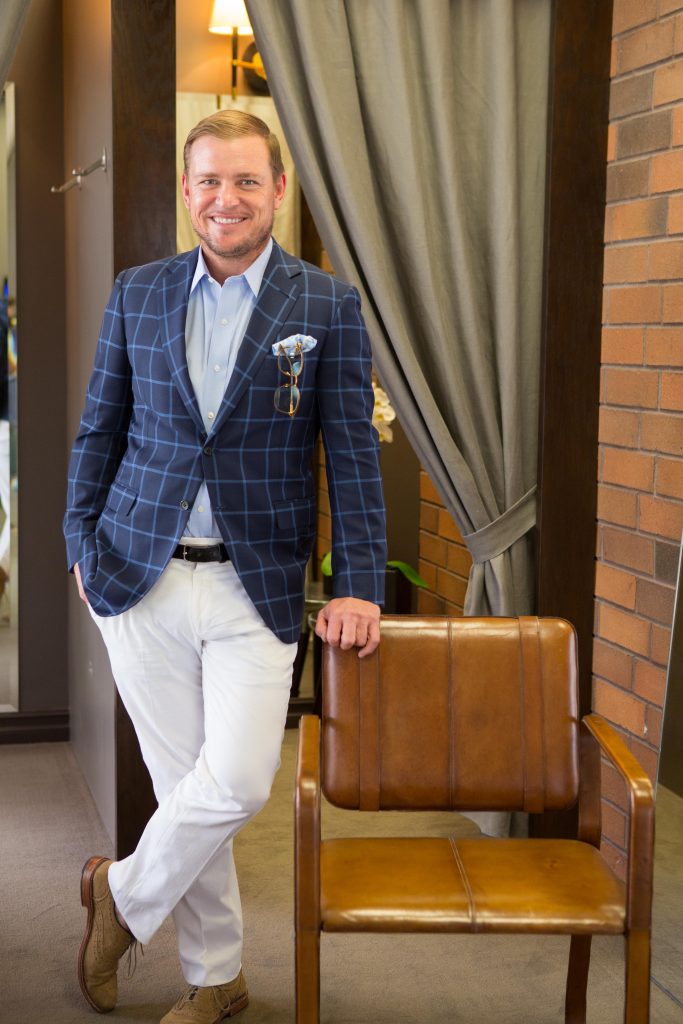 With stops in Japan, Germany, Paris and New York, it's no wonder that Shane's style is exactly what you'd expect from a fashionable jetsetter. Big names mingle with new, under-the-radar labels and, of course, pieces from his own line of eyewear, Leisure Society.
"Old-school fashionable men and sharp-dressed grandpas have always inspired me in the way I dress," he says. "The gents-about-town possess a lifetime of experience based on knowledge and refinement."
Shane's the epitome of cool confidence when it comes to mixing modern and traditional sartorial sense. Visits abroad serve as inspiration, as do trips to Garys at Fashion Island—and it also doesn't hurt that he sometimes enlists the help of Newport Beach-based stylist and designer Mark Pomerantz.
"I try to add pieces that are timeless and will last a few decades," Shane says. "I avoid micro-trends and think long term."
And when a brand is called Leisure Society, you better bet that the man at its helm isn't stuck behind a desk. More often than not, Shane is hopping between equestrian events on the East Coast to fly-fishing trips among the redwoods.
"Dressing for the Virginia Gold Cup, a steeplechase outside of Washington, D.C., may call for seersucker, a bow tie and a straw hat," he explains. "A driven bird shoot in Scotland would call for green and tan tweeds and a yellow cravat with pheasants on it." No matter the location, Shane knows exactly what to wear for the occasion—it's just part of being a man focused on the business of leisure.
JOHN DRAPER
Seaside Style: A born and raised Southern Californian adds prep to his step on and off the waves.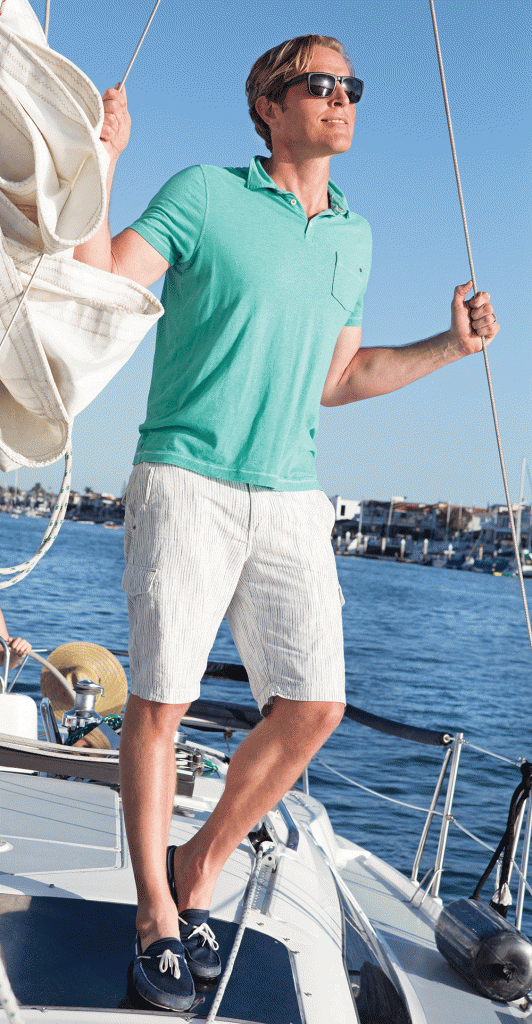 For some guys, getting dressed isn't a chore; it's something that they genuinely enjoy. For John, who suits up for Wells Fargo Advisors during his 9-to-5 grind, it means ditching his usual uniform when he clocks out and heads to the tennis club or harbor for a sailing session.
"I've lived in Southern California, primarily Newport Beach, most of my life," he says. "It's a city where it's good to be eclectic, relatively conservative and comfortable."
Though John's style takes cues from traditional prep standards, his style is a little more relaxed than your typical country club member back East. Like most men, he shops at the usual favorites such as Nordstrom and Bloomingdale's at Fashion Island for their selection and one-stop convenience, but he puts his own spin on the pieces he picks up. Tennis whites are nowhere to be found when he's on the court—he prefers Adidas Climacool clothing, which is designed in an array of primary hues and brighter shades.
When he's out on a sailboat, however, he's likely wearing the requisite boat shoes paired with performance brands known for their ability to wick away sweat, withstand the salt and spray of the ocean, and make the transition from dock to drinks without breaking stride.
"Henri Lloyd (available locally at West Marine) makes some great stuff for sailing," he adds. "… The weather on the water can be a fickle thing with unpredictable shifts in the wind and sun. You have to prepare for all contingencies. Sailing requires more physical exertion than people think, so I seek out function and comfort first, with breathable fabrics as a priority."
GREGG FEINERMAN


Business Casual: Sharp tailoring comes into focus with bespoke suits and personal touches.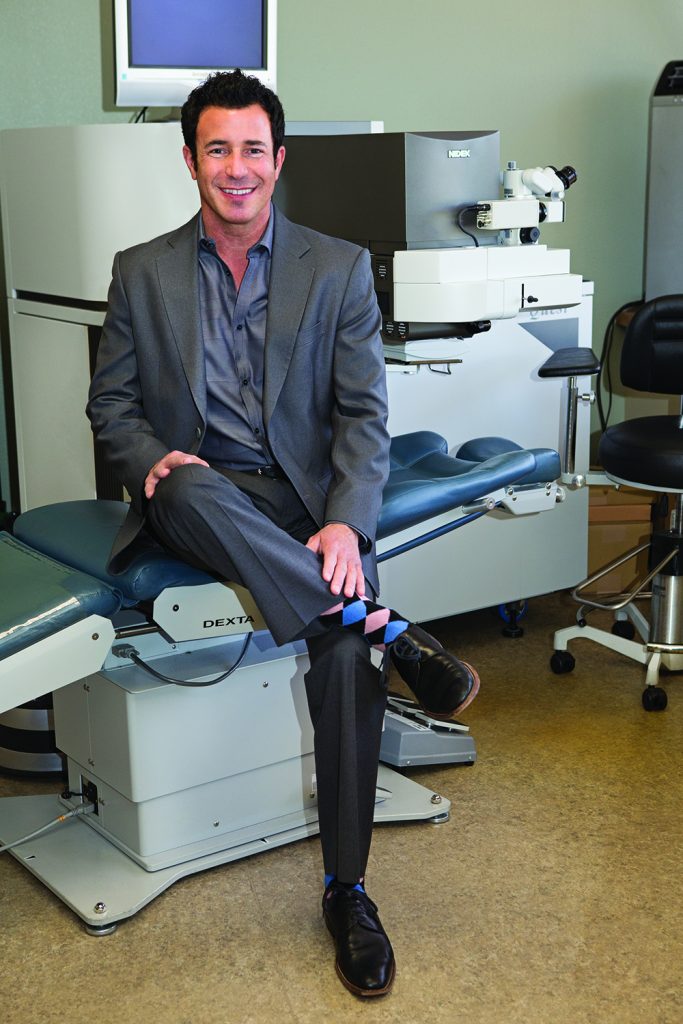 It doesn't take crystal-clear vision to see that dressing for the boardroom has come a long way since the era of Don Draper and the power suit. These days, most guys are wearing suits because they want to—not because they have to. And Dr. Gregg Feinerman, a fellowship-trained ophthalmologist who has an office off Superior Avenue in Newport, wears his custom suits with pride.
"It's important to dress well," Gregg says. "The way you dress says a lot about you. For example, your attention to detail—I dress to look contemporary and professional."
Gregg's sharp suiting may have been a contributing factor in gaining his celebrity clientele, which includes footballer Cesc Fàbregas and members of Hollywood's elite. He often appears on local and national television, including CBS' "The Doctors" as well as news segments on KNBC and KTLA.
But when he's in Newport Beach, you'll find him searching for new pieces at Nordstrom Fashion Island that complement his wardrobe of custom-made attire—he favors items from the John Varvatos, Hugo Boss and Theory collections. In his off-hours, Gregg sheds the suit for polished, casual pieces from LA-based James Perse (try the local Westcliff Drive boutique) and rag & bone, which are laid-back without looking sloppy or overly trendy.
"I would say my style is an effortlessly cool, downtown LA aesthetic," Gregg says. "I'm always shopping around to see what's trending."