Moving to Newport Beach more than 35 years ago gave Mary Roosevelt's family a life away from politics and led her to a career as a celebrated Orange County educator.  – By Lauren Simon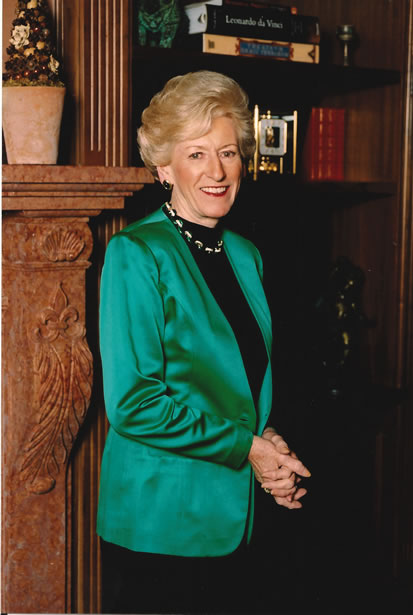 Many romantic factors draw residents to Newport Beach—the climate, the harbor, the ambience, the beaches. The reason for Mary Roosevelt was much more practical: Her husband James would be an unpopular candidate in the heavily Republican town.
The eldest son of President Franklin Delano and Eleanor Roosevelt and former Democratic congressman from Los Angeles, James had already led a full political life by the time he met his fourth wife Mary. She didn't want him to run for office again.
"I said to one of his sons, 'Where can we go that Dad doesn't already have a following that I am going to have to deal with?' " Mary says of their decision to move to Newport Beach in 1972. "He said, 'You need to go to Newport Beach. The Irvine Company is developing shopping centers. There's a new university there. And it's hot Republican territory. Dad couldn't even get elected dogcatcher.' "
Nearly 40 years later, Mary still calls Newport Beach home despite her husband's death in 1991. A Brit and a global traveler who had spent many years living alone in London, Geneva and New York, Mary admits that it took a while to warm up to Orange County living.
"We moved into the first house finished on Spyglass Hill, and there was nothing up there," Mary recalls. "When I first came, I didn't feel comfortable. It was a la la land—Disney, Hollywood and whatever else … There wasn't really a lot of culture."
As Newport Beach and its surrounding areas matured, however, Mary grew to like it here. James did his part by supporting the growth of South Coast Repertory and the Orange County Performing Arts Center, which opened in 1986, allowing Mary to enjoy world-class performing arts close to home.
International Relations
Mary's marriage to James came as a bit of a surprise to her. When they met in Geneva in 1967, she was focused on her career as a teacher, which had taken her from her first job in London to the International School of Geneva, where Hall Delano Roosevelt—James' youngest son from his third marriage—attended school. Thirty-two years her elder, James was married at the time.
Shortly after, Mary moved to New York to become principal of the Junior House of the United Nations International School of New York. She also was traveling the world in support of the development of the first International Baccalaureate curriculum, a standardized international educational program that allows students to continue on the same course of study regardless of where they live.
"I was a very independent and very much a single young woman," Mary says.
Love being what it is, however, James divorced in 1969 and set his sights on Mary, who he pursued around the globe.
"He dated me all over the world," Mary explains. "My secretary, unknown to me, was giving him my itinerary. I was traveling a lot—South America, Asia, Europe—and Jim kept showing up. Finally, it dawned on me that he had my itinerary."
The couple became engaged in Rome in 1969. "He took me to a wonderful restaurant called the Sans Souci, and then he took me to an outdoor performance of 'Aida' in the Colosseum," Mary recalls. "You couldn't say no to somebody with an evening like that planned."
Back to School
Although Mary put her career on hold during the early years of her marriage, it wasn't long after she moved to Newport Beach that she became involved with the University of California, Irvine (UCI). She earned an American teaching credential in 1974, joined the faculty as a supervisor of student teachers in 1975, and became coordinator of the multiple subject credential program—which trains elementary school teachers—in 1990. She served as the education department's director of external relations from 1999 to 2002, and is currently a member of the department's advisory council.
In 1984, Mary received a Lauds and Laurels Award for university service from the UCI Alumni Association, and she was honored in 1990 with the University Medal Award for her longtime support of the university.
Outside of UCI, Mary is a trustee emeritus of Sage Hill School, an advisor to the Medical Care Corporation, president emeritus of the University of California Research Associates, a friend of Griffith University in Queensland, Australia, and a trustee of the Ecolint American Foundation.
Now in her 70s, Mary remains active in her educational endeavors and travels several times a year to visit family and friends overseas. She also enjoys the company of her daughter Rebecca, her son-in-law and their three children.
Despite being widowed for nearly 20 years, Mary expresses no regrets about her marriage. "He was never old, and I was probably never young, so we were a good match for each other," she says.
The Roosevelt name is closely associated with American politics. Eleanor Roosevelt was the niece of Theodore Roosevelt, the 26th U.S. president. She married Franklin Delano Roosevelt, the 32nd U.S. president, and several of their children—including Mary Roosevelt's husband, the late James Roosevelt—also sought political office.