Retail entrepreneur Wayne Heck brings popular Hawaiian footwear chain Island Sole to Newport Beach.
By Peter A. Balaskas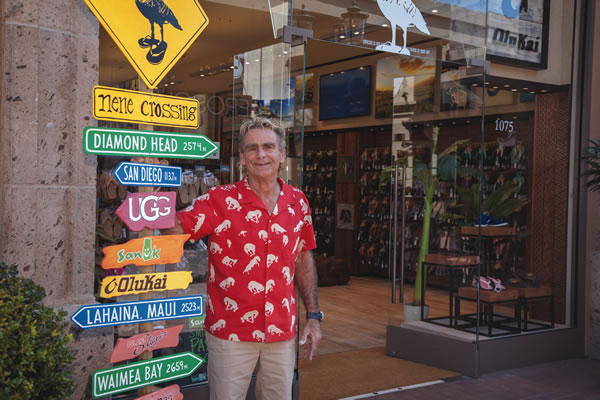 Establishing and maintaining a successful business is hard enough. But to expand that business, to create a chain that stretches across international waters, is more than just a complicated undertaking; it's a mission that must be fueled by dedication, ingenuity and a considerable financial investment.
Newport Beach retail and real estate entrepreneur Wayne Heck knows all too well what needs to be done in order to own and expand a retail business chain. Since 1984, he has been a franchisee of Haagen-Dazs and, in 1991, he became the owner of the company's Fashion Island store. Wayne's acumen as a business owner quickly led him to helming an additional Haagen-Dazs outpost—as well as a Sanuk sandal store—in the Downtown Disney District of Anaheim.
His experience with Sanuk put him on track to perform the feat most indicative of his entrepreneurial drive. Since signing on as a partner with Hawaii-based footwear retailer Island Sole, Wayne has expanded the chain, opening the brand's first U.S. mainland location at Fashion Island in July. Island Sole Fashion Island offers popular footwear brands including UGG, OluKai, Sanuk, Freewaters and Island Slipper, among others. Newport Beach Magazine spoke to Wayne about Island Sole and his experience as a Newport Beach business owner.
Newport Beach Magazine: What motivated your passion to become a business owner in Newport Beach?
Wayne Heck: I am a longtime resident of Newport Beach. I am a true believer in the Orange County lifestyle—one of the best, if not the best, in the world. I'm passionate about this community, its people and its businesses. Newport Beach is a wonderful place to live and do business. I consider it a blessing that my wife, Cate, and I live and do business here.
NBM: What is it about the city and community of Newport Beach that makes it your home?
WH: While I'm not a Newport Beach native—I was born in Covina, Calif.,—I grew up in Glendora, went to San Diego State and lived at the beach. At graduation, I moved to Newport Beach some 41 years ago; married Cate; had a beautiful daughter, Hayley; and now enjoy a wonderful grandson, Kai. I love Newport Beach and the beach lifestyle. … I can't imagine living and working anywhere else.
NBM: How did you discover Island Sole?
WH: It was through our Sanuk store in Downtown Disney that I met [Island Sole founder] Kent Untermann, who expressed interest in opening a [branch] in Waikiki. I was able to introduce him to the then-owners of Sanuk, who allowed him to open … the second-ever all-Sanuk store in the United States. He has been as successful as we have been. His success in the sandal business sparked a desire to own a multibrand sandal store.
NBM: What led to your decision to bring Island Sole to Newport Beach?
WH: [Kent and I] have come to know and respect each other. And because of our relationship, we both felt comfortable partnering and bringing this highly successful brand to Newport Beach. We consider Fashion Island to be the crown jewel [of] the Irvine Company. There's nothing like Island Sole, with its welcoming, friendly ambience and spirit of aloha.
NBM: How will this franchise benefit the Newport Beach community?
WH: [By] bringing the best selection of stylish, high-quality footwear all under one roof to Newport Beach. It's one-stop shopping for ideal footwear for the Newport Beach lifestyle. The store will include hard-to-find [shoes] and the widest range of styles and sizes outside of our featured brands' flagship stores. Island Sole offers warm, friendly, attentive service and a fun shopping experience.
NBM: Do you think this debut will provide opportunities for other Hawaii-based shops to branch out to Newport Beach? 
WH: I love Hawaii; I love Newport Beach. The amazing lifestyles we experience in both Hawaii and California are so complementary, and it makes sense that many of the same retail concepts will appeal to consumers in both places. NBM