Behind the Board:

  Despite advances in technology making it easy for anyone to create a computerized form, Newport Mesa's surfboard artisans are still helping to shape the city.

By Heather Fish | Photos by Trever Hoehne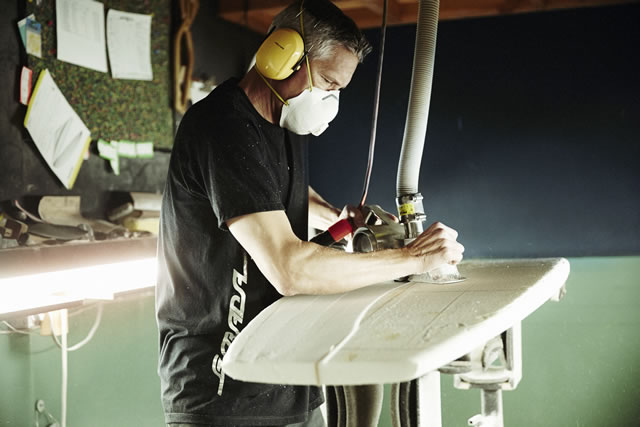 Nestled in the industrial part of town along Placentia Avenue are shops filled with foam blanks, dust and the sweet smell of resin. Hard at work, surfboard shapers are covered with a soft white coating from head to toe, wearing masks around their faces and duct tape on their shoes.
Seasoned surfers walking through the doors leave their wishes in the hands of expert shapers and their crews. Once the proper size of foam is chosen by the shaper, the board is created with exacting precision. Cut to the correct dimension, it then receives plugs on the bottom to accommodate a fin system; a glasser takes on the sticky job of adding a protective shell of resin. Finally, the board is sanded to perfection, which is a difficult task in itself.
With the advent of 3-D printing and a worldwide love for all things tech, it's not a surprise that the industry has turned to computers for creating on-the-water equipment. But in Newport Mesa, where the waves are powerful and churn out dedicated masters of their trade, old-school shapers stay the course. Created painstakingly by hand, their boards are a result of pleasure and privilege, illustrating that in Newport, at least, shaping is still an art form.
The Golden Age
Twenty-five years ago, two local guys—Mike Estrada (Estrats Board Manufacturing Co.) and Cordell Miller (Cordell Surfboards)—were just starting out in the business. Former Quiksilver Young Guns, they're veteran surfers-turned-shapers who have enjoyed a front-row seat as the shaping industry evolved.
Cordell, who created one of his first boards in Mike's shop at the ripe age of 18, was ahead of the curve as he emerged on the scene. A gifted surfer who still spends his free time as a regular in the lineup at Lower Trestles at San Onofre State Beach, he took the basics of board design and began adding elements to ease common struggles faced in the water. He's since perfected the use of an extreme rocker, the bottom curve of the board from nose to tail (an important component for maneuverability on the waves).
"While I was sponsored and traveling for Quiksilver, I'd ridden a lot of different kinds of boards," Cordell says. "But then I rode one shaped by Xanadu, and it seemed to have more rocker than usual. I became very interested in creating my own boards with this added element, because I was certain this was key to a better ride. It just made sense to me that the curve of the board should reflect that of the curve of the wave for better carves and turns."
Similarly, Mike is tuned in to the technical needs of young surfers seeking the perfect board. Because Mike himself is an avid surfer who still competes—he won the Surfing America USA Championships in the Senior Men's Division at Lower Trestles in 2013—he understands dimensions and what will function well in the water.
"I shape exactly what the surfer envisions, and their satisfaction in the water is the reason they return to me for more boards," he says.
Mike is also no stranger to the standards of knowledgeable clients, having shaped for pros like Volcom-sponsored Andrew Doheny. Pro surfers and everyday enthusiasts alike want to experiment with boards, from short, wide styles to very narrow, potato chip-thin designs, he explains.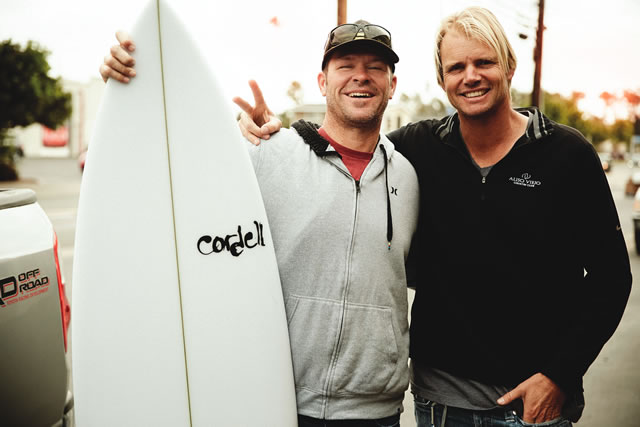 Adapting to the Digital Era
This handcrafted method based on personalized experience is something that you won't find in the style of digital board design that's growing in popularity. Computerized shapes, courtesy of China's induction into the industry, have a formulaic feel and don't account for individual needs.
In this process, dimensions are fed into a machine that cuts the foam based off the specified pattern. It certainly has its benefits for meeting high quantity demands, but yields a "one size fits all" style.
"Just because a board is shaped by the computer, it doesn't guarantee the perfect board," Mike says, adding that mistakes can happen during the cutting process. He explains that with hand-shaping, there's more control over mishaps, imperfections and potential problems with the blank.
Unfortunately, for shapers like Mike and Cordell, the harsh reality is that nearly any technology-savvy individual can purchase and download a shaping program. There are local shops that cut computerized shapes day in and day out, producing "newbie" designs without ever knowing how to use a hand planer.
"Today, pretty much every board is machine-shaped," Cordell says. "It's not like back in the day where every board was hand-shaped, and it was a special breed of guys that took up the art form."
"They are missing out on the real joy of shaping," Mike adds of businesses relying on digital forms. "They are taking a bite out of the market."
Commitment to the Craft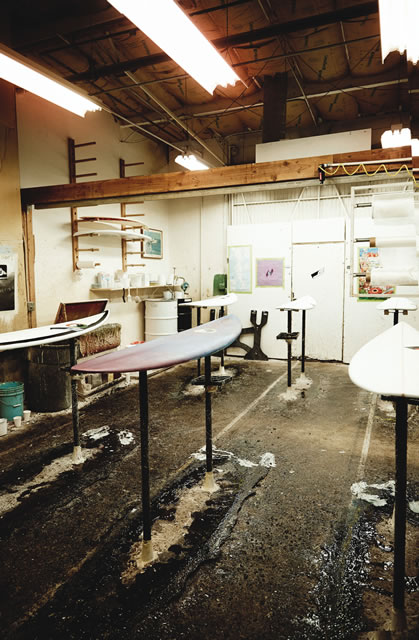 Though digital design may have its small benefits—namely, a higher production volume—Newport Mesa's shapers won't compromise quality just to make a quick dollar. It's a deep-rooted sentiment that resounds even with former shaper (and longtime Newport resident) Bob Hurley.
Though these days he's focused more on his successful surf clothing line, Bob remembers that the real excitement of the craft comes from listening to the needs and desires of the person you're creating a board for. "You get to know who they are and where they like to surf and what kind of boards they like," he recalls of working with past clients. "… It's an important relationship to make sure the boards work in whatever conditions you end up surfing. With shaping, it's more of a passionate thing—not for the money."
Waves come in all shapes and sizes in Newport, and a custom board created specific to an individual's weight, body type and surf ability is crucial to how productive they will be in the water. According to Cordell, the questions to ask new customers are pretty common: Where do they surf, what type of board are they used to and what are they looking for?
"There really is no set standard these days," he explains. "Influence for boards is coming from the '60s, '70s and '80s. … Anything goes, but it's typically based off of preference."
It's a shaper's job, however, to remind customers that just because they want a board ridden by the guy who is ripping out in the water doesn't mean it's the correct shape for them. Cordell continues: "A person's weight is the real variable. … Someone with a little more meat on his bones will need more volume with extra width and thickness, versus someone who may weigh the same, but is taller and lighter on their feet."
He adds that the overall trend these days is to use a shorter board style for bigger waves. It's a challenge, which makes it so appealing to modern surfers—especially at the Wedge during a big swell, when only short, easily maneuverable boards can be ridden safely (and even that is debatable).
Newport waves tend to be a little faster and steeper than other surf spots in Orange County, meaning that high-performance shortboards are favored for local conditions, Mike explains. Of course, the popular longboard spot, Blackies—just north of Newport Pier—is the exception, producing easy waves for beginners.
No matter the size or shape, these bespoke boards are sacred. So as the rest of the world relies on technology, our local shapers' alley continues to be fueled by hard work and passion. Mike, Cordell and other individuals like them are the reason why shapers are so respected by surfers: They keep the waters full of handcrafted equipment so others can ride the waves to success.