No longer content with the little black dress, the ladies of Newport Beach's galas are making bold statements in bright, distinctively feminine frocks.
By Lois Elfman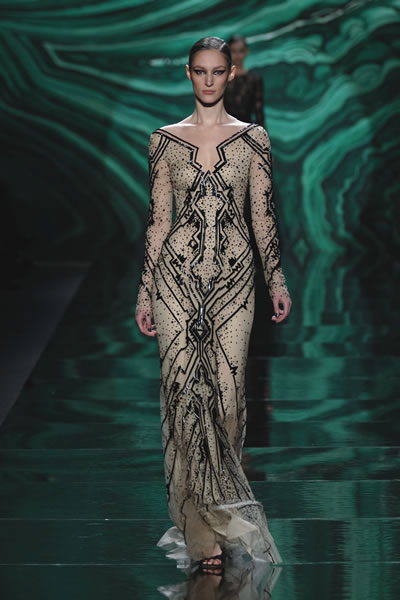 Women of Newport Beach wholeheartedly embrace opportunities to dress up. Time and time again, the elevated drama that accompanies an evening spent in an uncharacteristically glamorous ensemble proves too enticing to resist.
Autumn, being the season for high-profile fundraisers and galas, constitutes an incredibly hectic agenda for Newport Beach's social set. "The fall calendar is packed," says Newport Beach-based stylist and fashion show producer Deborah Keillor. "Orange County residents are known to be very philanthropic—we look forward to supporting our favorite causes every year. These are truly the most fashion-driven events of the year."
In search of advice on how to turn heads throughout fall's annual style showdown, Newport Beach Magazine consulted several locally based stylists and designers who have their fingers on fashion's erratic pulse.
Exploring the Spectrum
While basic black reigns supreme in many women's wardrobes, stylists suggest storing neutrals in the back of the closet this season and instead opting for color. Stylist and wardrobe organizer Leslie Christen, who is based in Laguna Beach, foresees the popularity of rich jewel tones, including "luxe colors like oxblood, deep purples, charcoal and golds."
"This season there is a smattering of ice blues and yellows, which adds some perk," she adds. "Designers are getting smart and incorporating pieces that can be worn year-round."
Personal stylist and shopper Nazy Meknat of Style by Naz, who works in Orange County and Los Angeles, says fall is also big on green. "All shades of green, especially emerald green, are the strongest color trend this season," Nazy explains. Image consultant Sophie Mae of Sophie Mae Style in Costa Mesa gives the shade her endorsement as well, even going so far as to name it this season's standout color.
"Emerald green is a great color because it is flattering on all skin tones and gives an essence of sophistication," adds local designer Val Stefani, whose collections includes cocktail dresses and evening gowns, in addition to bridal options. "Try to incorporate emerald not only in your wardrobe, but in your accessories," she advises, explaining that colored handbags are excellent avenues for experimentation. Other hues on her radar include variations of navy blue and utilitarian greens. Along with rich jewel tones, patterns are taking precedence this fall. Leopard, a perennial favorite, has been reborn in a range of shades and print scales.
Day Dressing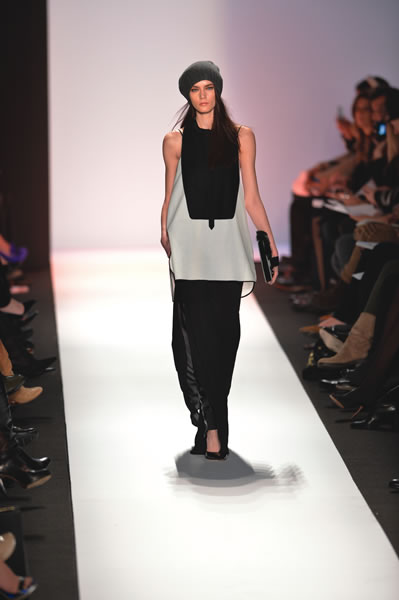 Knit and color block dresses are the ideal choices for luncheons and midday events, Nazy notes. Meanwhile, Leslie believes midlength skirts have trumped minis and maxis, as evidenced by the presentations of luxury designers including Oscar de la Renta, Louis Vuitton, Jil Sander, Victoria Beckham and The Row.
"It's a call to lady-like fashion with a long, lean line and can be appealing on a lot of body types if worn just the right length," she says. "It has to be perfectly tailored to your body type or it can go very wrong."
Silver screen sophistication of the 1940s and 1950s has had a major influence on current collections, many of which include constructed dresses and suiting nipped at the waist with feminine detailing. Sartorial kingpins like Dior, Prada and Lanvin have pioneered this season's return to Golden Age glamour.
Designers are also embracing femininity with lace, which is featured prominently in this season's cocktail dresses and evening gowns. "Lace is a light fabric, which is perfect for the moderate weather in Southern California," Nazy explains.
"Designers like Dolce & Gabbana and Valentino use colored lace on their cocktail and evening gowns," she says. "Colored lace adds a youthful and fashion-forward spin on the trend," Sophie adds. "We will also be seeing a lot of sequin dresses inspired by the 1920s era. Look for darker colored sequins for a … modern feel."
Going Formal
When it comes to galas, sometimes cocktail dresses are perfect (invitations often indicate), but for the grand events formalwear can be mandatory. "A gala is a very dressy occasion requiring you to be wearing a gown," Leslie explains. "It's not a cocktail party or a costume party. It's a major event."
Old Hollywood exerts its influence most strongly over this season's gowns. Val says her upcoming pieces will draw inspiration from the era with a focus on soft shoulders, cinched waists and lower necklines, giving women defined hourglass silhouettes. The return of peplums and elaborate draping evokes the guarded sensuality of days gone by.
To avoid looking dated in retro-inspired pieces, Nazy suggests incorporating subtle elements of contemporary style into outfits. "You can keep it modern by choosing a color block evening gown, or add bulkier jewelry to your look," she says, recommending Marchesa, Zuhair Murad and Oscar de la Renta for formalwear, among others.
Most importantly, women dressing for social events should be willing to explore fashion's nuances. "I always advise my clients to push their style limits in one way or another when they are dressing for a special event," Sophie says. "… If you want to give the sequin trend a try, go for it. Just make sure that the shape is figure-flattering and that you feel fabulous while wearing it."
Completing the Look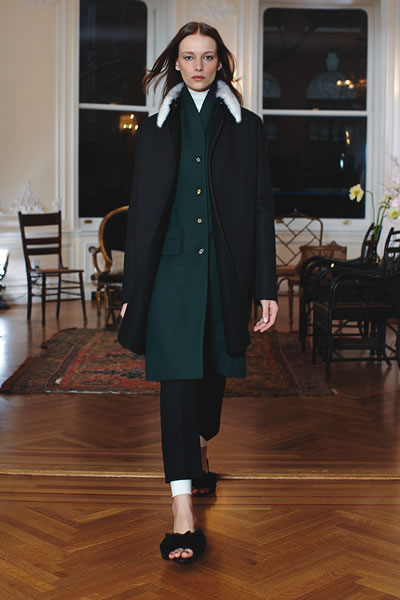 As the weather cools, outerwear will make a gradual return to evening events. But this season's layers are anything but ordinary: "You will see fur, beading and richly embellished plush coats, stoles and wraps," Deborah says.
Footwear remains a signature aspect of ladies' looks, yet women can expect a wider variety of options this season. For added impact, Leslie suggests statement heels with metallics and studs for a needed edge to an overly feminine look. Shoes that feature rounded platforms, heavier soles, stacked heels and masculine details like buckles are in both Val and Deborah's arsenals. "Sandal boots, which are like booties but open-toe, are going to be big," Nazy adds. "[They] would give a feminine lace dress … an edgier look."
The stylists advocate investing in platform pumps in black, nude or a metallic shade. Sophie says black pumps are always in style, but can go from ordinary to sensational with unique detailing
Clutch purses and statement jewelry remain essential accessories for all the stylists. Nazy recommends finishing a look with "a small, sparkly clutch, drop earrings … or a fabulous statement necklace."
But the best accessory is confidence, Val says. "It gives you the ability to pull off any outfit and [ensures] you are wearing the outfit, [rather than] the outfit wearing you."
Overall, personal preference should dictate choice, and attitude is key. Deborah explains: "When a woman is confident in how she presents herself, she exudes her real self."

Haute Spots
Our local experts have an insider's perspective on coastal Orange County's best boutiques for one-stop shopping.
Stylist Deborah Keillor prefers A'Maree's in Newport Beach for unconventional pieces. (949-723-0051; amarees.com).
Personal shopper Nazy Meknat favors Novecento Boutique in Crystal Cove for formalwear and Michael Nusskern at Fashion Island for luxury casualwear. (Novecento Boutique: 949-715-1700; novocentofashion.com) (Michael Nusskern: 949-287-0220; michaelnusskern.com)
Fashion stylist and image consultant Sophie Mae suggests Macalistaire at 1850 in Laguna Beach and OnQueStyle in Corona del Mar for vintage and consignment apparel and accessories. (Macalistaire at 1850: 949-497-9080; macalistaire1850.com) (OnQueStyle: (949-717-7795; onquestyle.com)
All of the experts chose South Coast Plaza as their go-to retail destination. (949-435-2000; southcoastplaza.com).
Keeping in Sync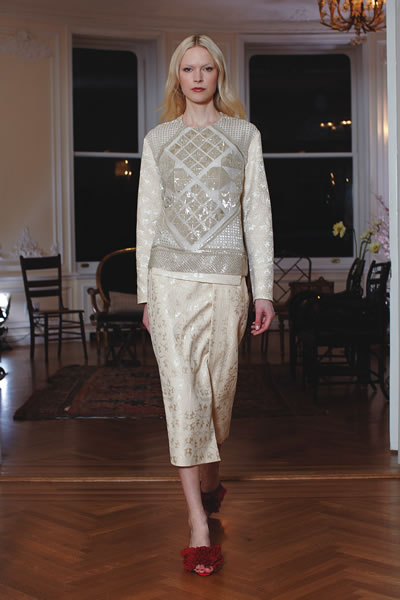 How much should a man's outfit match a woman's? According to Southern California-based designer Val Stefani, it depends on the couple. "We would recommend not going for obvious matching where [if] the woman is wearing red, then the man should automatically wear red," she notes. "Try to go for accent colors. If she is wearing a bold, jewel-toned dress then the man can wear a nice, neutral gray suit. This … will coordinate nicely without being so obvious."
At the opposite end of the spectrum, stylist and wardrobe organizer Leslie Christen, based in Laguna Beach, encourages couples to collaborate. "I am a big fan of coordination with your mate; have fun with it," she says. "A matching tie or pocket square with a dress or accessories is a great way to enter a room and say, 'We're together.' "
Coordination or not, what must match is the level of formality.
"It's important that a couple look like they belong together," Newport Beach stylist Deborah Keillor says. She advises opting for complementary—yet subtle—nods to each other's individual ensembles.