Luxury watches reflect the trends and times in Newport Beach.– By Vicki Hogue-Davies
In addition to keeping us punctual, the watches we wear tell a bit about who we are. They reflect our wealth, our style and our attitude.So what stories are timepieces telling in Newport Beach? Several jewelers who sell new, pre-owned, antique and retro watches reveal the plot.
The Gift of Time
| | | |
| --- | --- | --- |
| Michele, order at royal jewelers | Patek Philippe, william harold jewelers | CHANEL,traditional jewelers |
| Michele ,Order at royal jewelers | GIRARD-PERREGAUX ,traditional jewelers | TAG Heuer,traditional jewelers |
For buyers with the most disposable income— those 40 and above—high-end watch sales are still very strong, especially for special occasions,  says David Blackman, manager of Blackman Ltd. Jewelers.
"Graduations, anniversaries and holidays are good times for nicer, fancier pieces," he says. "It's usually a luxury watch with a little bit of diamonds for the ladies. For men, it's sport watches like Rolex Sub-Mariner and Daytona."
At Traditional Jewelers, floor manager Marie Lavailee notes that the holidays are an interesting time in watch sales, which represent a wide range of tastes and budgets.
"The purchases in watches tend to be either very safe or extravagant," she says. "Our male purchaser will buy a statement watch for themselves and as a gift for their mates. Watches for men will be classic with bold elements."
Specific brands that are hot sellers as holiday gifts run the gamut from the highly priced to the more affordable.
"Currently, models by Michele, Chanel, Rolex and TAG Heuer are very popular in regards to holiday pre-orders," says Jeff Vaziri, manager and watch specialist at Royal Jewelers. "However, we have seen an increase in the sales of less-expensive brands such as Invicta as well."
And while many people are considering timepieces for gifts, sometimes the best gifts are the ones you give to yourself.
"A lot of our watch buyers are self purchases," Tim says.
Changing Times
When times change, so do trends in watch sales. In the current economy, simplifying is important.
"The most significant change I've seen in the last two years is a return to a less ostentatious watch choice," David says. "Shoppers are choosing thinner, less 'blingy' watches, but still nice brands. They are speaking with their wallets."
Tim Harold, owner of William Harold Jewelers—which sells only pre-owned and antique timepieces—agrees.
"People are looking more for value now," he says. "That probably sounds kind of cliché for the time right now, but it is true," he says. He notes that Cartier, Rolex and Patek Philippe are consistently top sellers.
The pre-owned market is strong because people want to get more for their money. "Pre-owned timepieces are a great option for consumers who are shopping on a budget," Jeff says. "Also, the pre-owned market will sometimes enable a consumer to purchase a nicer watch than what their budget would normally allow."
Form Versus Function
Another trend in the watch market is how watches are being perceived. "Whereas in the past watches were worn predominately for their function (timekeeping), watches are now being worn as symbols of jewelry and fashion," Jeff comments. "Watches are less important than ever in regards to function. Most of us are constantly around cell phones, automobiles, computers and electronic devices that all accurately display the time on them."
While one might think that the abundance of these items would inhibit the growth of the watch industry, Jeff says that's not the case. "Men and women are both constantly investing in new timepieces," he continues. "The reason for this is because watches inherently tell you something about the person who is wearing them. A watch is not only a functional piece of jewelry—it is a statement to the world by the person who is wearing it."
Styles and Materials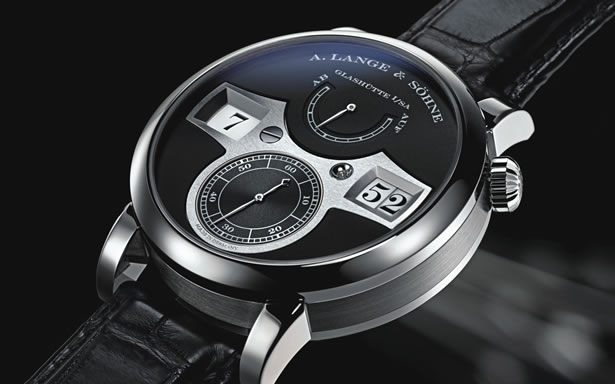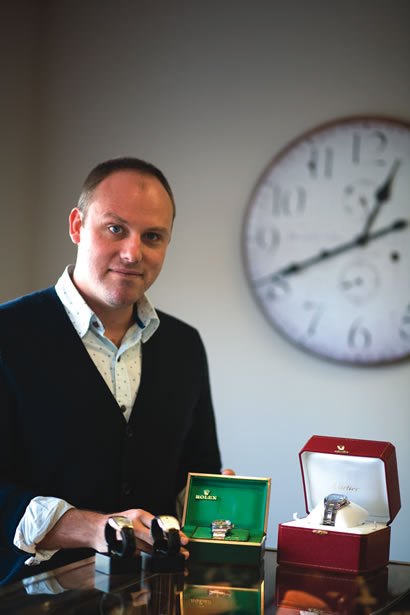 When it comes to style, classic and retro looks are popular now.
"What have been great sellers are retro-looking watches with pink gold and yellow gold, chunky bracelet style watches, and classic platinum and diamond art deco watches from the 1920s," says Tim, adding that classic men's Swiss watches like Patek Philippe are also in demand.
Finishes in watches are changing with the times, says Michael Moses, owner of Michael Moses Jewelers. "Newport Beach is really the 'mecca' of Rolex watches—it's a strong claim, but true," he says.
Within this mecca, however, what people look for in a Rolex is in flux. "People are moving from gold to stainless steel," Michael says. "Anything that shows activity, that you're sporty and you're hip, are strong right now," he says, pointing to the Rolex Yacht-Master as "every man's dream." The biggest watch for women, he continues, "is the Chanel J12, a swoon-worthy piece that is popular in white or black ceramic.
According to Marie, "ceramics is redefining luxury materials.
"Rolex has been introducing it in their sports edition," she explains. "Ceramics are also showing up in brands like Chopard, TAG Heuer and Bell
& Ross."
The size of timepieces is still a factor, according to Jeff. "I would definitely say that the biggest trend happens to be in regards to the size of watches that consumers are demanding," he asserts.
"Larger size watches are selling to both men and women in a big way. Women tend to be attracted to mid-size and full size watches, while men are definitely investing in full size and oversize watches," Jeff continues. "The next trend that seems to be growing in the watch industry is the push towards newer materials and finishes. Ceramic, titanium, tantalum, tungsten, high-grade rubber and ionic plating are a few examples of some of these materials and processes."
Whatever the brand, style, size or finish you desire—for yourself or that special person—you can be sure that Newport's many jewelers will help you to tell the perfect story.
Visit these Newport Beach stores for fine new and pre-owned timepieces: 
Altin Place
377 E. Coast Hwy.; 949-723-0551; altinplace.com
Blackman Ltd. Jewelers 3408-1 Via Oporto; 949-673-9334; blackmanltd.com
Carol Klein Fine Jewelry
1028 Bayside Dr.; 949-760-
3094; ckfj.com
Corona Del Mar Jewelry 2700 E. Coast Hwy.; 949-717-6680; coronadelmarjewelry.com
JB Diamonds & Fine Jewelry 369 San Miguel Dr.; 949-644-7366; jbdiamonds.com
Jewels by Joseph 
948 Avocado Ave.; 949-640-6788; jewelsbyjoseph.com
Mardo Jewelry 
980 W. Coast Hwy.; 949-675-1701; jewelrybymardo.com
Michael Moses Jewelers 120 Tustin Ave.; 949-646-7004; michaelmosesjewelers.com
Newport Jewelers
2633 W. Coast Hwy.;
949-515-5858;
newportbeachjewelers.com
Royal Jewelers
1280 Bison Ave.; 949-644-7804; royal-jewelers.com
Traditional Jewelers
203 Newport Center Dr.; 949-721-9010; traditionaljewelers.com
Watch Expo 
3400 Via Oporto; 949-566-9006; watchexpo.com
William Harold Jewelers 3116 Newport Blvd.; 949-673-0365; williamharoldjewelers.com
Winston's Island Jewelers 307 Marine Ave.; 949-673-1700; winstonsislandjewelers.com
Many shops at South Coast
Plaza sell fine timepieces, including Black, Bulgari, Cartier, Chanel, Chopard, David Yurman, Dolce & Gabbana, Harry Winston, Jostmar Jewelers & Watch Repair, Louis Vuitton, MontBlanc, Piaget, Rolex, Starr & Frost, Tiffany & Co., Tourbillon and Tourneau. More info: 3333 Bristol St., Costa Mesa; 800-782-8888; southcoastplaza.com.