Richard Diebenkorn
The long awaited Richard Diebenkorn retrospective debuts in Newport Beach.- By Daniella Walsh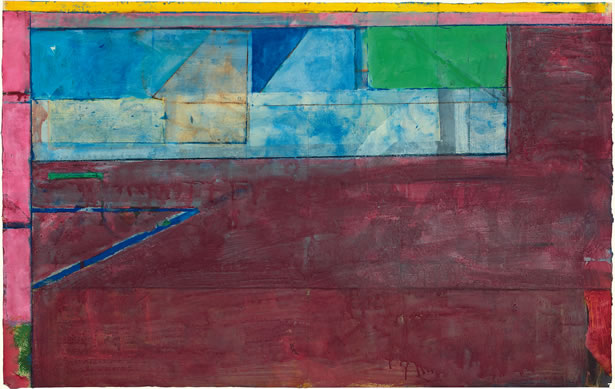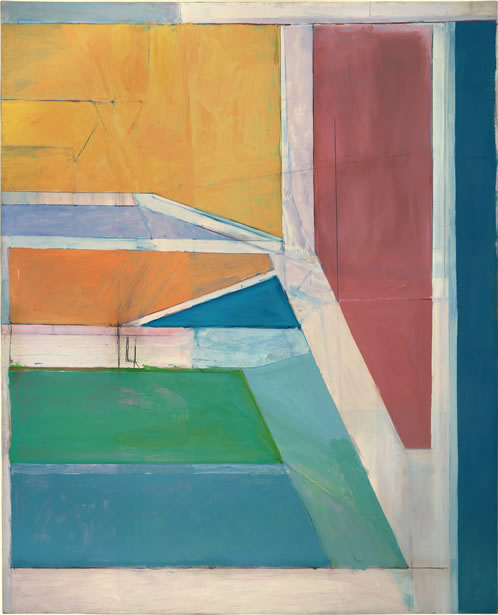 This is an important window into the history of art—a world-class exhibition.Many have been inspired to create great things following a move to Southern California, but few have reacted to the change of scenery with a creative output as compelling and confounding as Richard Diebenkorn's Ocean Park paintings.
After moving to the Ocean Park neighborhood of Venice (named after the amusement park that once was a beachside attraction) in 1966, Diebenkorn became entranced with its spare, angular architecture and a sun-drenched ambiance, and it changed the way he painted. Begun in 1967 and ended in 1988, the Ocean Park series represents a radical shift in the way the artist perceived and represented his environment. Orange County Museum of Art's Richard Diebenkorn: The Ocean Park Series is the largest exhibition of its kind to date. Curated by Sarah C. Bancroft and organized by OCMA and the Modern Art Museum of Fort Worth, the show runs in Newport Beach from Feb. 26 to May 27, 2012, and then travels to the Corcoran Gallery of Art in Washington, D.C.
"When I started working for OCMA, it was suggested that I do an Ocean Park show since the works rank among the most celebrated among California art and yet, no institution had done a major retrospective on Diebenkorn's amazing series," says Bancroft. "From that point on, I felt I had to do it."
She traveled widely to corral 80 paintings, drawings, and prints from a body of work comprised of roughly 140 untitled and only numbered pieces.
"The exhibition is really quite overwhelming," she says. "That many works take over the entire museum, but it's exciting to finally put most of them together as brethren." It took her three years to assemble the works, and the result is a crowning career achievement for a curator only her 30s.
"In a successful painting everything is integral.. all the parts belong to the whole. If you remove an aspect or element you are removing its wholeness."
Attributed to Diebenkorn, the quote reveals his mindset, particularly toward his much acclaimed but not, until now, extensively exhibited series of abstract paintings known as the Ocean Park Series. Prior to his move south, Diebenkorn was an important member of the San Francisco Bay area art movement, where his work was less abstract, mainly representational and figurative.
Perhaps the stars aligned in favor of upheavals in 1967. The year Diebenkorn dismayed contemporaries by divorcing the Bay Area Figurative movement was also the year that gave rise to America's Youth Quake, as embodied by the San Francisco "Summer of Love" when the city overflowed with youths festooned with flowers. But Diebenkorn had just moved from the Bay Area to SoCal where, crammed into a small room, he at first eschewed painting for drawing and collage. When he took over artist Sam Francis' spacious neighboring studio, the move spurred a desire to paint again—large this time.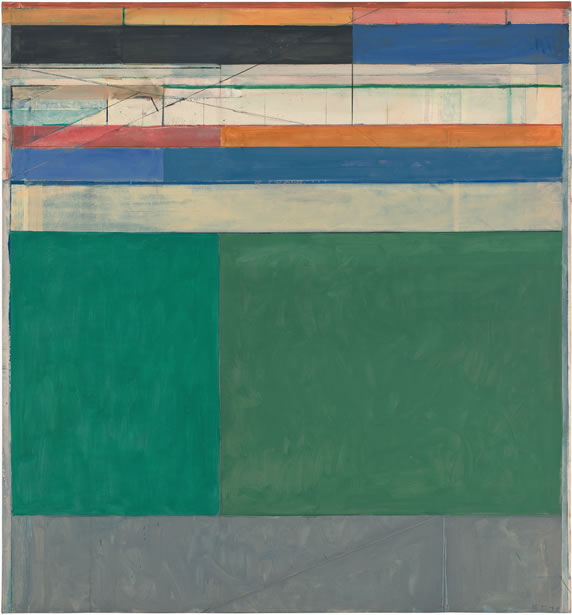 Representation and figuration gave way to vibrant fields of color and a linearity reducing a quasi-urban and ocean setting into geometric, interlocking planes that suggest perspective and a sense of actually being there. Comparisons to Mark Rothko and Piet Mondrian come to mind. Their size, up to 80×100 inches, as well as masterful coloration and textures contribute to the uniqueness of the viewing experience. "There is volume and depth, the paintings seem to hum," Bancroft says. They're not all large, however. Diebenkorn's iconic cigar box paintings rank among Bancroft's personal favorites. A cigar smoker, he painted small studies on cigar box lids that he gave as gifts to family and friends. "I would love to own at least one of those," she muses.
Diebenkorn's earlier work was first introduced to Orange County in a 1965 retrospective at the Pavilion Gallery in Newport Beach, which later became the Newport Harbor Art Museum and is now OCMA. In 1969, the Los Angeles County Museum of Art featured the first Ocean Park works, curated by Gerald Nordland, who had previously included the artist in smaller shows at the Washington Gallery of Modern Art in Washington, DC and at the Jewish Museum in New York.
"Diebenkorn should be seen as one of the most important painters in the West," says Nordland, now retired and an author of books on the artist. "OCMA's 'Ocean Park' show is one that has never been done with this scope. These works have been the hardest to deal with, with their allusions to the ocean and the sky. They are totally abstract paintings inspired by the light of Southern California," he says.
"It's almost as if you're walking into and being embraced by an abstract sculpture," Bancroft says in a Getty curatorial video on the works. "They're very visceral and physical in that sense. … They're very rich, but they can be very subtle. And tender."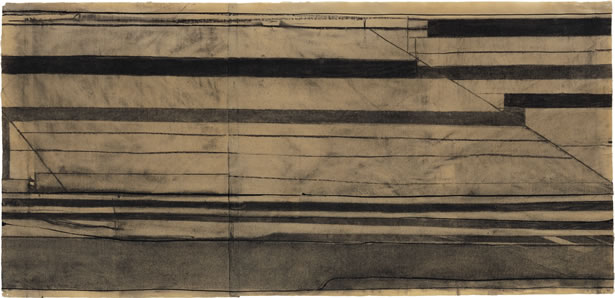 Diebenkorn finished Ocean Park in 1988 and in his later years returned to the figure and representation. Born in 1922 in Portland, he died in Los Angeles in 1993, leaving a legacy that appears to have finally come to full fruition almost 19 years after his death.  "It's amazing that it took that long to finally organize a retrospective of the Ocean Park works," says Jane Livingston, curator of 20th century art at LACMA and assistant director and chief curator of the Corcoran Gallery of Art where the show travels after OCMA. "Sarah worked hard to get some wonderful examples."
Livingston, who has included Diebenkorn in several shows she's curated, describes the artist as a hard worker who agonized over the outcome of each painting. "It adds to the beauty of the exhibit that there are so many drawings in the show. They show the shifts and adjustment that led to the final paintings."  "I hope that the Orange County community will take notice," she says. "This is an important window into the history of art—a world-class exhibition."
Two Schools of Cool, through Jan. 22; OCMA, 850 San Clemente Dr., Newport Beach; 949.759.1122 ,