Meet six local rising stars of the surf.
By Skip Snead | Photos by Scott Sporleder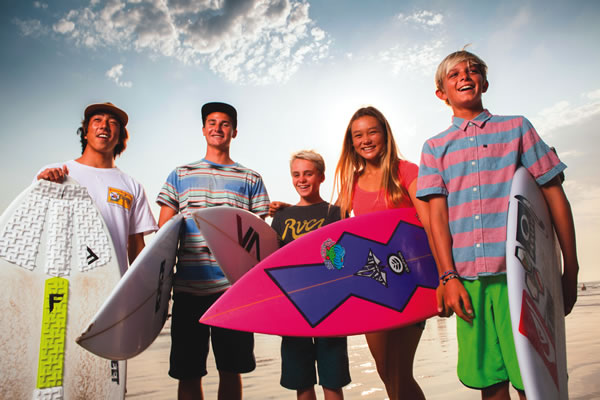 There's no question that the next big thing in surfing will come out of the Newport/Mesa area. Whether it's a brand, an entrepreneur, a designer or the next hot young surfer, you can't ever count out Velcro Valley; the area has deep roots in the sport of surfing, so it's no surprise that some of the best young surfers in the world live here. With a booming surf industry and more hype than ever on today's young surf stars, the sky is the limit for Newport's next wave of surfers, including rising stars Tyler Gunter, Meah Collins, Colin Moran, John Mel, Andrew Doheny and skimboarder Ken Suzuki.
Meah Collins
Age: 13
Fun Fact: Heiress of Wave Tools Surfboards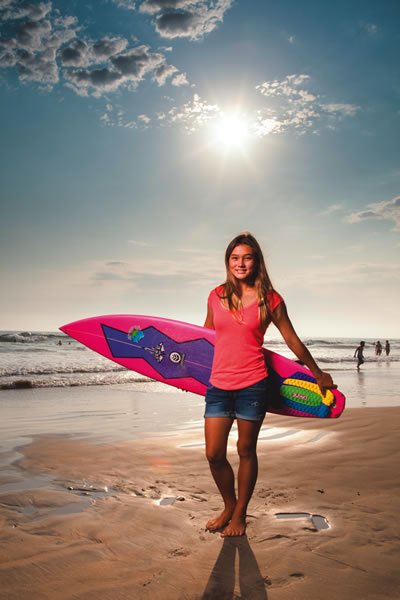 In the Genes 
Surfing runs deep in the veins of 13-year-old Meah Collins from Costa Mesa. Her grandfather Lance Collins was a hot local shaper and founder of Wave Tools Surfboards, and her dad Richie rode them to professional surfing stardom.
Meah wasn't surfing as early as some of the other kids in town; she was spooked by the movie "Jaws" and didn't like the ocean. It wasn't until after a trip to Hawaii in 2006 that she learned the ways of the waves. By age 8, her fear of sharks was gone and winning contests was on. By the time she was 12, she had already won dozens of Western Surfing Association contests, and most recently took out the Under 14 division of the 2012 Surfing America U.S. Championships held at Lower Trestles. She even made the finals of a women's pro event in Hawaii two winters ago and was the youngest competitor. There's no doubt Meah is destined to be a top level professional, but whether it will be in surfing is anyone's guess—she's multitalented, so time will tell. She gets straight A's in school, has sold her artwork in galleries, has modeled in New York, and has more talent in her pinky finger than most of us have in our entire bodies. Considering her roots in surfing and having been coached by her father, it should come as no surprise she has big things planned: "I want to change women's surfing and bring more attention to it," Meah says. "The level of women's surfing today is incredible, and they deserve much more than they are getting. I want to be able to inspire other kids to surf or just do something they love and make a career out of it."
Colin Moran
Age: 17
Fun Fact: Named "Newport Harbor's Most Valuable Surfer"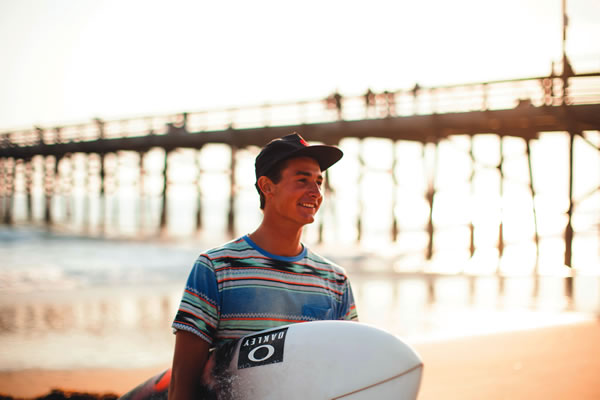 The Letterman
Some say it takes a lot of smarts to win a surf contest, and no one knows that more than Costa Mesa wunderkind Colin Moran. The 17-year-old recently won the South Coast League individual surfing title representing Newport Harbor High School. Colin started showing up around Blackies about a decade ago. His hair was long and blonde—the epitome of the classic surf grom. He's had great success in his amateur career, being a two-time member of the PacSun USA Surf Team. His surfing is fast and explosive, and he has the full bag of tricks. Being part of the USA team means trips to faraway countries, like his most recent to Nicaragua for the Da Kine ISA World Junior Surfing Championships. Though he didn't win the gold, he returned with a solid head start to what looks to be his best summer yet.
Ken Suzuki
Age: 18
Fun Fact: Worked his way up from skimming at A Street to The Wedge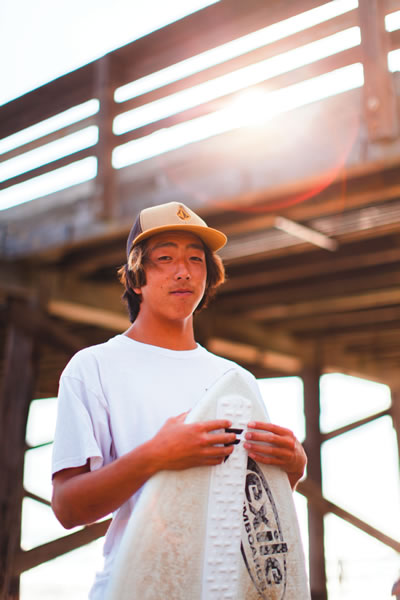 The Skimmer 
While the hot surfers spend their time in west Newport Beach, there's a whole crew of talented skimboarders in the Balboa area, which is home to some of the best shore break in California. Ken Suzuki, 18, was one of those kids. While Ken has lived in the same house at 28th Street throughout his life, he wasn't heading to Blackies every day to work on his shortboarding skills; he went down to A Street just south of the Balboa Pier. He started skimboarding at age 12, and every summer he and his friends would head a little farther south down the beach until one day when they finally ended up at The Wedge—Ken and his crew have been there every spring, summer and fall since, getting the biggest skims of their lives. Although he started surfing more in the last few years, he is still regarded as one of the best skimboarders in the world, with wins including the Oktoberfest Skimboard Championships in Balboa and an event in the Green Eggs and Am Triple Crown. As skimboarding grows, so does Ken's smile. At 18, he's just the right age to take the sport to the next level. "Newport is most definitely known for the biggest skim in the world," Ken says. "I am honored to have grown [up] in such a fortunate town."
Andrew Doheny
Age: 20
Fun Fact: Also enjoys designing and shaping surfboards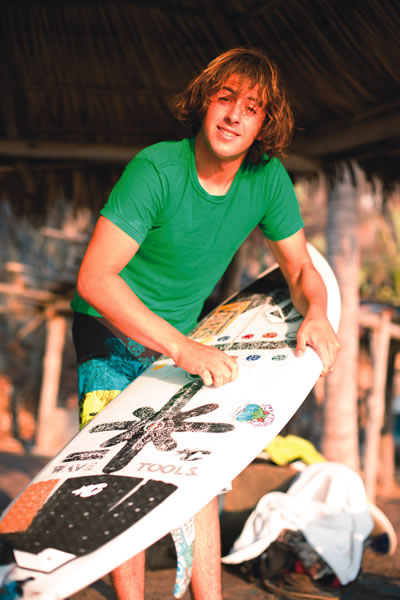 The Surf Star
Twenty-year-old Andrew Doheny began his assault on amateur surfing by winning everything in sight. At 10, he broke NSSA surfing record after record and made enough noise in the surf world that Volcom took him under its wing and sponsored him. He's been a part of the Volcom family ever since. Like a lot of kids in Newport, Andrew grew up getting pushed into waves at Blackies by his father. By the time he was 5 he had the same look in his eyes you'll see today: eagerness for that next wave, that next win. Since his grommet successes, he's had a great start to his professional career, winning ASP Pro Junior events and making finals in some big World Championship Qualifying events. He currently sits at No. 53 in the ASP world rankings—making him one of the most successful pro surfers from Newport Beach in two decades. In terms of recognition worldwide, Andrew is that kid—he's landed magazine covers, big-dollar contracts and has won just about every amateur contest he's entered.
You might think a surfer who gets a paycheck would be under a lot of scrutiny, and Andrew is, but it's not a "live or die by the wave" mentality. Although his supporters would like to see him make more podiums in the pro ranks, it's not mandatory.
"I'm not motivated to surf to be compared to someone above or below me," Andrew says. "I'm just trying to surf the best I can surf. I try not to think about it, I just take it step by step."
If you ask us, it's more like leaps and bounds.
John Mel
Age: 13
Fun Fact: The son and grandson of surf greats Peter and John Mel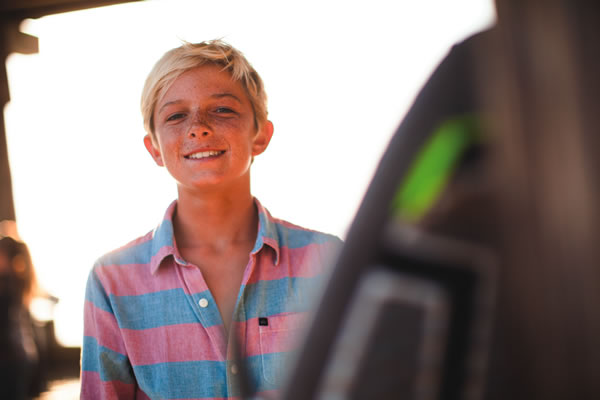 The Fortunate One
Talk about getting the Silver Surfboard: At just 13, Newport's John Mel has already had an amazing life. Born into one of the most respected surfing families in America, his dad, Peter, is an elite big-wave professional surfer who won the Mavericks Invitational earlier this year, and his grandfather, also named John Mel, is one of the most highly-regarded figures in Santa Cruz surfing history. Two of the biggest amateur results of John's young life came the same weekend his dad won at Mavericks, when he won two divisions in the Surfing America USA Championships at Steamer Lane in his former hometown of Santa Cruz. He charges the Pipeline in Hawaii and nearly anything the West Coast can throw at him. What this home-schooled kid is missing in traditional classrooms he's making up for in travel. He's been to Australia, Mexico, Tahiti, and spends what seems like half the year in Hawaii. "It's much more powerful," John says of the surf in Hawaii. "There are a bunch of good surfers, and you kind of want to step up in front of them and go on bigger waves and do bigger moves."
Tyler Gunter
Age: 13
Fun Fact: Started surfing at 3 years old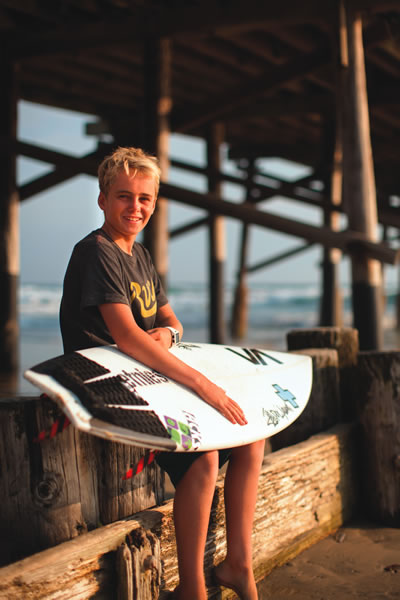 Instagrom
For years now, the hottest little surfer out of Newport has been the tow-headed grom Tyler Gunter. Known as "Instagrom" to his thousands of Instagram followers, the 13-year-old Tyler started surfing when he was 3 years old, and was once the youngest surfer to ever qualify for the most prestigious amateur event in the country, the National Scholastic Surfing Association (NSSA) National Championships. Although this bright-eyed youth has no idea how many surfing contests he's won over the years, he guesses the number to be "around 70 or so," with his highlight being the 2011 NSSA Open Mini-Grom National Championship. During the past few years, Tyler's been making the podium in Western Surfing Association (WSA) events up and down the coast, and this year Surfer Magazine ranked him as the No. 13 hottest grom in its annual "Hot 100" issue, featuring the definitive ranking of the world's best young surfers. But Tyler doesn't let the success of being a hot young amateur get to his head, and while surfing might be his first love, school continues to be his No. 1 priority for at least the next five years. "I wake up every morning and log on to the home school website and do attendance," Tyler says. NBM