Once a Hollywood siren, beloved Orange County philanthropist Kathy Thompson now dedicates her life to giving back. 
By Peter A. Balaskas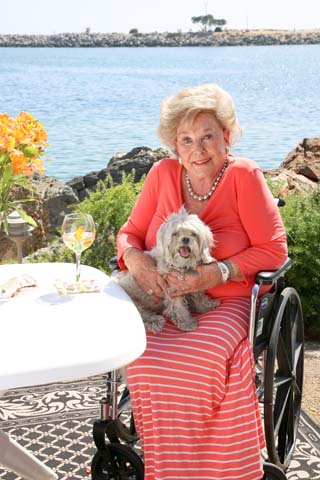 Kathy Thompson was a vision in red as she welcomed guests into her China Cove home this past spring, dressed to the nines in a stylish gown and commanding the attention of everyone in the room. The intimate April gathering, held on behalf of Share Our Selves (SOS)—a nonprofit that assists low-income and homeless families in Orange County—served as a precursor to the main soiree that was held in May: the annual Star Team Onion Luncheon at Corona del Mar's Five Crowns, an event instituted by Kathy when she joined the organization in 1994.
While the Onion Luncheon offers a chance for supporters to applaud the organization and the groups dedicated to serving it, the pre-event cocktail reception is a time for Kathy to infuse a bit of her personality and history into her charitable endeavors. Her family abode, which she shares with her husband of 52 years, Jerry, served as the perfect backdrop for the event and offered a peek into the private life of the Orange County philanthropist. Combining elegance with the nostalgia of classic Hollywood, the residence features framed black and white photographs of Kathy, as well as stills of her with various celebrities, including Jerry Lewis and James Garner.
The photographs are a nod to Kathy's colorful past life, one she treasures and continues to celebrate to this day. Though today she's recognized for her giving spirit and fierce dedication to helping others, the Newport resident was once known in entertainment circles as a Hollywood starlet during the 1950s and early 1960s. A career model and TV and film actress—then working under the maiden name of Marlowe—Kathy developed a charm and grace in front of the cameras that serves her well in her present-day role. The tall, blonde vixen with an alluring persona has undergone an elegant transformation over the years, emerging today as one of the most significant figures of charity in Southern California.
A Hollywood Model
Ever since performing on her high school stage, a young Kathy Maslowski dreamt of being in front of the camera. Ambitious and motivated to succeed, the Minneapolis native—who later changed her name to Kathy Marlowe—first learned her craft at a modeling school in her home state before moving to California at age 16.
"I had a sister who lived in Van Nuys who had a [5-year-old] son and she said, 'How about coming out … with us and watching Kevin after school while I have [my own] job?' So, I went," Kathy says.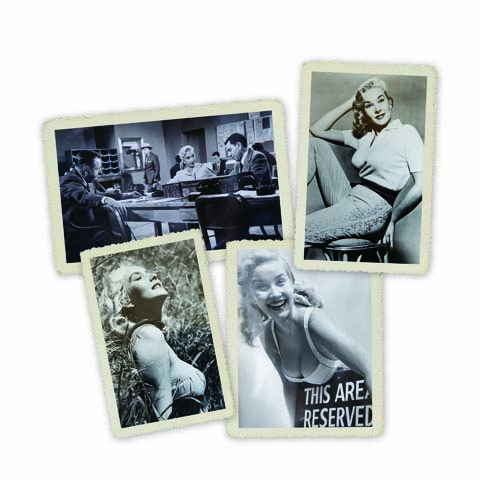 While still attending high school in Van Nuys, Kathy commuted to Hollywood after answering a "models wanted" ad that not only landed her a job teaching at Westwood School of Modeling, but also earned led to a series of professional modeling gigs. This caught the eye of many agents and subsequently landed her a considerable number of high profile modeling titles, including Miss Chinchilla, Miss Lawnseed, Miss Long White Potato, Miss Nightmare and even Miss Green Stamps. To Kathy, it didn't matter how outrageous the title or how small the role she was offered—she was driven to increase her popularity and her career, something that was only enhanced by her statuesque presence and natural beauty. This winning combination resulted in her being named the most photographed publicity model in 1956, with an accompanying spread in Life magazine.
Gracing the Silver Screen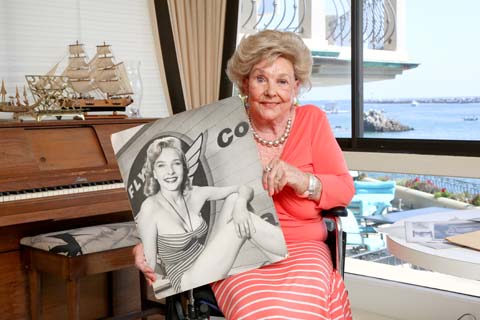 As her popularity grew in the modeling world, Kathy also began to segue into television and film acting with small walk-on roles, such as the science fiction classic "Rocketship X-M" starring Hugh O'Brian and Lloyd Bridges (1950), "The Big Trees" starring Kirk Douglas (1952), and "The Bounty Hunter" starring Randolph Scott and Oscar winner Ernest Borgnine (1954). Her first major film credit, however, was the 1954 Chuck Connors crime drama, "The Human Jungle," which helped her earn a Screen Actors Guild (SAG) card.
For almost 10 years, Kathy watched and worked with some of the most renowned stars of the 1950s. One notable name includes the legendary Paul Newman in "The Helen Morgan Story" (1957), who she fondly describes as "very professional, very nice … and kinda short."
In the 1950s, she appeared in multiple episodes of the comedy series "The George Burns and Gracie Allen Show" as the loving, sultry blonde fiancee to Ronnie Burns (the real life son of George and Gracie Burns). Kathy also recalls the fascinating personality contrast between the famous husband-and-wife duo. While Gracie was very reserved, George was the extrovert of the two.
"He was very nice to me. And he was a kid, with the cigars, the women and all that stuff," she says of George. "He had a little glint in his eye for me, too. He was a fun man, very outgoing. And, of course, [he had] a great sense of humor."
But her most memorable Hollywood experiences include two cinematic legends: Dean Martin and two-time Oscar winner Spencer Tracy.
"I had a huge black fox muff … and I hit [Dean in the crotch] with it and he gave a goofy face," she recalls from her days on the set of the 1959 film "Career." "So he said, 'Kathy, this is the first laugh we had on this set.'
"The picture never really got off the ground," she continues. "But the way he gave that goofy cry and made the whole set laugh, it was a fond memory. He was such a fun and easygoing guy."
Her experience with Spencer occurred when he was filming the 1958 adaptation of Ernest Hemingway's "The Old Man and the Sea." While leaving the Warner Bros. Studios commissary, she saw the actor alone. Kathy walked up and introduced herself to the film legend, who was so friendly and receptive to her that he referred the actress to director Philip Dunne—known for "How Green Was My Valley" (1941) and "The Robe" (1953)—in the hopes of casting her in a supporting role in "Ten North Frederick."
Kathy's chances of appearing in the 1958 adaptation of John O'Hara's novel looked very promising, but, unfortunately, Spencer eventually passed on the project and Kathy was not cast. Regardless, she still treasures meeting the cinematic artist, especially when he gave her permission to visit him during the film shoot of Stanley Kramer's "Inherit the Wind" (1960), where Spencer always greeted Kathy between takes.
Kathy's career reached an all-time high in 1958 when she landed her first starring role.  In "The Girl with an Itch," she upped her status as the seductive blonde temptress, using her feminine wiles on-screen to con a rich, widowed rancher out of his money. Kathy enjoyed the shoot and the people who worked on the film, especially one awkward situation where co-star Robert Clark, who was not an experienced actor at the time, had to perform a drunk scene.
"He didn't really know how to act it, so he got drunk," she recalls with a laugh. "So he was in the back with the bottle. … The director didn't think that was funny because the money was going out the window from retake after retake."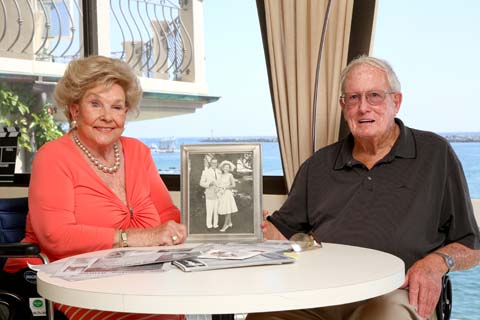 Catching a Newport Fish
Although Kathy enjoyed her life as a Hollywood starlet, she was looking at long-term goals: She wanted to be married and have a family.
The year 1960 proved to be one of momentous change for Kathy. After being approached by a representative at 20th Century Fox to fly an aircraft at the Torrance Airport for an air show, she underwent training at Van Nuys Airport to prepare for her first solo flight.
Her flight was cancelled at the last minute, but the timing was fortuitous. At a bar near the airport where Kathy was enjoying a consolation drink, a Navy captain approached her to do an independent modeling shoot on a boat in Newport Beach—it was a decision that would put her life on a different path. The captain of the boat was none other than her future husband, Jerry Thompson.
In 1962, Kathy and Jerry married and moved into their present China Cove home, which is now a glamorous two-level mansion with a rear outdoor patio built on top of 9-ton boulders that were transplanted from Catalina and meticulously placed along the coast. It was a perfect home for the couple to raise their three children to adulthood.
Tony Beran, whose family has been friends with the Thompsons for more than 40 years, feels that Kathy's move to Newport Beach has changed both her and Jerry's lives dramatically and solidified their bond to an incredible level.
"Coming to Newport Beach and meeting Jerry, it put her in an environment that is basically just like a dream," Tony says. "There is such a strong link between those two. It's unbelievable."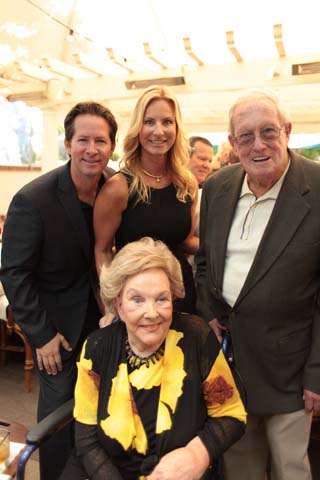 A Charitable Heart
The rest, as they say, is history. Over the years, Kathy became involved with notable nonprofits such as the National Charity League and the Las Marineras Auxiliary of Family Service, but in 1994, she truly discovered her calling as a philanthropist when she joined the volunteer team at SOS.
Founded in 1970, SOS strives to provide food, safety, and a higher quality of health care to those in Orange County who are low-income or completely destitute. As founder of the Star Team and A-Team guilds that donate time and monetary contributions (respectively), Kathy hosts the now-famous Onion Luncheons, where she gives each guest a bag of Imperial Valley sweet onions, as well as recipes of onion-based dishes that she has prepared over the years.
On May 21, 2014, the date of the 20th annual SOS Star Team Onion Luncheon, Kathy received a special plaque from founder Jean Forbath and Executive Director Karen McGlinn for her infinite energy, compassion and dedication to bringing medical, dental and financial services to the underprivileged in Newport-Mesa.
"She really is a great example of philanthropy, and it comes from [her] own heart," says SOS Director of Development Karen Francis. "For her to be dedicated to us for 20 years, it really has to be coming from her heart and her soul."
"[Kathy is] a very giving person. I've never heard her say anything bad about anybody," adds Pilar Wayne, the widow of John Wayne, who also attended the luncheon and is an active member of SOS. "Kathy is a good leader, a good speaker … and people just love her."
As for the future, Kathy's goals are simple: to bring in more members to SOS and to expand the organization's presence to communities outside of Orange County. She continues to remain optimistic about the future of the organization, as well as appreciate the love of her family and friends—especially Jerry.
"I am very fortunate in many respects," she says. "[Jerry] has helped me through many of life's challenges and life's pleasures. Although people say he got the great catch, I think I got the great catch."