Enjoy a night on the town, Newport Beach style.-By Brett Callahan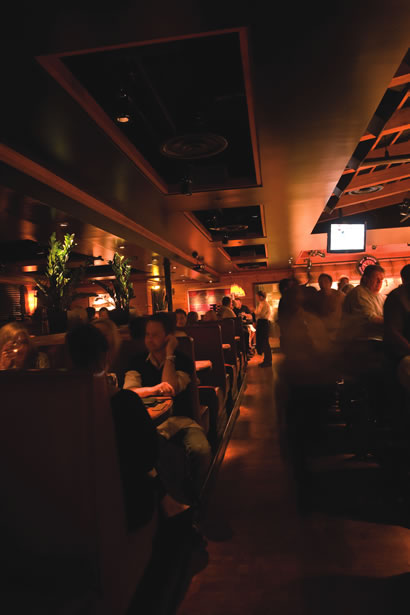 Few pairs in life go as well together as a beach town and a well-constructed adult beverage. Other go-to combinations—peanut butter and jelly, Hall and Oates, Montana and Rice—inevitably fall short when compared to this picturesque pairing that epitomizes nightlife in Newport Beach. The ocean breeze, a fading sun over glassy water, and the clink and swirl of a cocktail in hand simply cannot be beat.
Newport's nightlife is both abundant and varied. Conveniently stashed throughout town, there's a seemingly endless number of watering holes, restaurants and clubs that often require little more escort than a beach cruiser—but just as frequently can be reached via Ferrari or Aston Martin, complete with valet.
Free of judgment and always welcoming, Newport Beach's nightlife accommodates every type of patron imaginable: the classy, the sassy, the sports nut, the dancing queen, the sundowner, the young gun, the old dog, the jazz hound, the fist pumper, the nautical and the radical—but with a distinct Newport twist.
"We tend to be a little calmer and more refined," says Michelle Dial, a longtime resident and the general manager of 3-Thirty-3 Waterfront. "We don't have to deal with some of the problems some cities face. People can dress up or dress down and still feel they belong and fit in, all the while being comfortable and safe."
Conversation, Sports and a Beer
When a couple stools, an old friend and a tempting brew sound a lot more appealing than loud music and a sea of strangers, it helps to know where to go. Enter SideDoor (3801 E. Coast Hwy.; 949-717-4322; sidedoorcdm.com), the English-style gastropub attached to Five Crowns Restaurant.
"I would say laughter best describes our nightlife," says general manager Danielle Wan. "I cannot tell you how many times I see one table merge with another, talk for an hour, then see someone else they know and repeat the process. It's so cool."
In between conversation and beverages from an extensive, rare and constantly evolving beer and wine listing, customers can snack on an ever-changing menu with certain local staples, including the prime rib sandwich and mouth-watering beef fat fries. Draughts such as the creamy Old Speckled Hen or the crisp Lagunitas Little Sumpin' make for as tasty a pairing option, or choose from the equally impressive wine selections, such as the 1994 Cafaro Cabernet or the 2003 limited release Conn Creek Cabernet Sauvignon.
"Who gets to play with such fun finds like these?" Danielle says. "We do."
Sometimes the best pairing is the sound of play-by-play from a couple sports broadcasters, and there's a home for that in Newport Beach too. Blessed with well over a dozen solid spots to catch the game—including sports bar leader Rudy's Pub & Grill (3110 Newport Blvd.; 949-723-0293; rudyspubandgrill.com) and its 40-foot retractable stadium roof—there's not a game to be missed in this coastal community. Food, beer and the winning drive—what more can sports fans ask of a night (or day) out?
To stay in on all the action, pull up a stool at Balboa Saloon (700 E. Bay Ave.; 949-673-9783; balboasaloon.com), The Classic Q Billiards and Sports Club (4250 Martingale Way; 949-261-9458; theclassicq.com), Newport Beach Brewing Company (2920 Newport Blvd.; 949-675-8449; newportbeachbrewingcompany.com) or Shamrock Bar & Grill (2633 W. Coast Hwy.; 949-631-5633).
Sunny with a Chance of Suds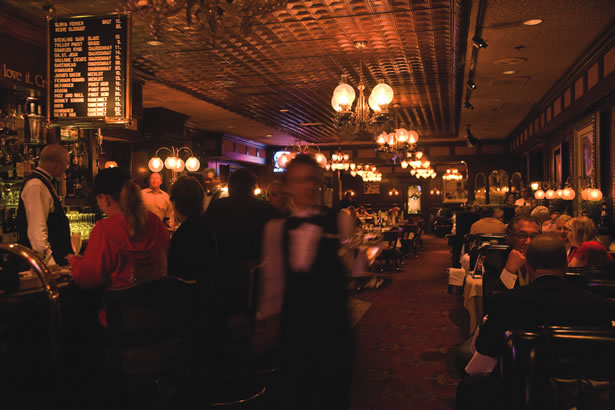 Ideally, nightlife starts with what makes Newport the quintessential beach town: the perfect sunset. Several beach bars and restaurants along the peninsula allow customers to enjoy a lively, yet relaxing daytime scene before Mother Nature takes the stage for her daily bow out. Mutt Lynch's (2300 W. Oceanfront; 949-675-1556; muttlynchs.com), a popular day bar, attracts passersbys with one tried and true way to advertise: giant beer.
"It's probably our big beers and mimosas," says general manager Mike Vayner on what attracts people to his bar. "Most people walking by who see someone enjoying a schooner in the window usually think, 'Hey, that's a great idea.' "
There are 40 such great ideas on tap at Mutt Lynch's—just one of a string of beach bars suitable for day stops that often linger into the night. Pedal your bike cruiser a short way to Beach Ball Bar (2116 W. Oceanfront; 949-675-8041; beachballbar.com), which also prides itself on the natural amenities. "We're your typical dive bar that just happens to be on the oceanfront," comments general manager Mugzy.
The real estate certainly helps, but there's a friendliness and reliability that makes Beach Ball Bar a home away from home for many regulars. Most of the staff has a history of more than 10—and sometimes more than 20—years of service, so the customer base knows what to expect."People know what they're getting when they come to see us," Mugzy says. "Great sunset, great window, plus we pour a really good drink."
Heavy pours are commonplace in the beach scene, and the always-popular Baja Sharkeez (114 McFadden Place; 949-673-0292; sharkeez.net) is no different. Large drinks, low costs, an array of music and a crowd of partiers can usually be spotted at this singles' mingling scene.
"Our atmosphere is always inviting and welcoming to those who are looking to meet new people and enjoy the beautiful city of Newport Beach," say Jeffrey Ganz, a partner at the restaurant. Can't get enough of the beach bar scene? Check out Blackie's by the Sea (2118 W. Oceanfront; 949-675-1074; blackiesbythesea.com), Cassidy's Bar & Grill (2603 Newport Blvd.; 949-675-8949), the district lounge (121 McFadden St.; 949-673-4470; thedistrictloungenewport.com) and Malarky's Irish Pub (3011 Newport Blvd.; 949-675-2340; malarkysirishpub.com).
Classin' Up the Joint
Pedal that cruiser just a few more times, and it's easy to transfer worlds from a prototypical dive bar to a view decked out in total glamour at  21 Oceanfront (2100 W. Oceanfront; 949-673-2100; 21oceanfront.com). Sorry though, you won't be able to valet the bike. This business-casual restaurant doesn't share much in common with its beach bar neighbors besides the view, but 21 Oceanfront offers its own style of ambience and service to go with the vista."There's nowhere else in Newport that you can get the panoramic view of the sunset that we have," comments Pete Levonian, the restaurant's business operations manager. "It's pretty hard to beat."
One of Newport's many upscale establishments that offer the perfect night out, 21 Oceanfront boasts an unparalleled view of Newport Beach's pier and sunsets, and brings a country club feel to those looking for the highest of treatment. "Our bartenders get to know the guests and treat them like family," Pete says. "A lot of regulars that come in, we know what they like to drink before they sit down. All faces and no names doesn't apply here like it would at some bigger corporate restaurants."
The restaurant and bar's traditional feel is created by black leather booths and stools and granite countertops, as well as its Victorian architecture. It has a Rat Pack-style aura, which is only enhanced by the live music 21 Oceanfront supplies seven days a week.  The sophisticated vibe continues at The Ritz Restaurant (880 Newport Center Dr.; 949-720-1800; ritzrestaurant.com) located near Fashion Island. The dark woods and lighting give patrons the illusion they're somewhere closer to Chicago. Accompanied by fabulous acoustics and several nights of live entertainment, this getaway is one of the premier locations for an evening of style and repose.  Other upscale options include Bandera (3201 E. Coast Hwy.; 949-673-3524), Bluewater Grill (630 Lido Park Dr.; 949-675-3474; bluewatergrill.com), The Cannery (3010 Lafayette Rd.; 949-566-0060; cannerynewport.com) and Landmark Steakhouse (3520 E. Coast Hwy.; 949-675-5556; landmarknewport.com).
A Sound Plan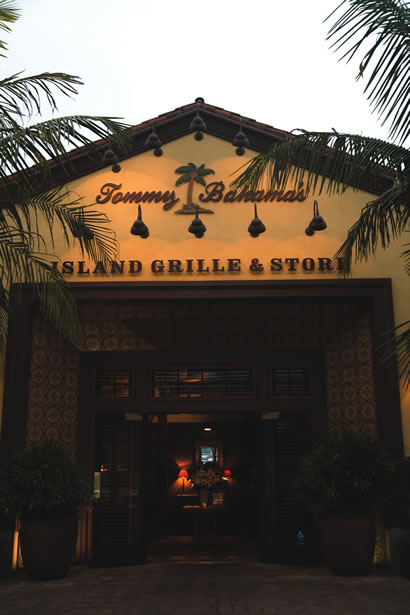 Nothing can lift the spirit quite like the right wine or cocktail, but music certainly does well with the challenge. The first spot in Newport Beach to escape for a few hours with quality live music is also its oldest.
Located in a landmark building built in 1912, The Blue Beet (107 21st Place; 949-675-2338; thebluebeet.com) regularly hosts live performances steps from the sand. Rock bands on the weekend top off a week of varying live entertainment, and Tuesday's "80s Night" has become the ultimate spot to bust out the air keytar.
"We're well known for having really good acts come our way," says manager Scott Lewis, naming recent performers including Matt Costa and Hyper-Crush.
You'll find more live music lovers at The Quiet Woman (3224 E. Coast Hwy.; 949-640-7440; quietwoman.com), another well-established restaurant and bar located in Corona del Mar. Eclectic bands covering rock, blues and contemporary music—from Pink Floyd to Sublime to Lady Gaga—are the norm at Quiet Woman. Being as established as Quiet Woman, however, is not.
"To be around 45 years is a big deal, but to be around 45 years and still be relevant is huge," says owner Lynne Campbell.
The quality entertainment and incredible world-class wine listing—more than 3,000 bottles that have earned the Wine Spectator "Award of Excellence" for 15 years running—help to maintain that relevancy.
What live music does for one crowd, spinning DJs do for another. Even in tight spaces, those who want to dance usually find a way. Playing top-40 style hip-hop and classic rock remixes, Woody's Wharf (2318 Newport Blvd.; 949-675-0474; woodyswharf.com) has become one of the most popular scenes for those with some dancing energy to burn. An ideal waterfront location complimented by an indoor bar and dining area, outdoor patio alongside boat docks and an attractive crowd makes Woody's Wharf an optimal spot for nightlife adventurers. The fact Chuck Norris once owned the place and Jean Claude Van Damme manned the door doesn't damage its reputation for kicking out some cool points either.
Additional live music venues include Muldoon's Irish Pub (202 Newport Center Dr.; 949-650-4110; muldoonspub.com) and Tommy Bahama's Island Grille (854 Avocado Ave.; 949-760-8686; tommybahama.com).
Signature Drinks and Late-Night Eats
As much as we love beer and wine, sometimes an innovative cocktail or margarita better fits the evening mood. SOL Cocina (251 E. Pacific Coast Hwy.; 949-675-9800; solcocina.com) not only takes its drinks seriously, the restaurant infuses a "bar-chef" mentality towards its cocktail menu. The fresh ingredients can be tasted in the several varieties of margaritas on hand, including the exotic Raspberry Serranoa and the pleasantly-confusing Cucumber Jalapeño.
"All of our ingredients in our cocktails are as fresh as the ingredients in our kitchen," explains Matt Baumayr, managing partner of the contemporary Mexican restaurant that stocks more than 70 tequilas.
Fresh ingredients rarely go hand-in-hand with late-night dining options, but Newport Beach comes prepared with delicious selections for the elevated palate, which are thankfully several calories and re-heats away from the regrettable drive-thru.
3-Thirty-3 Waterfront (333 Bayside Dr.; 949-673-8464; 3thirty3nb.com) serves up gourmet fare until 1:30 a.m. Filet mignon sliders, seared ahi, barbecue chicken pizza and crème brûlée are just some of the highlights of a listing that consistently provides late-night diners with a few last smiles before hitting the pillow—and doing it all again.  ,