A Galloping trend!
The sport of polo takes off in Orange County.– By Aleta Walther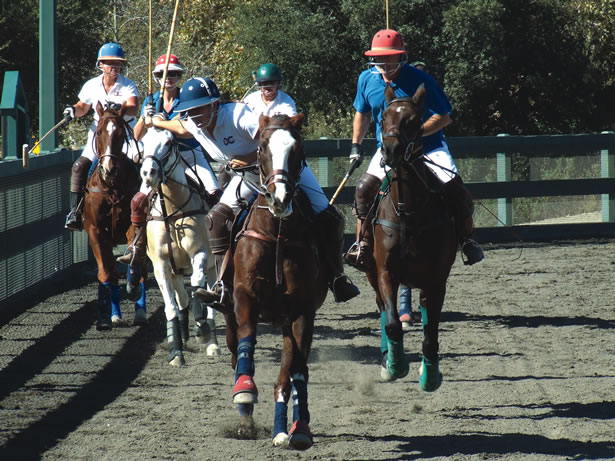 Polo is fast, physical and furious. It's a sport of noblemen and the social elite, fancy hats and sometimes spats. It has been played on elephants, horses, camels, bicycles and motorcycles. Polo has attained worldwide acceptance and acclaim, and is played regularly and religiously in Britain, Argentina, Dubai, India, Kenya and … Orange County.
Amid the equestrian estates and multimillion- dollar homes of gated Coto de Caza, there are many who pursue a polo ball, including Dennis Geiler, the Orange County Polo Club's president and staunchest supporter for 25 years. Geiler and his wife, Joanne, own Newport Beach-based Polo Properties, which operates 14 self-storage facilities throughout SoCal. Their daughter, Shelley Allen, lives in Corona del Mar and shares her father's passion for polo. Together, the family owns 12 polo ponies.
Although often referred to as the "king of sports," Geiler says that at his club, polo is played only by "average folks" who get a rush from the speed, excitement and camaraderie of the sport. "The important thing about this club is that it is not the polo illusion," says Geiler, 69, who has been playing polo for more than a quarter century. "We are all just regular people who have regular jobs, but who spend our leisure time playing polo."
Club member Daniel Lak, an Irvine trial attorney by day and songwriter and musician by night, echoes Geiler's sentiments, saying, "This club is like family. The environment is incredibly positive and even though we may compete against each other, we are friends first, always encouraging and supporting each other."
Hockey on Horseback
A team sport, polo is often referred to as hockey on horseback because of the fast action that takes place while riders maneuver their steeds to block shots while hustling for scoring position. Polo is traditionally played with two four-man teams over a grass field the size of nine football fields. The OC Polo Club, however, plays arena polo, which consists of two teams of three players confined to a 300- by-150-foot arena. Not as fast and feverish as grass polo, arena polo involves more maneuvering, jostling and shorter plays at lower speeds due to space limitations. It is, however, more accommodating than grass polo because it can be played indoors or outdoors, day or night, and pretty much year round in Southern California.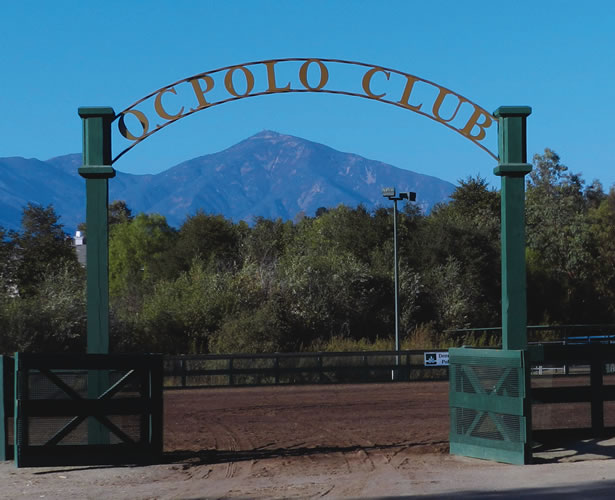 "We play arena polo in Orange County because it is too costly to have enough land for grass polo," Geiler says. "Grass polo fields need time to recover after play, so a club needs at least three or four polo fields. To get that much land in Orange County is impossible."
Sanctioned by the United States Polo Association (USPA) and a member of its Pacific Coast Circuit, the Club hosts a tournament on the first Friday of each month at the Coto Valley Equestrian Center, where the public is invited to attend for free. Spectators are encouraged to bring their own picnic fare or purchase a dinner on site. Other club activities include polo lessons, scrimmages, polo trips and after-practice barbecues. Each year, a contingent of club members travels to Buenos Aires, Argentina, to attend polo camp and watch the Argentina Open.
"We have such a blast," says Bo Karp, who rides a custom-made saddle that allows him to play polo despite the loss of his right leg below the knee. "There is no pretentiousness, no drama. We are all good friends who play polo, trail ride and even go camping together."
A former Newport Beach resident who now lives in Santiago Canyon, Karp says the club exists today because of Geiler's passion for the horse sport. "If it wasn't for Denny, none of this would be here for us to enjoy," he adds, watching his wife Chris, 59, swing the mallet and whoosh the ball during a club scrimmage. Polo in O.C. dates back to the 1930s, when ranchers and residents played on the grassy fields of Garden Grove. The first arena polo club opened in Anaheim in 1980 as the Winston Polo Club; it later moved to Huntington Beach and assumed the name Playa Grande Polo Club. It moved once again in 2005, to the El Toro Marine Base in Irvine, and changed its name to reflect its countywide appeal. The club, however, was homeless following the closing of the base's equestrian center in 2007. Heavily invested in the sport, Geiler made it a personal quest to find a new home for the club within Orange County. It took more than three years to find and acquire the Coto de Caza property, but the club opened its new arena in 2010. In appreciation, club members named it Dennis Geiler Arena.
Horse and Rider
Cowboy, film star and humorist Will Rogers once said, "The Western cowboy has taken polo out of the Eastern drawing rooms and into the bunkhouse." Such is the case with the OC Polo Club. Rather than kings, princes and elitists, the club's members consist of lawyers, mortgage brokers, commodities traders, business owners and students sporting ball caps and cowboy hats. In fact, the 6'3", silver-haired Geiler is prone to wearing a cowboy hat and knee-high cowboy boots around the polo grounds. On the sidelines, more cold beer is guzzled than Champagne sipped.
Although the club hosts multiple practices and games throughout the week, none of its members are professional polo players, so there is little prize money to support their hobby of attacking a little white ball with a bamboo mallet. The members play for trophies and prestige.
So what is the attraction of polo? According to Geiler, Lak and Karp, it is the adrenaline rush, the hard-charging play of the game, the formidable courage of the horses, the obsession to win. "It's the feeling of being one with your horse; the trust between you and your horse, you and your teammates," says Geiler, who was hooked after one polo lesson, which he received as a birthday present from his wife. "If you and your horse are not in sync, you are not going to get to the ball. In polo, 75 percent of the game is the horse and 25 percent is the rider. "
Arena polo is ideal for the beginner polo player who usually feels more secure playing in a confined arena where the action is slower and the horses are more easily controlled. The club offers an introductory polo lesson for $125, which includes all of the essential equipment. Following a classroom introduction, students mount up and knock the ball around the arena. Rather than buy a horse, some members lease a horse from the club for about $400 a month, which includes feed, care, exercise and tack. Many of the club's members had never been on a horse prior to their first polo lesson. Today, some own multiple horses, and a passel of tack and horse trailers.
Now that the polo club has secured a permanent home here, Geiler is optimistic that the sport has a bright future in Orange County. "Now that we have such a great location, more and more people are learning
about us, more are taking lessons and more are coming to watch the events," says Geiler, who expects to play for at least another 10 years. "We have many spectators that have come out multiple times and are now bringing friends to watch us play." ,