Movie History of Newport
We take you for a spin through Newport's movie-making history. – By suzanne baldwin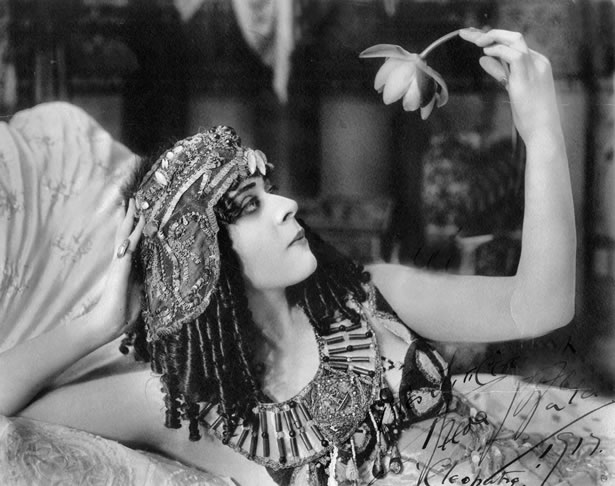 For many, the first thing that comes to mind when someone says "Newport Beach" is Seth Cohen or Phantom Planet's song, "California." Shows like "The O.C." and "Newport Harbor: The Real Orange County" have established Newport as a mecca for lovelorn teenagers and their befuddled parents. While the city has a definite brand that it exploits, what the average moviegoer may not realize is that Newport also has a rich filmmaking history—one that goes all the way back to the silent epics.
The Great Blue Sea
Newport Beach got its big break with the multitude of silent films shot near or on the sea. Miles of pristine beaches and deep blue waters meant directors could effectively shoot in a setting unencumbered by modern buildings.
The city also frequently acted as an un-credited stand-in: If a movie was filmed in Malibu and came down to Newport for just a day, the credits still listed the location as Malibu, while the "stunt double," Newport Beach, was rarely mentioned. Cecil B. DeMille's "The Ten Commandments" (1923) has alternately been listed as being shot in Pismo Beach, Seal Beach and Los Angeles, even though several scenes were in Newport Beach. Two props from that film—sets of swords—survive in the care of Hollywood's History for Hire prop house "and were purchased from the 'bins' at Paramount Studios in the 1980s," according to the company.
One of Newport Beach's most notable productions was the 1917 version of "Cleopatra," featuring silent film actress Theda Bara. The sequence shot in Newport Harbor was described as a "barge scene," where more than two dozen barges and hundreds of extras were outfitted as Egyptian and Roman forces to recreate a massive sea battle.
The advent of the Hays Code in the 1930s branded "Cleopatra" obscene, and subsequently, all prints of it were locked away. Orange County Film Commissioner Janice Arrington was not entirely sure if "Cleopatra" was banned for a specific scene or a litany of sins, but comments: "I think [Theda Bara] didn't have any underwear on in some shots. And the Hays Code dictated that in kissing scenes, women had to have one foot on the ground, and she might not have done that … all kinds of things could get a film banned."  The surviving reels of "Cleopatra" were eventually destroyed, leaving us to wonder about that barge scene.
Pirate films became a big draw in the 1920s, with popular novels like "Captain Blood" and "The Sea Wolf" adapted for the big screen. Newport flourished in this era; before computer-generated images and giant water tanks in Mexico, if a crew wanted to film the epic sea chase that no self-respecting pirate film would be without, one actually had to go out to sea to do it.
Studios would either build their own pirate ships or purchase some of the many derelicts laid up along the California coastline—some of them rotting in place since the 1840s Gold Rush—and hire local artisans to turn them into whatever the film called for. The economy swelled, and residents typically welcomed the studios and the entourages that came with them.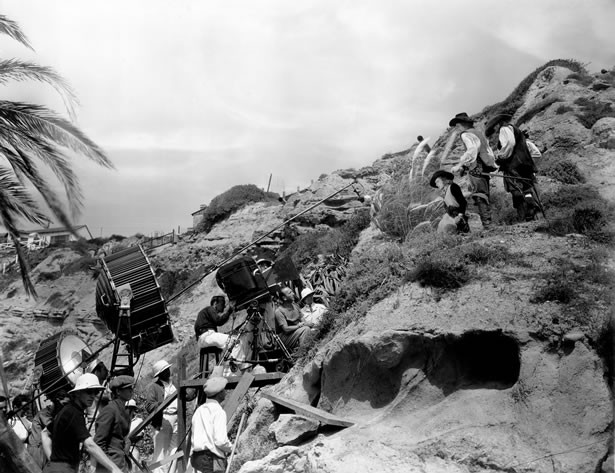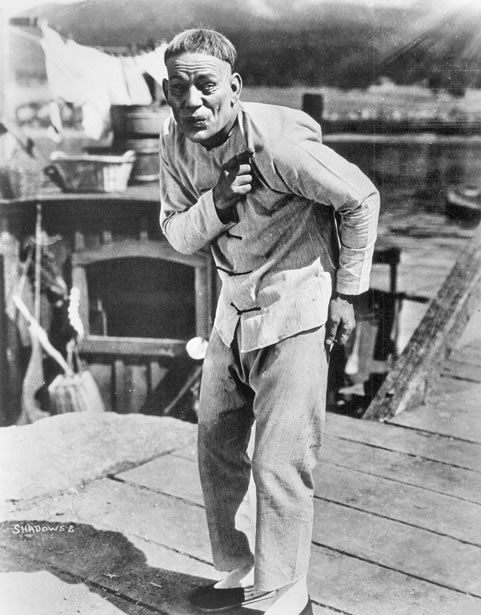 Sadly, none of these local works of art seem to have survived into the 21st century. An article from the Oct. 19, 1919 edition of the Los Angeles Times describes the fate of the Fremont, an old ship with a colorful history as a slave trader, blockade runner and finally movie star. The ship appeared in a version of "Treasure Island," but ran aground near Newport Harbor during filming. Another relic-turned-movie star, the Muriel, ran aground in 1927 and was eventually demolished by the city. The Muriel does have the dubious honor of hosting an epic battle between a man and an octopus, if another Times article is to be believed; Capt. Ole Eliasen fought the 15-foot "sea denizen" with a crowbar before bringing it to the surface.  Surprisingly, that scene never made it into a movie.
The Big Pictures
Newport Beach flourished as a film location for many decades. Lon Chaney starred as Yen Sin in 1922's "Shadows," filmed on Balboa, while Buster Keaton appeared in "College," a 1927 predecessor to the modern "guy gets his girlfriend back" pictures. Humphrey Bogart and Lauren Bacall descended upon Crystal Cove in "To Have and Have Not" (1944), an adaptation of the Ernest Hemingway novel. Six years later, John Garfield starred in a new version of the book titled "The Breaking Point." The movie features instantly recognizable Newport landmarks, including Balboa Island and the ferry.
Although few feature films have been shot in Newport Beach in recent years, the city is still on the studio radar: It often acts as a stand-in for bay and ocean scenes in big pictures, since its pleasant weather and calmer seas make for easier filming conditions than many popular East Coast locations.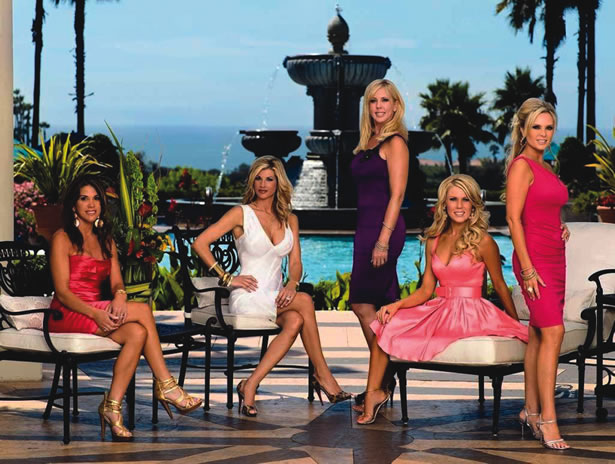 Newport has played bit parts in a number of recent studio productions, including "Heartbreakers," starring Sigourney Weaver and Gene Hackman; a scene was filmed in what used to be the Stuft Shirt Restaurant.  Fashion Island has played host to several movies, including "Big Mama's House 2," starring Martin Lawrence, and "A Murder of Crows," with Cuba Gooding Jr. and Tom Berenger, the latter filming a scene in what was then Planet Hollywood.
The formal façade of the Newport Beach Central Library appears prominently in "Romy and Michele's High School Reunion." "[Few films] have really captured the essence of Newport, and I was living there at the time, so I thought it would be a great place to film," says Stefan Marc, founder of Marc Entertainment and director, writer and producer of "Dating Games People Play." Stefan ended up shooting scenes in more than 40 locations, including the Marina Village, Fun Zone, Muldoon's, the Bungalow and some footage by the bay.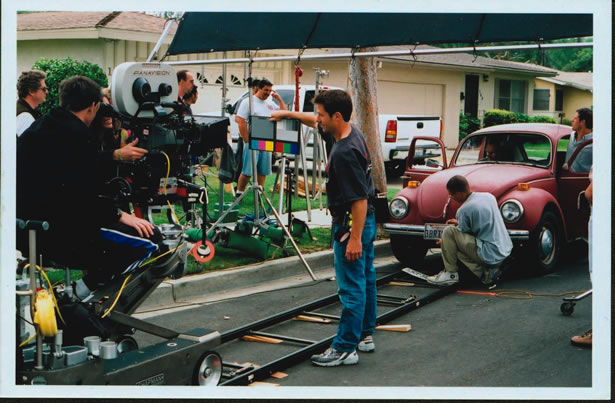 The Newport Brand
Newport's lack of feature films hasn't stopped it from becoming instantly recognizable. The past several years have seen the city's commercial and television career blossom; advertisements from Hurley, O'Neill, Quiksilver and The Gap recently were filmed here, not to mention dozens of shows featuring one-off episodes. "Trading Spaces," "Supernanny," "The Bachelor," "Joey," and "Audrina" have all filmed episodes, or partial episodes, in Newport Beach.
Most recognizable, however, are the shows filmed exclusively in Newport. "The Real Housewives of Orange County" frequents Newport Beach, but Janice credits "The O.C.," which ran on FOX from 2003 to 2007, with creating a "Newport brand" that persists today. Much of the series was actually filmed in Malibu, with the filmmakers making occasional journeys down to Newport Beach to obtain "beauty shots" of the scenic coastline. "The O.C." introduced the rest of the world to Orange County, which at that point was known mainly for Disneyland. As the show became more and more popular, so did interest in Newport Beach—often to hilarious heights.
"I got calls from the Australian film commissioner wanting to know more about the show because his daughter wanted to know. We had tourists from Germany wanting to stay in Orange County because they watched the show," Janice says. She recalls a film conference where several Italian film commissioners—upon discovering she was from Orange County—came up to her humming the show's theme song. "They all wanted something from OC that they could take back to their country. … One of the girls in Scotland asked me to bring souvenirs because her family begged for them when they heard the OC film commissioner was coming!"
The Orange County frenzy has eased slightly in recent years, but Newport's ongoing presence in commercials and television ensure that the city's contributions to cinematic history will continue. It's already been an exciting ride; here's to the next hundred years of filmmaking by the bay. NBM
Meet the Filmmaker
Stefan Marc's decision to film "Dating Games People Play" was largely influenced by the picturesque location, but he acknowledges that shooting in Newport Beach presented some interesting issues.
"Working in a beach community, you have to face tourists … and the parking situation was a real challenge. You're working in a more densely populated area, and that's more difficult than shooting on a set. But the film commissioner was very accommodating, and allowed us to film at a lot of places."
In some cases, filming in the most popular locales was facilitated by keeping odd hours. A scene shot in the Bungalow allowed the film crew to go in at 3 a.m. "We shot all that day, until 3 p.m. We had to be out of there before the crowd came in," Stefan says.
They filmed primarily in April, returning for pickup shots in September. Stefan recalls getting "some great footage on Newport Bay. We had a couple of Duffy boats that we rented. We had the camera on one and the actors on the other and filmed it that way."