Designer Style
Newport Beach designers share their tips of the trade for decorating your home in distinct style.
By Dana Nichols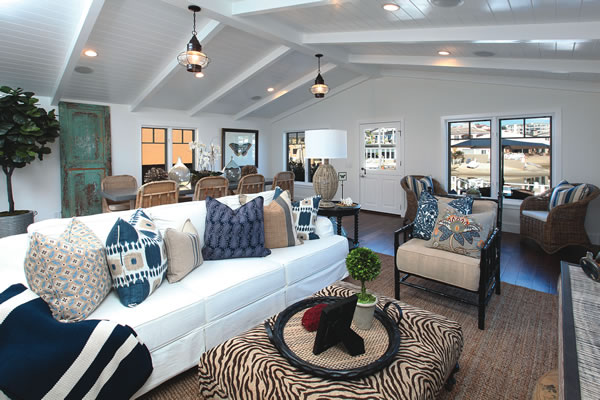 Homes in Newport Beach are apt to reflect their residents' treasured ocean-side locale, but that's where the similarities in today's top trends end. We spoke with five local designers whose signature styles go beyond simply "coastal." They show us how design can be both personal and chic, while feeling sunny and warm or effortlessly modern. Because taking new trends into your own hands isn't always easy, we also asked for tips on taking these styles into any home.
Coastal Bohemian 
Embracing elements of world travel and coastal nature, Wendy Blackband, owner of Blackband Design in Irvine, uses jute, rattan and wicker with mix-and-match furniture in her signature "coastal bohemian" style. Popular with families, her designs incorporate slipcovers and reclaimed wood that can take a beating. For those who like to bring the outside in, and the inside out, Wendy's designs are compatible with a casual lifestyle. "We're so lucky because we live in California where the climate allows us to be able to have our windows and our doors open," the Balboa Island native says. When putting together a room, she starts with a neutral palette of white walls and textured, slubby linens (containing slubs or lumps) in natural fibers. "I try to keep things really fresh and clean," Wendy says. "From there, it's about juxtaposing furniture that has different finishes and tones. Bohemian, to me, means that things aren't always symmetrical." For example, a Newport Island home's dining table is a multi-material assemblage of a reclaimed wood base and a zinc top accented with chunky nail tacks. Surrounded by rattan chairs, the effect is eclectic while maintaining a well balanced composition.
To get the bohemian look at home, she suggests drawing inspiration from textiles. "I'm a fabric junkie. So much of my design starts with fabric as an inspiration—something that's just really cool." Among her favorites of the moment are hand block-printed and ikat-dyed patterns for pillows on a sofa. "If you start with a neutral palette it allows you to experiment more, and … you end up living with it a lot longer," she says.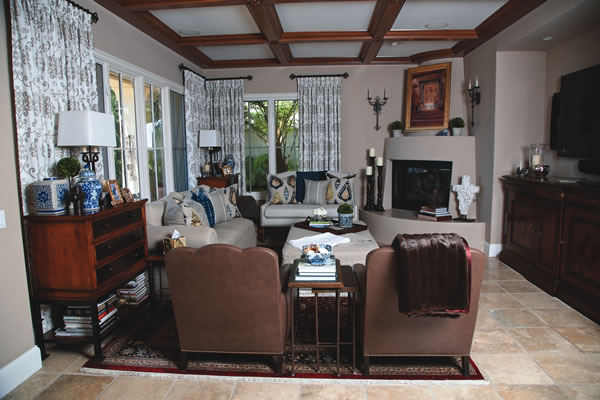 California Luxury
"I like to say, 'Take care of the luxuries, and the necessities will take care of themselves,' " says Sandra Maddox, a self-employed interior designer based in Newport Beach. She uses elements of Spanish and old California style to create classic, inviting environments that stand the test of time. Beautiful European woods and open floor plans with stone and wrought iron details provide structure in her style, while shades of soft, decadent fabrics and ample candlelight provide warmth. "I want a home to feel graceful and life-giving," Sandra says. "A home should receive you. It should be inviting—a calming safe harbor." A key concept of creating a timeless look of luxury, she explains, is layering fabrics and elements of old and new, and light and dark. "In my home I juxtapose airy and intimate, humble and precious, classic and contemporary. I use a technique of layering different textures of whites, creams and beiges with the surprise of color." Sandra creates comfort in her living room with a settee and ottoman from local home goods store Juxtaposition, and in place of a built-in entertainment center uses an antique Italian buffet with beautiful inlays. She encourages clients to live with luxury by using heirlooms and valuables instead of storing them for safekeeping. "I love using antique linens, silver or grandma's old china," she says. "It creates a lifestyle of elegance. I think people should live that way." The designer also explains that enticing the senses is paramount in a home's sumptuousness: "Adding rich fabrics such as velvets, cashmeres, silks and Belgian linens makes things luxurious. Use a beautiful Hermes cashmere blanket, or upholster an everyday casual chair in a rich velvet that will invite you to curl up in it. Take a pillow made of beautiful old tapestry on a linen sofa for a blend of the old and new. Use books in piles on table, candles and beautiful scented soaps, and towels with a luxurious thick feel to them."
Rustic Charm
Many homeowners are exploring the use of vintage pieces and reclaimed materials in their homes to aim for a household that's both more sustainable and aesthetically pleasing. "The most fun is letting your imagination take you to unexpected places," says designer Sue White Heinz of White Design in Corona del Mar, whose "rustic and organic" style plays off clean and simple sensibilities. "It can be as simple as a found tumbleweed spray-painted pale blue, perched next to an elegant linen sofa, or sun-bleached antlers set atop a 19th-century Florentine cabinet."
Blending is key, for instance, floors throughout her Corona del Mar home are made of reclaimed oak from an Ohio River Valley barn. "The most important concept in using vintage pieces is considering how well it enhances your overall design," she explains. "If you are trying to blend it into your concept, it's more pleasing if a piece subtly enhances your design, rather than stands out as an anomaly."
Vintage and reclaimed materials can be extended to the exterior, as well. Sue's home has refurbished doors and roof ridges adorned with vintage clay barrels. But when relying on older products to provide support, she cautions against one common mistake: "If you're using a functional or a structural piece, like a vintage door or corbel, be sure it is stable and structurally sound, or you may end up spending more time and money than you had planned to shore it up."
While reclaimed items are available in stores, Sue recommends searching the Western landscape the organic way because you'll enjoy the items more. "I especially treasure my found objects from my travels or hiking adventures that have a great shape or cast a beautiful shadow. You can also surprise yourself when you realize that something that you may have considered throwing away becomes art," she says.
Elegant Contemporary
"I think it's important to integrate some sparkle and glam elements if you're going for an elegant, contemporary look," explains Sylvia Beez, principal designer at Irvine-based m.a.p. interiors inc. "But it is equally important to not overdo it; excessive use could make the design look tasteless."
Favoring the sleekness and subtle sophistication of contemporary design, the designer explains: "Everything has its place and order in contemporary design. The overall atmosphere is clear, clean and uncluttered. It's very Zen and promotes calmness." For sparkle, she recommends using light-reflecting elements like chandeliers and mirrors in unexpected places, as she did in a sophisticated San Joaquin Hills home she designed with mirrored coffee tables and a sand- and sea-inspired palette. Combining vibrant and up-to-date styles—contemporary seating and light fixtures are key concepts in contemporary design, Sylvia says—with sandy beiges, neutral browns and a toned-down green, this coastal home proves that earthy elements can be complementary to sleek design.
"Integrating elements of other styles into your contemporary concept leads to a much more interesting space," she says. "One of the most common mistakes is making it too sterile or cold, or so simple that it lacks any artistic interest." Don't be afraid of using warm and soothing materials, she adds, such as the area rug and window treatments, both in calming hues of blue that accent the contemporary kitchen. Also, she indulged for this homeowner with the sunburst mirror combo on the fireplace. "Those mirrors were quite pricey and we could have used only one, but that wouldn't have led to the same dramatic effect."

Minimalist Modern
"Minimalist design favors clean lines, simplicity and restraint," says Brittney Fischbeck, owner of Laguna Beach-based abodwell interior design, who advises clients to get rid of items they don't absolutely love and embrace the absence of items as a statement itself. "It's about reducing the 'noise' in your environment to make it more peaceful."
To keep things simple from the start, she urges a monochromatic color scheme and repeating the same stone or wood materials throughout the home. This is the concept she used in going through two dozen paint color trials to select a "luxurious, rich" gray with slight blue undertone for a home in the East Bluff neighborhood. With the perfect gray as their base, the homeowners simply change accent colors throughout the year, using colorful throw pillows in spring, a citron-painted side table and a beautiful bowl of lemons in summer, or a floral arrangement in deep red during the holidays. "There is a collective back-to-basics approach with fine quality and craftsmanship setting the pace," says Brittney, who also designed California's first coastal LEED Platinum-certified home. "One of my favorite details is the ceiling design by Ryan Singer, who acted as architect on this project, that included a series of skylights. They required careful consideration and engineering since we basically gutted the main area. It was pretty exciting because the ceiling is always overlooked, and in this case it ended up being a huge asset to the space."
Additional eco-friendly details in the home include locally sourced, custom-cut, split-face veneer limestone on the fireplace and a housewarming present from Brittney—a tree trunk section she rescued from one of her job sites in Laguna Beach, which now serves as a side table. Shopping for sustainable items is less complicated than people think. "Most showrooms and stores have eco-friendly furnishings and materials they sell; all you have to do is ask," says the designer, who shops at Modern Studio Furnishings in Laguna Beach and Urbanism in Costa Mesa. "I feel like more people are jumping aboard the less-is-more attitude in their homes and in their lives. It's not really as much about style, as lifestyle. Any style fares well with a minimalist philosophy."
From minimalist to extravagant, combining the secrets of top tastemakers with your own personal style can turn your own home into an inviting coastal retreat. Common among all trends old and new is the concept of scale, so before making a big purchase, arm yourself with measurements and the notion that the right size furniture can make or break a room. With this key rule, don't be afraid to trust yourself and punctuate your abode with personal flair. Here in Newport Beach, the Pacific Ocean as the ultimate backdrop provides limitless potential to create a one-of-a-kind residence. NBM