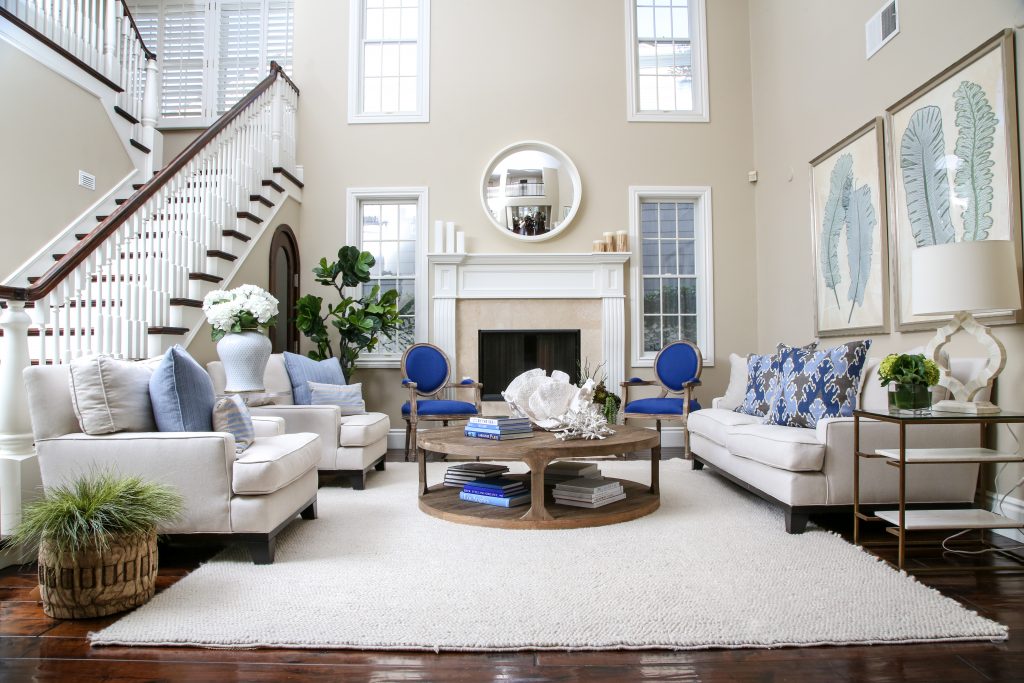 From dramatic living walls to organic fabrics, designers are taking cues from the Newport coast to bring the outside in.
By Katherine Duncan
The earthy-yet-elegant rustic trend is sweeping the nation. Crystal, shells and reclaimed wood are being used in everything from furniture to small accent pieces, and even indoor plants are presented in innovative ways: Vertical gardens, also known as living walls, give a whole new meaning to "going green."
With white sand beaches, swaying palms and sparkling ocean water, it's difficult to close the door on an environment as paradisiacal as Newport's. It's no wonder, then, that so many local designers are putting a coastal spin on the natural trend by bringing the beach indoors. "Everybody is switching out [from dark, traditional interiors] right now," says designer Dawn Rosenmayr, owner of Newport Beach-based design firm Rosenmayr Interiors. "… White and natural colors with pops of ocean beach colors are super cheery and refreshing."
For a total transformation, take advantage of a beachy palette to brighten the space: crisp white, watery blues and sandy neutrals. Paint alone makes a dramatic impact, and carrying the coastal tones throughout the design brings the look together. Neutral walls and furniture are enhanced with sea- and sky-inspired aqua accents and blue art pieces.
Organic and minimally processed natural fabrics bring much-needed texture to a space, making it feel more beach-casual. A beige area rug made of natural sea grass or sisal (a fiber derived from tropical plants) can provide the illusion of sand, while organic cotton upholstery works beautifully on couches and chairs. For lampshades, Dawn suggests raffia, a straw-like material made from palms that's reminiscent of a beach hut rooftop. Linen shades or wood shutters are a natural choice for window treatments if privacy is needed, but it's ideal to let sunlight illuminate the area.
The natural influence doesn't have to encompass the entire home, though. "All the natural elements are outside your door in Newport," Dawn says. "Picking up shells, driftwood [and] sea grass is a wonderful way to incorporate natural elements."
Try filling glass hurricanes with sand, rocks or sea glass gathered during a beachside stroll for a creative table centerpiece. Oversized shells or pieces of coral make for stunning accents on tabletops, mantles and open shelves. And even driftwood can be elegant when incorporated cleverly; it's often used to frame mirrors, photos and art.
"It's interesting how people are so interested in bringing the outside in; … it's like innate. Everybody wants to do that," Dawn says. "We're all kind of connected to nature, and it just makes us feel so much better when we're a part of it."