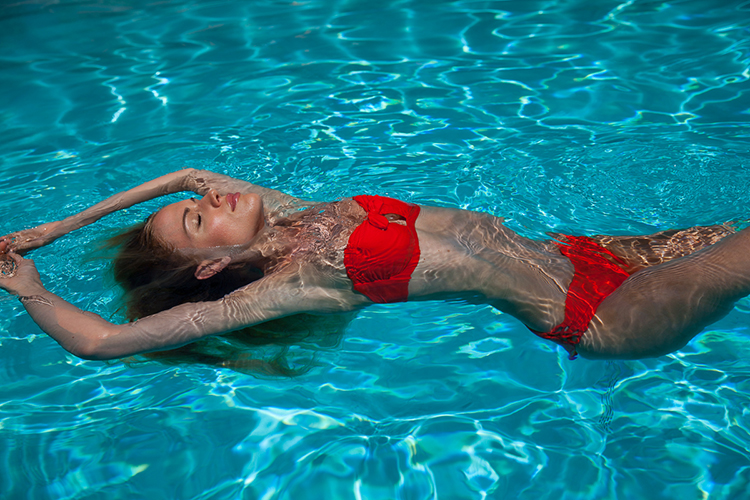 NEWPORT'S SUMMER SWIMSUIT TRENDS ARE OFFERING WOMEN VERSATILE AND FLATTERING LOOKS FOR DAYS SPENT BASKING UNDER THE SUN—TAN LINES NOT INCLUDED.
By Bria Balliet | Photographer: David Jakle | Fashion Director: Julie French
If there's one thing that Newport Beach locals know how to do, it's sport a killer swimsuit. A life spent amid piers, sandy beaches, yachts and coconut tanning oil has a way of preparing residents for balmy summers and bikinis like nothing else can. Swimwear, therefore, holds a special place in the hearts of Newport's residents, regardless of age, body or lifestyle.
While the rest of the world looks to the runways and fashion blogs for style inspiration, Newport only has to look to itself, its peers and the designers that call the pristine Southern California coast home. Swimsuit mavens such as Brit Barber, designer and owner of Corona del Mar-based BeachCandy Swimwear, and Oleema and Kalani Miller of Mikoh, who grew up just down the coast in San Clemente, draw inspiration from their hometowns to come up with some of the chicest and most versatile beach looks around.
"We like to … not follow trends, but create pieces for your wardrobe that are classic [and] that you can wear season after season—but with a bit of a modern edge," Oleema explains.
Finding a suit that will last for seasons to come and still reflect one's personality can be a daunting challenge. Luckily, from teeny bikinis and trendy prints to one-of-a-kind details, the best styles from Orange County's most talented designers have sunbathers covered when it comes to cultivating a memorable and fashionable summer.
Sporty Chic
Newport Beach is a hotbed of athletic activity year-round, with most activities taking place on or around the water. From stand-up paddleboarding (SUP) to surfing, hiking, biking and more, an active lifestyle requires a sportier bathing suit option that offers coverage and stability.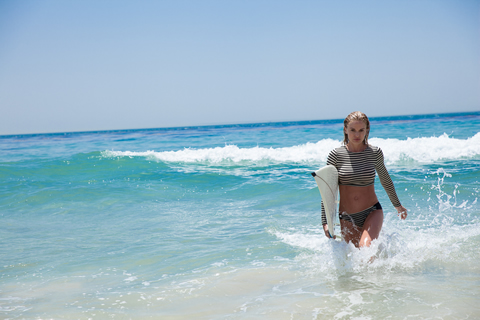 "We are most excited about our sporty high-neck tops," Oleema says. These full-coverage numbers, like Mikoh's Barbados top, feel more like a sports bra than a swimsuit and reflect the need for activity-friendly beach gear that is still stylish.
Other brands, such as Vitamin A by Amahlia Stevens, are featuring athletic-inspired tops and rash guard-like designs in their new collections. "One of our most standout pieces is the Cannes rash guard," Amahlia says. "[It] was inspired by the surfer standby, but reinvented for style-setters as a totally chic top or layering piece."
These long sleeved crop-tops are ideal for surfers as well as those looking for an easy transitional piece. After a day spent lounging at the beach, add a scarf and a pair of linen pants or a maxi skirt to convert the swimsuit into a fashionable outfit for the movies or a casual dinner.
Taking the surfer inspiration one step further, many brands are reimagining neoprene, a material commonly used to fashion wetsuits, to create bikinis with a distinct edge. Mikoh is also on board with this trend, offering the Mikoh x Surf Collection centered on seamless, hardware-free neoprene suits for surfer girls.
"[In regard to] neoprene, … we're seeing a lot of reinvented 1980s Body Glove suits that are super amazing," says Balboa Island resident Angela Chittenden, the mastermind behind Beach Bunny Swimwear. "Of course, Beach Bunny always takes it just a step further, so we've added some really big chunky zippers as well as color-blocking and a lot of cut-outs."
Strap In
When it comes to tying on a bikini this summer, the more complicated the better, with intricately crafted designs gracing the figures of more and more sunbathers. "Anything with a lot of straps or cut-outs or just additional strapping in the fronts and backs of bikinis is trending for this season," Angela says.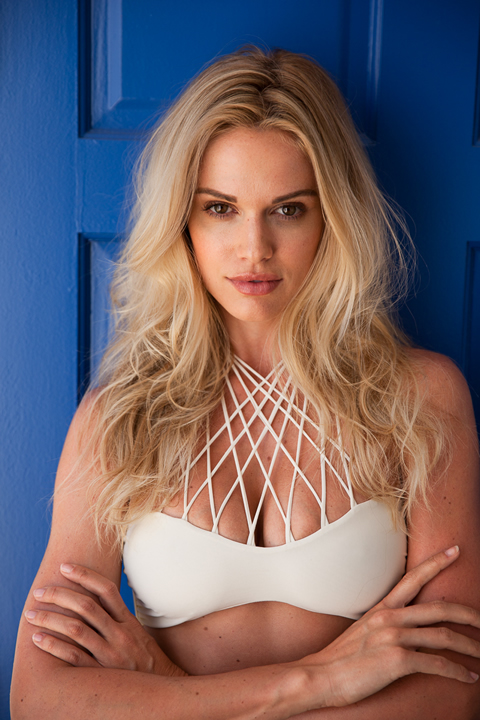 Though such styles would have previously caused trepidation among designers in regard to tan lines, Monica Wise, owner of L-Space, says that particular concern is becoming a thing of the past. "It seems that girls aren't as focused on their tan lines as they were in years past," she shares.
Consider, for instance, crochet: Once reserved for bedding or handmade coasters, crochet and other knit designs are currently making a huge impact on the swimwear world. Michele Letarte Ross, who owns and operates Letarte (which is opening a store at Fashion Island this year) with her sister Lisa Letarte Cabrinha, is noticing an increased interest in the trend as well.
"Crochet is very big in the market right now, so a few of our swimsuit styles have crochet incorporated into the tops and the bottoms," she says. "And all of our crochet is handmade … so each suit is unique."
To work more intricate straps into a swimsuit, designers are getting creative and including the details in unexpected ways. For example, Mikoh's Kahala top features a lattice design with multiple straps crisscrossing up to a high neckline Alternately, BeachCandy's Isabella top features a number of cascading straps across the front of the suit that offer dimension and movement with more durability than traditional fringe.
Pattern Play
Complex weaving isn't the only way that suits are standing out this season. Veering away from the basic black bikini, swim companies are playing with bold patterns and creating truly unique designs. "We're doing a lot of prints that look a little bit tribal, almost geometric," Brit says of BeachCandy's new summer line. "It's a very pretty color story, especially on a lot of skin tones."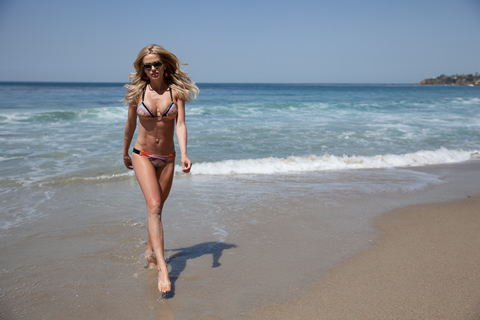 Hawaii-based San Lorenzo Bikinis, whose sole mainland location sits in Fashion Island, is revamping its line this summer with stunning, tropical paradise-inspired prints in bright and bold hues that flatter nearly any skin tone.
"This collection is all about representing the brightest colors and the colors that represent paradise—strong, bold floral colors," says Mariella St. John, San Lorenzo's marketing director. The hibiscus jungle print embodies this trend, utilizing bright coral and aqua hues to make up the daring hibiscus bloom and animal print pattern.
Alternately, Letarte, whose collection is "about 80 percent print-driven," according to Michele, is bringing its customers island-inspired designs in neutral colors with a pop, such as the tribal and candy reef prints. L-Space is also turning heads this season with its tribal designs and bright watercolor prints, while Beach Bunny is opting for candy-colored florals paired with lace.
Mix it Up
With so many enticing prints to choose from, how can a beach babe settle on just one? Designers are now making the decision easier by not only creating their suits in a plethora of fun colors and prints, but also by selling their tops and bottoms as separates and reversible.
"You can match a solid top to a printed bottom or vice-versa," Michele says of Letarte's collection.
L-Space is also encouraging the popularity of mixing pieces, specifically with denim prints. "Denim goes with anything in your wardrobe, so why wouldn't a bikini work the same way?" Monica asks.
To successfully combine different patterns and colors, one should be mindful of the overall desired look—whether it's exotic, glamorous, flirty, et cetera—and stick to a cohesive theme rather than trying to fit too much onto one suit. Pairing a denim-printed top with a multicolored tie-dye bottom, for example, gives off a casual California vibe, while a simple coral-colored top pairs well with a tribal-inspired bottom half.
The option to mix pieces and patterns makes creating a signature style effortless, while reversible suits, such as those offered by L-Space and San Lorenzo, allow shoppers to get double the looks for the price of one.
Teeny Bikini
Though bathing suits are already notorious for offering scant coverage, the newly popular Brazilian-style bottoms are sure to make even the most daring fashionistas blush upon first look. The minimal-coverage trend is gaining new fans every day, however.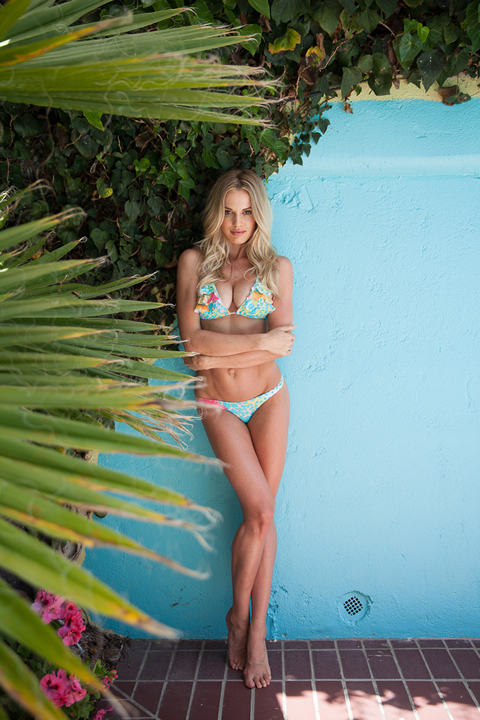 "The truth is that it is more flattering," Mariella says, adding that San Lorenzo enhances its skimpy bottoms with delicate ruching details and feminine bows. "Instead of wearing a baggy bottom that isn't going to show your assets, you might as well show what you have."
Offering very little coverage in both front and back, the tiny garment allows for a better tan and also enhances the figure. Accordingly, L-Space's Itsy bottom is continually one of the brand's best-sellers, according to Monica. "A big mistake [women make] is trying to cover up too much sometimes, where they would probably look a lot shapelier if they didn't go for so much coverage in the derriere," she explains.
For those who would rather forgo such a petite bottom, more coverage can be equally flattering as long as it fits properly. The Ava corset bottom from Vitamin A is a great option that allows for adjustable sizing with side ties. "The lace-up corset styling is both fashionable and functional, made to adjust for a perfect fit," Amahlia says.
Or, for a truly customized look, Brit and her team at BeachCandy can tailor a bespoke bikini to fit you like a glove. Brit points out that traditional sizing is extremely limited with typically only five sizes, while custom swimwear will ensure a well-fitting suit that flatters and lasts for years to come.
With so many incredible designers right in Newport's backyard, there's no reason for to go anywhere else for your swimwear needs. Whether following the latest trends or sticking to timeless styles, the lovely ladies who outfit beachgoers along the coast ensure that you leave the store with a stylish suit in hand and killer confidence to complement the look.
Model: Chelsea Salmon at Next Model Management
Hair and Makeup: Barbara Lamelza using MAC Cosmetics and Kevin Murphy hair products
Digital Tech: John TeIchert
Fashion Assistant: Crystal Janke