The Segerstrom Stage
Broadway's beloved "La Cage aux Folles" makes its way to the Segerstrom stage.- By Nicole Nelson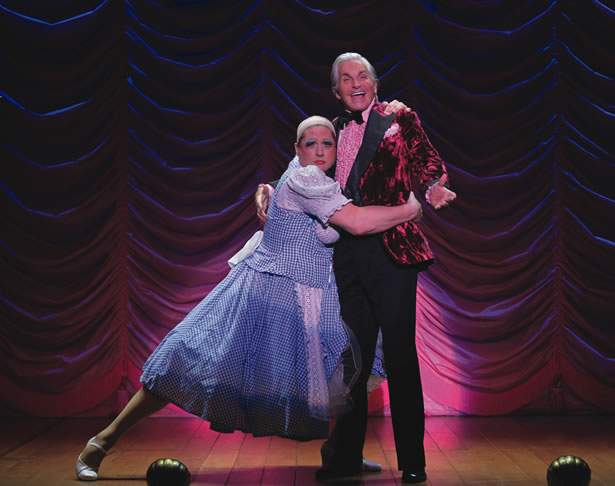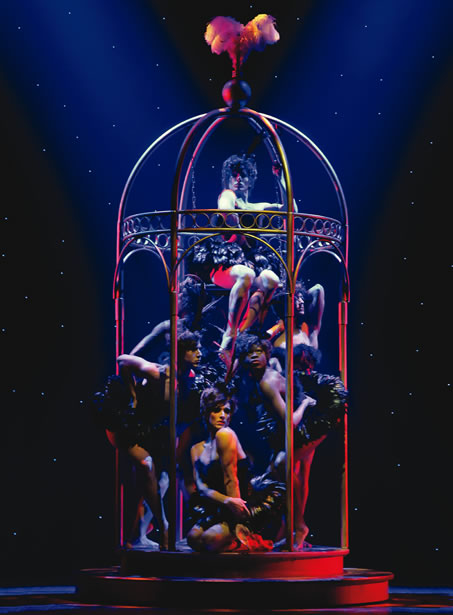 It doesn't matter who you love, but that you love. This is the timeless message of "La Cage aux Folles," as summed up by actor Christopher Sieber, who plays Albin in the touring, Tony Award-winning Broadway revival. The show arrives at Segerstrom Center July 24, almost 30 years after the original Broadway production opened.
The story focuses on a gay couple in Saint-Tropez—Georges, who manages a nightclub with drag entertainment, and his partner Albin, who is the star of the club's show as the chanteuse, Zaza. Georges' son brings his fiancée's ultra-conservative parents home to meet the couple, which puts the bonds of family to the test as the feather boas fly.
This version of the show started in the 160-seat Menier Chocolate Factory theater in London. The cozy space led the production to scale down from the extreme gags and acrobatics of the 2004 Broadway revival and to focus on the story and the family. "You still get the complete musical theater satisfaction of seeing a big Broadway musical, but it has a smaller, more intimate feel," Christopher says.
A two-time Tony Award nominee, Christopher had a unique opportunity to explore the production from different vantage points. After the actor playing Georges dropped out of the show in New York suddenly, Christopher went from being introduced to the musical as a first-time audience member to playing the part of Georges in a little over a week. Harvey Fierstein, who co-wrote the musical comedy and was starring as Albin at the time, asked Christopher to take over the role of Georges. It meant leaving the role of Billy Flynn in "Chicago," which he had been slated to star in, but he agreed and began rehearsing for "La Cage," as Christopher calls it, a few days later. When the show went on tour, George Hamilton was brought in to play Georges, and Christopher assumed the role of Albin, opposite Hamilton.
The two parts are quite different, but Christopher isn't fazed. He describes himself as being a little insecure at first, as he is when starting anything, but he quickly found his way. "I always jump in head first and see what happens," he says.
One obvious way the roles are different is the number of costume changes. Christopher explains, "Georges has three costumes; Albin/Zaza has 15 costumes, 22 different looks, nine pairs of shoes, 12 wigs and multiple pieces of jewelry—and a team of three backstage to help me get in and out of everything." He says he never stops moving during the show's 3.5 hours.
Christopher and George had never met before being cast together. Christopher was brought in to meet the accomplished actor with the familiar, perpetual suntan, to make sure that they would get along. Now, Christopher says they are good friends and that Hamilton, whom he says "doesn't have a diva bone in his body, and is generous beyond belief," shares great stories about everything from famous actors to presidents and other world leaders he has spent time with. "He's George Hamilton," he says. "Everyone wants him around."
Christopher expresses excitement about making his Segerstrom Center debut. "I'm looking forward to seeing some of the housewives of Orange County," he says with a smile. He also shares that Disneyland was one of his favorite amusement parks. "I was with a guide before—a VIP guide because I was on a sitcom—and I was able to go up above the firehouse and see Walt's old apartment, Club 33, all the secrets of Disney. I love that."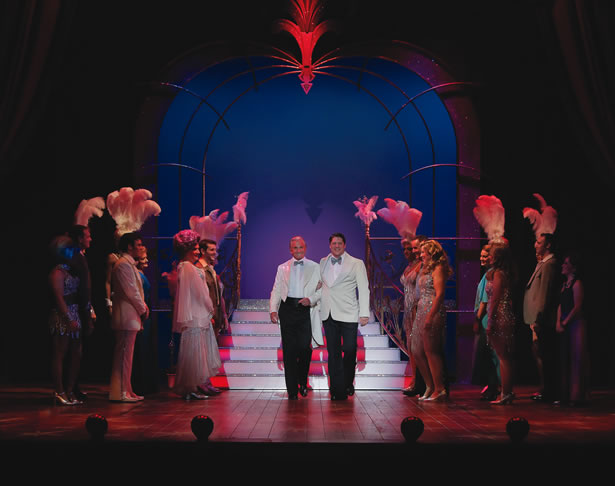 Among Christopher's fans locally is Terrence Dwyer, president of Segerstom Center for the Arts. "He's a great performer—I've worked with him a few times in past lives, and he's a great comic and a great musical theater performer," Terrence says.
On making the decision to bring the Broadway revival to Orange County, Terrence says, "You look for great, classical musical shows that have had really positive receptions in New York and on the road, and also, shows that have a big heart, that'll be entertaining and have a lot of variety and show off the art form. We think 'La Cage Aux Folles' hits all those numbers, full speed."
Seasoned theatergoers will appreciate that this is the show's debut at the center. Terrence also points out new efforts to make reasonably low-priced tickets available to the community. Through the Access for All program that began last year, the center is selling 10,000 tickets throughout the season for $10 a ticket. There are also different rush tickets, and tickets available at curtain. "We're doing a lot of things to make the shows as accessible as possible," he explains. He hopes that these programs will allow some people to experience their first Broadway musical with "La Cage."
"It's a great big fun comedy, and that's a nice place for people to start if they're going to dip their toe in the world of Broadway musicals," Terrence adds.
"La Cage aux Folles," July 24 – Aug. 5; Segerstrom Center for the Arts, 600 Town Center Dr., Costa Mesa; 714-556-2787; scfta.org. NBM