We marveled at this modern CdM hillside home.- By Ashley Breeding | photos By Larry a. Falke, Falke Photography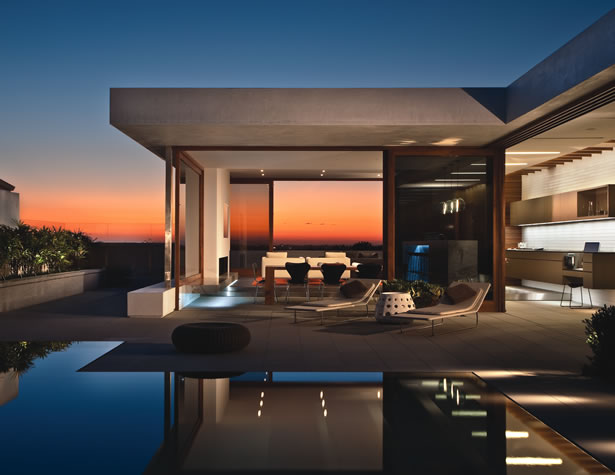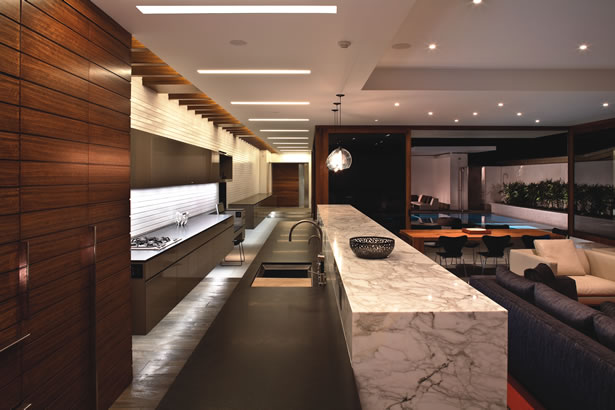 When Charles-Édouard Jeanneret (better known as Le Corbusier), architect and pioneer of International style, said, "The house is a machine for living in," he was referring to a new type of housing that fit the industrial age. This led to a design that was rectilinear, spacious, simplistic and devoid of ornamentation. He used modern materials like steel, plated glass and reinforced concrete, and employed cantilever construction to help create a visually weightless aesthetic.
A contemporary interpretation of this style, where privacy was a sine qua non, is what the Cormac family was seeking when they hired NB-based Laidlaw Schultz Architects to design their home, a 3,548 square-foot compound nestled in the hillside of Corona del Mar's Harbor View Hills neighborhood.
Both open and intimate, the pavilion-style home separates public from private with a solid sandstone façade and sliding metal gate that leads to the interior courtyard and personal domain, says Craig Schultz, AIA, the project's leading architect.
Continuing this theme of open seclusion, a path from the entryway to the ocean-view hillside divides the personal spaces from the main living room and interior courtyard.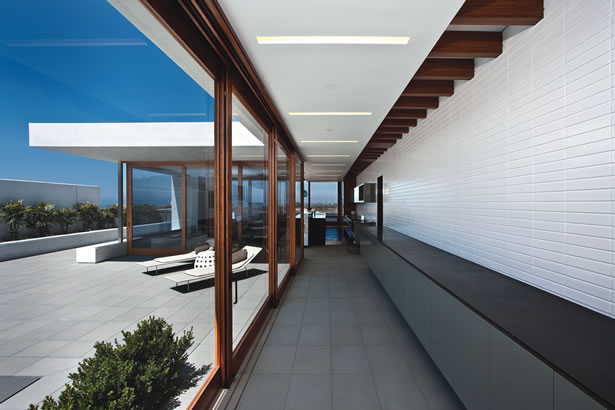 A spectacular feature of the project, indoor-outdoor living, is reflected in the outside living space, adjacent swimming pool and lounge, as well as mirror imagery and repetition of shapes, textures and materials throughout the interior and exterior.
Following Le Corbusier's law that "all buildings should be white," Schultz deployed the color in painted brick, striated marble and smooth plaster to create textural interest.
The cool aesthetic is juxtaposed by warm walnut paneling, doors and windows, and aged wood flooring to "balance sophistication and warmth," Schultz explains.
Challenges the design team faced, including height restrictions that forbid obstruction of both existing and potential views, ultimately led to some of the project's most desired details: split-levels within the home, the development of an outdoor living area, and an enlarged courtyard.  Many of these elements incorporated within the design are familiar to Schultz, whose portfolio stretches as far as Sun Valley, Idaho, and whose recent local work includes The Crossing Church, Port Theater and facilities at Fox Studios.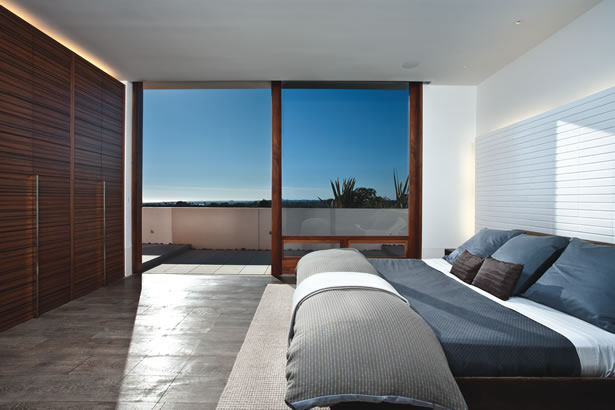 "While each project that we are involved with is specifically designed for the needs of that client, I think that many aspects of the Cormac home can be seen throughout our other work," Schultz says.
The team's careful attention to detail, polished palette and unique concept earned the project the Honor Award at the recent American Institute of Architects' Residential Awards competition.
A "minimal aesthetic that would also suit a growing family" is the concept applied to the Cormac home, Schultz says. The couple's international roots (Colin Cormac is South African; his wife, Carolina, is Argentinean) and cultural experiences, he says, brought a supremely sophisticated knowledge to the design process: "Their dedication to the project helped bring out the very best in the architecture, and their understanding of the importance of each aspect of the home helped in carrying out everything from the largest features of the home to the smallest detail." ,