Bringing a touch of the Hawaiian Islands to Newport Beach, Hula Dog has garnered a loyal following with its tropical take on the standard American hot dog.
A Hula Dog starts with the bun, which is "spiked" and toasted from the inside, creating the hole; from there, it's stuffed with a Polish sausage, turkey dog or veggie dog. Next, add a variety of secret sauces, fruit relish and mustards of your choosing. Then you eat it—vertically.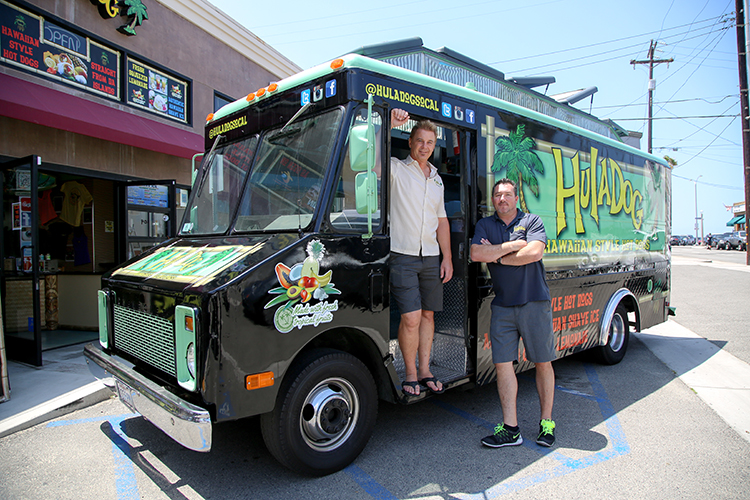 "When people first try the Hula Dog, they really do get hooked on it," says Ken Kowalski, the co-owner of Hula Dog's location on the peninsula. "It's a whole new experience for them."
Unlike most food trucks, this business actually got its start as a brick-and-mortar restaurant. Originating as Puka Dog, a small stand on the west shore of Kauai, the company took on new life when its founder, Dominique Quinette, rebranded it as Hula Dog. Since then, Dominique has opened multiple locations; in 2013, she made a deal with Ken and his business partner Todd Patterson to open a shop in Southern California. Along with the signature dish, big hits with hungry visitors include authentic Hawaiian shave ice, the poke bowl and the fresh squeezed lemonade.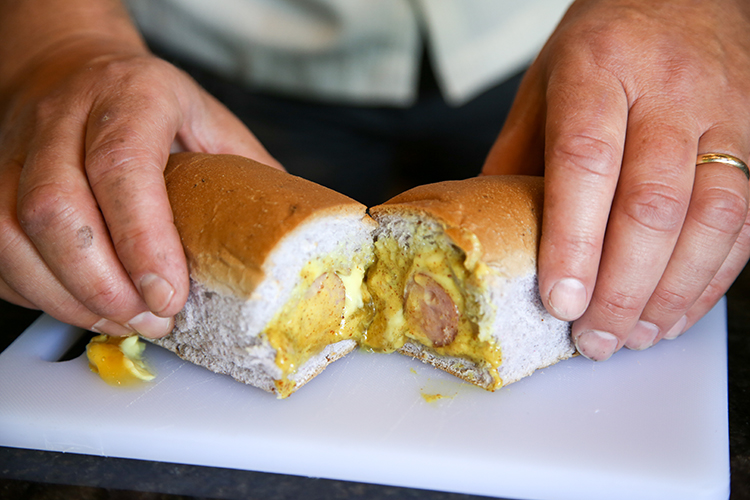 ---
The classic Hula Dog starts off with a taro bacon bun, a soft bread made with taro root and infused with chunks of savory bacon. It's stuffed with a Polish sausage and the medium or hot secret sauce. Mango relish is added, along with tangy lilikoi mustard (a tart Hawaiian passion fruit). Wash it all down with freshly squeezed lilikoi lemonade.
---
A year after opening the Hawaiian-themed restaurant near Newport Pier, the idea for a food truck came to mind. Initially created as a more efficient way to cater parties, the Hula Dog truck came into its own and now makes the rounds at the OC Fair & Event Center, large office complexes and schools. "[The truck] really gets the word out there; we get people coming in all the time after trying us out at meet-ups or lunch spots," Ken says.
Todd adds: "It's basically an extension of our awesomeness."
—Written by Matt Valdez