Ryan Wilson elevates his family's Five Crowns out of a Brit food funk and into the sun of farm-fresh Cali cuisine. – By Aleta Walther | Photos by Jim Colombo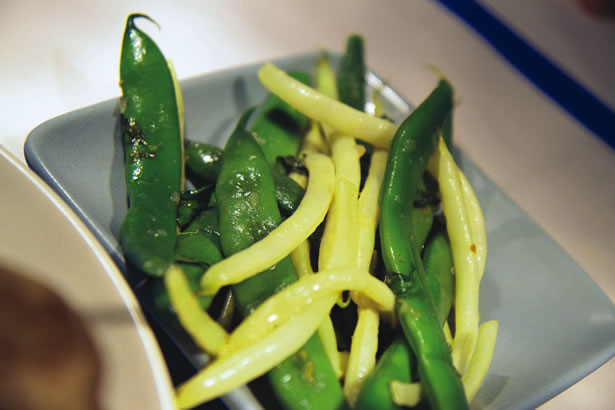 As a child, Ryan O'Melveny Wilson watchedcelebrity and culinary greats Julia Childs, Jacques Pépin and Burt Wolf baking and basting, whipping and whisking, seasoning and sautéing on national television. As a teenager he made pasta and salad dressing from scratch and was the family grill master—quite an accomplishment when the family in question owns the venerable Lawry's Prime Rib restaurants group. And yet he was a self-proclaimed picky eater growing up. It was not food, but the artistry, the experimenting, the inventing, the techniques of cooking that inspired Wilson to become a chef.
Wilson has been a chef at Five Crowns for three years and was recently promoted to executive chef for Five Crowns and SideDoor, an English-style gastropub. Wilson is also a Lawry's vice president and manages all culinary programs for the restaurant chain, which was founded in the early 1920s when Lawrence Frank (Wilson's great-grandfather) and a cousin opened The Tam O'Shanter in L.A. Today, the company's portfolio consists of The Tam O'Shanter, Five Crowns (opened in 1965) and SideDoor, two Lawry's Carvery eateries and four Lawry's The Prime Rib restaurants. There are also four The Prime Rib restaurant franchises in Asia.  Although the 46-year-old Five Crowns is older than the blond, bearded Wilson, its menu today reflects Wilson's youth and healthy, more affordable approach to dining. Wilson's menu planning was a strategic component to the Five Crowns' recent renovation and rejuvenation. He says the restaurant still retains its fine dining aspect, but now projects a more casual, contemporary ambiance with its new menu, fabrics, colors and lighting—changes that he hopes will project casual comfort and good cheer, while maintaining the Five Crowns' charm and character.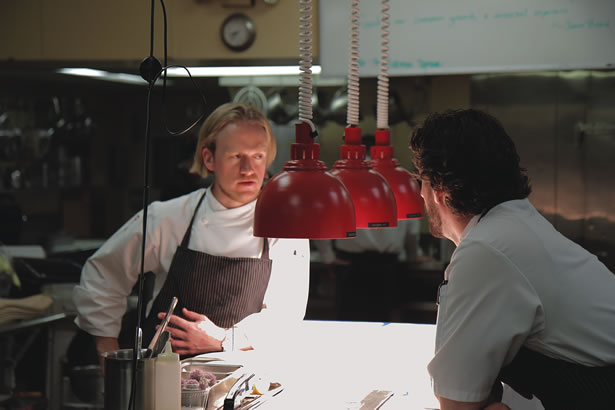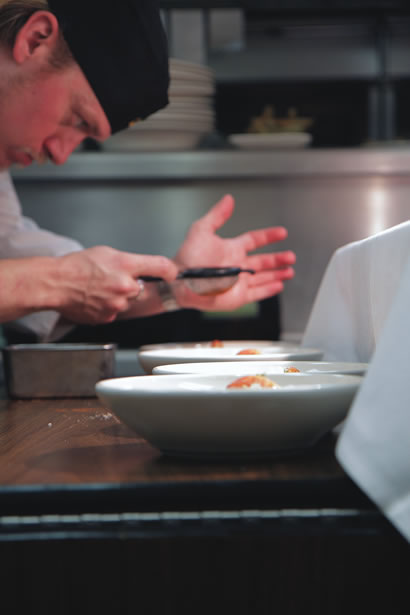 "The new menu makes the restaurant more approachable for everyday dining," says Wilson. "We have a tremendous tradition of being a special occasion restaurant, but the new menu, decor and ambiance will make it more attractive for a Tuesday night dinner."
"The menu is absolutely more affordable today," he says. "We have lowered some of our prices and changed our portions to get to a lower price point. We want to overcome the perception that this is a restaurant you save for a special occasion because it's seen as being formal and expensive."
Born and raised in the San Francisco Bay area, Wilson attended Pomona College and worked at the Five Crowns doing prep work and the like following graduation. After a stint in Mammoth, he became a chef at Ken Frank's La Toque, a French restaurant in Napa Valley. After two years at La Toque, Frank sent Wilson to Italy where he found himself totally immersed in the art of Italian cooking.
"In Italy I worked with a famed butcher who was preserving Tuscan butchery techniques and with a 75-year-old woman who was a master at making pasta by hand."
By 2008, Wilson was back in the family fold, working as the culinary trainer at the newly opened Lawry's The Prime Rib in Shanghai, China, and Lawry's The Prime Rib in Osaka, Japan. Shortly thereafter he was back in Newport Beach.
Wilson shops three farmers markets weekly in search of ripe and ready-to-eat seasonal produce. "It's important for me to smell and taste the produce before I buy; to bite into a red ripe tomato or eat a raw green bean," Wilson says. On Wednesday he's off to the Old Town Tustin market and Thursday he visits the market at the Orange County Fairgrounds. His favorite is the Irvine Farmers Market on Saturdays at the shopping center across from UCI, which he says has more specialty vegetable growers offering a greater selection of seasonal produce. He buys edible squash blossoms, cucumbers, tomatoes, herbs, lima beans and more from Sweredoski Farms and stone fruits, citrus and berries from Arnett Farms.
"I get a sense of peace and solitude while engaging with the farmers about what's in season, what they are planting for next season, and how they run their farms." What he doesn't buy at the farmers markets he obtains from a trusted produce distributor, who in turn buys from farmers throughout Southern California, the Central Coast and San Francisco.
"I get a lot of satisfaction knowing that I had a hand in picking the right peach for a dessert, the right plum with the right acidity to go with a lamb dish," he says. "Visiting a farmers market is like going to church for me."
Family legacy
Considering that Ryan Wilson's grandfather is Lawry's chairman of the board and his uncle is president and CEO, it's not likely the up-and-coming chef has to worry about job security. He does, however, have his family and Lawry's reputation to maintain and protect.
"I have 90 years of family tradition riding on my kitchen," said Wilson. "If it were just another job, I could be canned and go get another job. Instead, I have a lot of responsibility and emotional pressure knowing this is my family's business—but what an amazing opportunity. It is very exciting knowing I am creating the next chapter in my family's history."