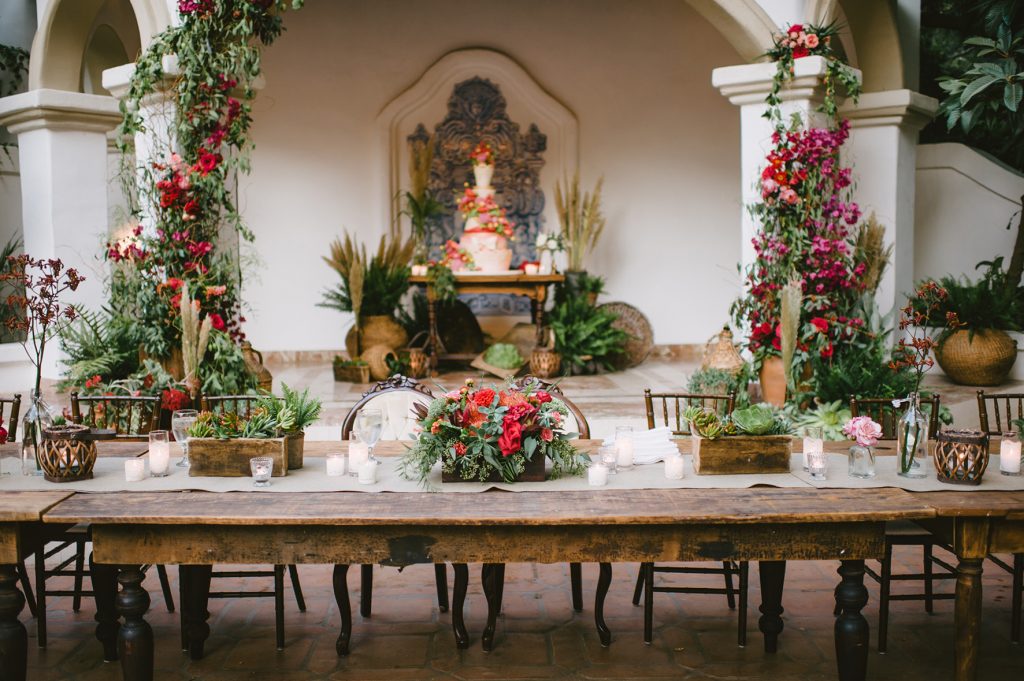 From the beach to the ballroom, Newport brides and 
grooms strive for custom celebrations that combine 
personal taste and a few trendy touches.
By Bria Balliet
With the growing popularity of Pinterest, The Knot and other similar websites that aim to inspire the betrothed, the modern bride and groom have a vast arsenal of wedding ideas at their disposal. But as helpful as these sites can be, the seemingly limitless DIY projects make it all too easy to over-design a celebration with the latest fads—leaving many couples with dated photos just a few short years later.
To transform a theme into a fully realized wedding in a way that will still be relevant down the road takes great skill and the art of subtlety. "[The key is] keeping it classic with some trendy detail pieces," explains Lindsay Geisler, an event designer with Sugar Branch Special Events & Design. "When the whole wedding is trendy, then you'll look back and say, 'Oh gosh, what was I thinking?' "
Keeping this advice in mind, modern couples are employing trends in tasteful ways that will stand the test of time. Whether they choose to pay homage to her love of the ocean or his rustic roots, the following ideas can help Newport twosomes craft ceremonies they can be proud of long after they say "I do."
Rustic Elegance
After skyrocketing in popularity several years ago, the rustic wedding is proving its staying power. "Rustic is definitely a popular theme. … It's been around forever," says Robin Ballard, owner of Events by Robin. "Now the challenge is how to modernize the rustic theme and how to make it different."
To achieve this type of celebration, she suggests bringing a touch of glamour to otherwise rural-style decor by using elegant lighting and metallic accents. Hanging crystal chandeliers from trees can create a whimsical and romantic ambience, and Robin explains that suspended glass orbs with LED candles inside are becoming ubiquitous.
Paired with sophisticated lighting, another chic way to bring a touch of country to a ceremony or reception is to incorporate logs and wood details, whether with tables and chairs or in more unexpected places.
"I had a wedding recently where the bride and groom wrote their vows on slices of wood," Robin says. "It's kind of a cool way to [use] the logs … and now they can put them on their mantle … as a fun reminder of theirwedding."
Similarly, wooden circles can be stacked in order to create a tiered dessert bar or used as coasters. But those who are open to a different take on dessert should turn to a campfire classic to bring the rustic feel to their reception. "Another super cute dessert for the rustic [theme] is a s'more bar," Robin shares, explaining that couples could set out Sterno cooking fuel, marshmallows, graham crackers and jars of peanut butter or Nutella for guests to craft their own sweet creations.
Whether it's food, decor, dress or all of the above, there are varying ways to bring the theme's warmth and charm into the big day—just don't forget to incorporate a touch of refinement and shine to offer a fresh aesthetic that everyone will enjoy.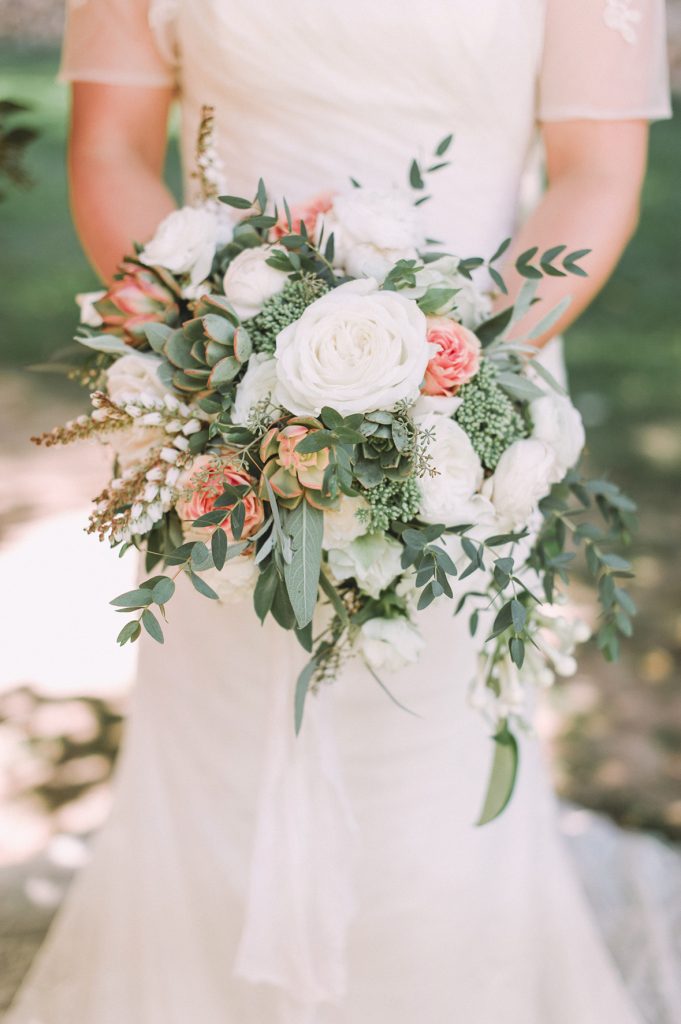 Ode to the Past
Since the recent resurgence of 1920s glamour, coordinators and their clients are being challenged to find new ways to style an old-fashioned affair. The beauty in this movement is that it's possible to infuse vintage elements into nearly any other wedding theme. Lindsay Longacre, owner and principal planner of LVL Weddings & Events, has taken to combining vintage elements with rustic and romantic ones to create a warm, cozy ambience. "We are using farm tables and gold, reclaimed tufted couches—things you could find in [a] home," she says, describing possible seating options for a reception.
Paper products can give a clear impression of the theme with delicate lace details and ornate calligraphy; couples could also forgo printed invitations all together. "Instead of printing your invitations on paper, print them on a handkerchief," Lindsay suggests.
Family antiques and mementos also create one-of-a-kind ceremonies. Brooches, jewels and lockets can easily be worn or incorporated into the bride's bouquet, and she has also had couples display heirlooms during their ceremonies for a nostalgic experience. "I had one bride who, just by chance, had the dresses from women on her side of her family," she explains. "So they put [them] on mannequins and displayed [them]. So you can be really creative about the attire and those little details. You just have to dig for them."
Coastal Chic
In Newport Beach, it's not a surprise that brides- and grooms-to-be often style their weddings using aquatic elements. Finding a venue on the beach to accommodate this vision can sometimes be a challenge, however.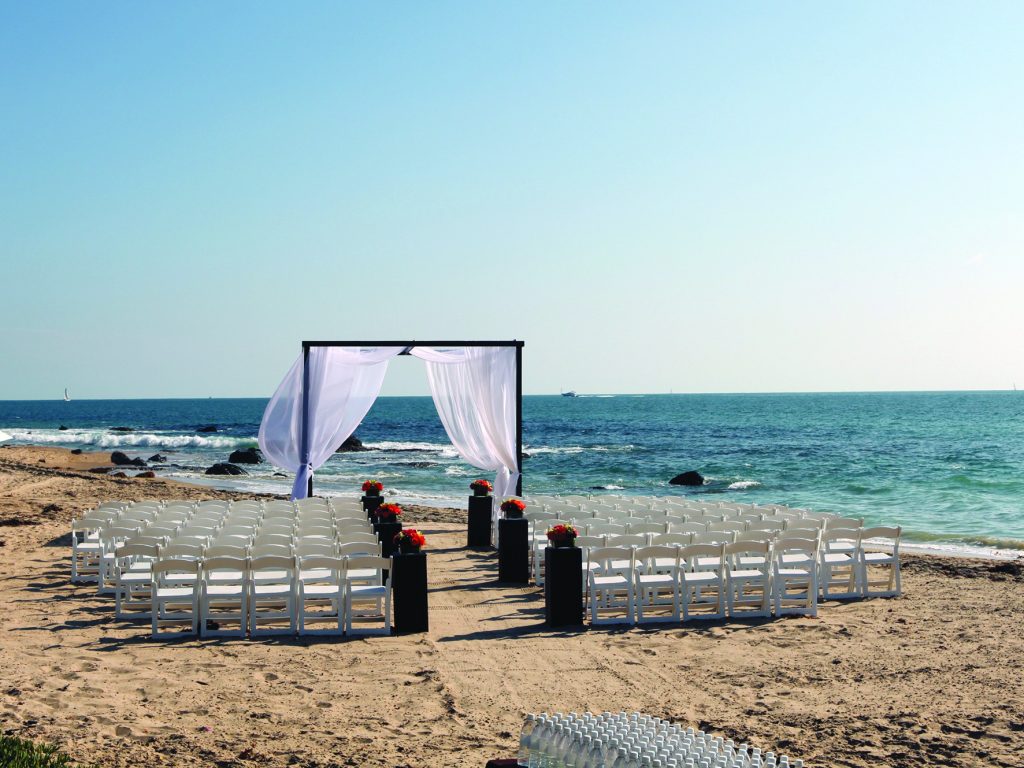 "It's hard because Newport Beach is … obviously a great beach town, but there aren't very many locations where you can actually get married on the beach," explains Lindsay of Sugarbranch Special Events & Design. Simple ceremonies can take place on the public beaches, but space can't be reserved; they're also limited to fewer than 50 people.
To evoke feelings of coastal cool in any waterfront venue, Lindsay says that local couples should maintain a neutral color palette with linens and florals, then pay homage to the sea and sand in unexpected places.
"I might suggest incorporating capiz shells," she says, describing the flat surface of the windowpane oyster. The ivory shells boast an eye-catching iridescent sheen and can be utilized in many ways, whether they're scattered on tables, adorning chandeliers or even used in lieu of escort cards.
"It would be so pretty to do … calligraphy on the capiz shell and put them in a box with sand, driftwood and succulents," she adds.
As with any theme, moderation is key to avoid looking trite. Capiz shells, bleached coral elements, driftwood and textured linens are simple decor additions that offer less obvious nods to the sea, while thoughtful food selections can help carry the beach feel throughout the cocktail hour and reception. If a couple's budget allows, a seafood or oyster bar is an elegant touch and serves double duty as a decorative focal point; more casual couples may opt for lobster rolls or sushi.
For those set on having a wedding on the shore with all the accouterments, The Beachcomber Café at Crystal Cove offers a happy compromise—couples can host their ceremony on the sand or the open-air patio, then move to the restaurant to enjoy a custom catered dinner.
Timeless Tradition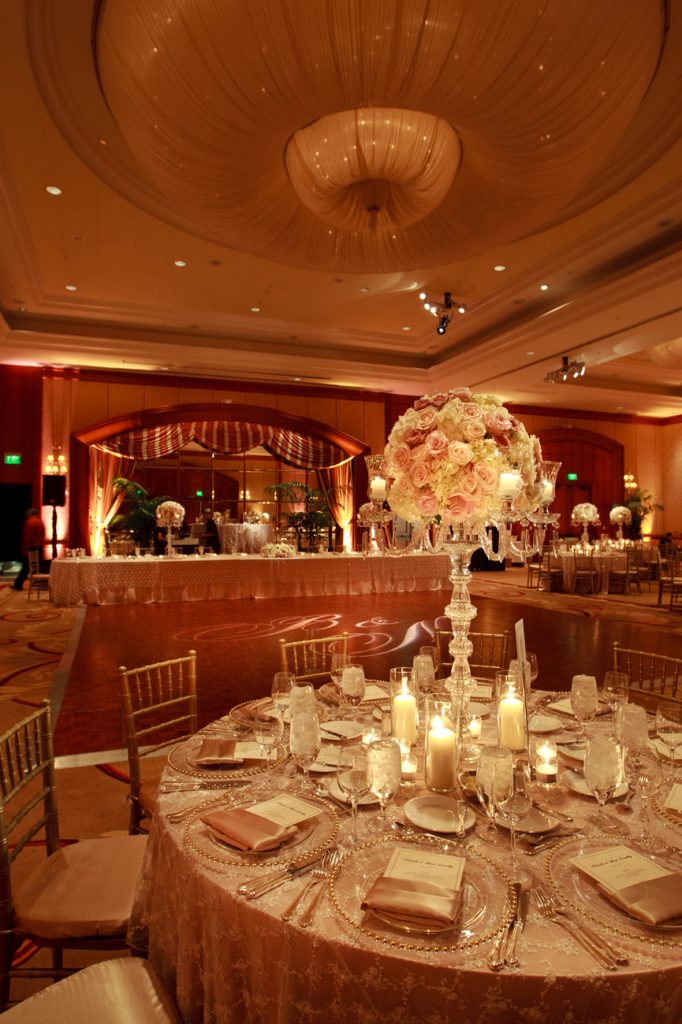 For every bride looking for a wedding that's outside the box, there's another who is equally set on having a classically tasteful affair. "A traditional wedding now is more timeless and elegant," explains Kelsey Connelly, owner of Newport Beach-based event planning company Kelsey Events.
Less thematic weddings allow couples to incorporate important customs that otherwise might get lost in the shuffle. "It might be culture, it might be religion," Kelsey shares.
These types of celebrations usually mean more guests—therefore, an accommodating venue is key. Kelsey also notes that conventional brides and grooms are choosing to hold outdoor ceremonies and then migrate to a lushly decorated ballroom with plenty of space for the reception. Clean, white linens on round tables, fresh flowers and large centerpieces are the marks of a classic wedding, as is the choice to have a live band as opposed to a DJ.
"Traditionally, you have a band at a wedding," Kelsey says. "… [A band] can read the crowd and [cater to] exactly what they see."
Ultimately, what's traditional to one family is not necessarily the same for another. But as long as a couple stays true to their own aesthetic—whether that's a classic white wedding or a cultural combination—they will be able to look back on their wedding day with fond memories.