Stay on trend with the latest collections, styles and stores to hit Newport this fall.
By Lauren Matich
Open Season

South Coast Plaza is welcoming a slew of new and redesigned stores this fall.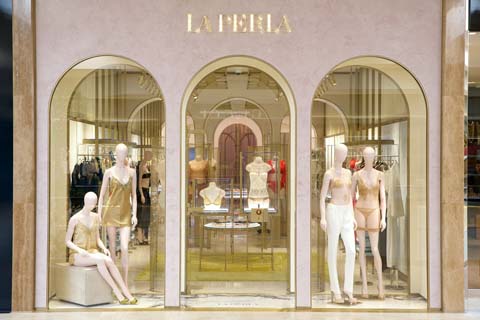 LA PERLA, the luxury lingerie brand celebrating its 60th anniversary this year, debuted a renovated boutique in August featuring intimate confessional-inspired fitting rooms and an Italian design by architect Roberto Baciocchi. (714-754-7500; laperla.com)
ILORI OPTICAL opened its 1,500-square-foot location in September, offering designer eyewear from the likes of Tom Ford, Persol, Dita and Blanc. (714-556-7808; iloristyle.com)
October marks the release of a watch collection from TORY BURCH, which will debut in the new 3,400-square-foot boutique that opened in September and houses the prolific designer's women's sportswear, handbags and shoes. (714-689-0450; toryburch.com)
Evelyne Chetrite and her son Ilan make up the team behind SANDRO, a Parisian retailer bringing its collections for men and women to Carousel Court in October. (us.sandro-paris.com)
Opening in November in the Crate and Barrel wing, THE NORTH FACE, a brand dedicated to preserving and exploring the great outdoors, will provide apparel, footwear and gear for any adventure. (thenorthface.com)
Judith Milgrom's French label, MAJE, will open in November with feminine and edgy apparel that captures the style of Parisian streets. (us.maje.com)
---
A Signature Collection
An institution of department store shopping, Bloomingdale's is offering guests a collection of exclusive merchandise to fill its small, medium and large brown bags. "100% Bloomingdale's is a storewide initiative to procure the most exciting, on-trend and entirely exclusive merchandise," explains Brooke Jaffe, Bloomingdale's operating vice president of fashion direction for women's ready-to-wear.
To curate the 1,000-piece capsule collection, Bloomingdale's collaborated with 100 of shoppers' favorite designers, who crafted original items in departments that span apparel for women and men, home goods and accessories. DKNY, for instance, mastered the open-shoulder craze with a sleek V-neck dress with shoulder cutouts. "[DKNY also] made a gold foil lace skirt and top set that can be worn with their extra cool leather moto jacket," Brooke adds.
On Oct. 22, a DKNY fashion presentation at the Fashion Island store will showcase the rest of the brand's collection made exclusively for Bloomingdale's. The following day, the South Coast Plaza location will highlight the best 100% Bloomingdale's ensembles for upcoming holiday gatherings. (bloomingdales.com)
---
Take Five
With the changing season comes a change in wardrobe. Refresh your closet with monochromatic tones and high contrast patterns—experts at Neiman Marcus offer a fashion forecast for fall and winter with five distinct looks to help shape your style in the ensuing months.
Gray Matter: Gray days of fall don't have to translate to a dull, bleak or dreary wardrobe. Tone-on-tone looks for both men and women incorporate hues from every end of the spectrum, from blue-tinted slates to coppery cinereous shades.
Seeing Green: Green takes on a playful approach with shimmering threads woven into apparel along with varying tones; a camouflage blend of olive green, chartreuse and khaki is the season's newest neutral.
Global Influence: Showcase your latest travels—real or imagined—with your wardrobe by mixing patterns inspired by African safari excursions, bold and colorful Asian florals, and Southwestern geometric motifs.
In Her Clutches: Keep a clutch on hand for both day and night looks. From small graphic boxes to oversized envelopes, the chainless bags are continuing to make a big statement this season.
Over and Outerwear: It's time to toss the boring black coat hanging in your closet. Outerwear for autumn 2014 is bold and eye-catching with contrasting patterns, like black-and-white stripes, that create a layered look.