Fine northern Italian cuisine is framed with stunning views at Andrea.
By Micaela Myers | Photos courtesy of pelican hill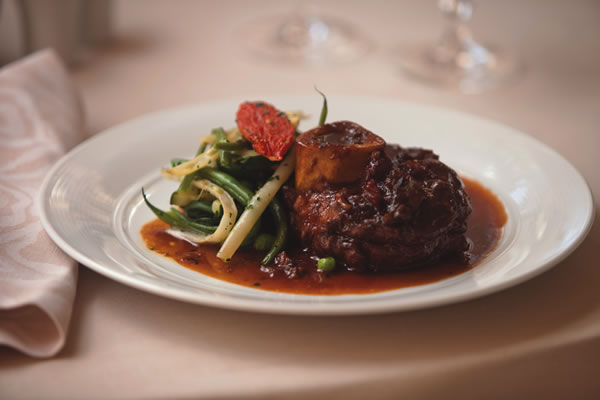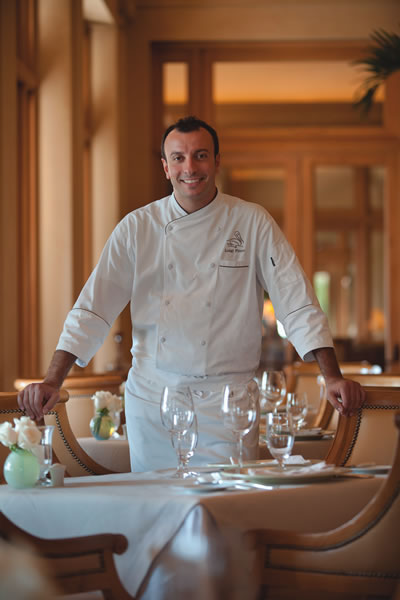 Fine dining, stunning views of the sea and Newport Beach, free valet parking and a new star chef make for plenty of reasons to revisit Andrea Ristorante, the signature northern Italian restaurant at The Resort at Pelican Hill.
In late August, chef Luigi Fineo took on the role of head chef of Andrea, where he is changing the menu every three months to reflect the best of each season. Chef Luigi grew up in Italy and attended the Italian Culinary Institute before moving to the U.S., where he worked as sous chef at Drago Enoteca in Beverly Hills, earned consecutive Michelin star ratings in 2008 and 2009 as executive chef of La Botte Ristorante in Santa Monica, and spent more than two years with the Thomas Keller Restaurant Group at acclaimed restaurants including The French Laundry in the Napa Valley and Bouchon in Beverly Hills.
Known for its extensive wine list (more than 400 labels and 40 kinds of wine), temperature-controlled pasta-making room and classic Italian dishes, the restaurant prides itself on using the best locally sourced ingredients. In fact, chef Luigi doesn't finalize each menu until the ingredients come into season and he can taste for himself the flavor combinations and what items make the grade.
Our recent visit started off with appetizers including the house-cured duck breast carpaccio, made with cervia rock salt and ciresa gorgonzola dressing, as well as seared main diver scallops with stracchino cheese and homemade pancetta; a little black truffle was added to the latter given the timing of our visit and the additional flavor added by these amazing European mushrooms. Black truffles were also added to the aged acquerello risotto, made with maize cream—the best risotto I've ever had, despite the fact I've eaten quite a bit in Italy. I also couldn't resist the stinging nettle potato gnocchi with melted fontina. I remember running into stinging nettle as a kid, but luckily the gnocchi turned these unpleasant memories into good ones. Meat lovers can enjoy entrees such as the Sicilian pistachio pappardelle braised lamb shoulder or the Greg Norman wagyu tenderloin with roasted vegetables, mushroom and bone marrow. Each course was paired with one of the many Italian, California and French wines Andre offers.
Artisan gelatos are made at the resort daily with whole milk, organic eggs and fresh fruit, and Andrea's dessert menu features many of these specialty gelatos with artisan accompaniments. We sampled the vanilla sabayon with passito wine baba, balsamic fig compote and whipped cream, as well as the delicious creamy chocolate almond dacquoise with winter berry poached pear jewels and lemon scented panna cotta.
Whether for a special occasion or romantic night out, the setting, service and cuisine make Andrea a singular destination in Newport Beach. NBM