Gary Hill's historic tugboat the William B combines nostalgia and indulgence.- By  Mike Whitehead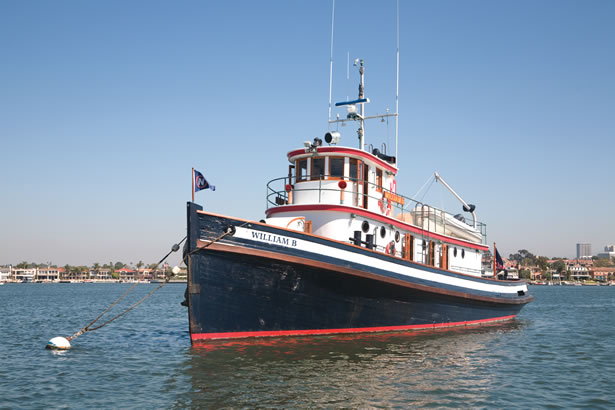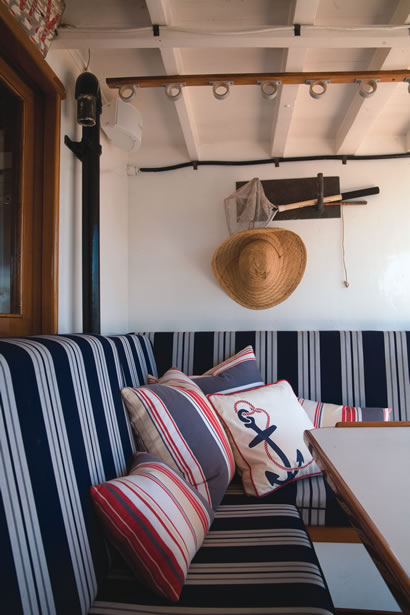 Newport is known for its lavishly-appointed yachts docking behind mansions—and for the celebrities who might be seen onboard sipping Champagne. With eight islands, Newport Harbor is the largest small craft harbor in the country, acting as homeport to more than 9,000 boats.
But alongside the magnificent yachts, there are a handful of working tugboats in the harbor. Tugboats are known as the workhorse of the water—mighty boats that muscle large ships in and out of ports or tow a string of barges. Yet there is a softer side to tugs, as they continue to come alive in children's books and television shows since the release of "Steamboat Willie" in 1928.
Locals and visitors alike will stop and watch as one local tug—the William B—passes by with her black and white hull iconic of years past. Regularly docked at the Newport Harbor Yacht Club, this tugboat is the most popular boat on display during the club's annual opening day ceremonies, as people climb over the stern to be welcomed by the tug's owner—lifelong Newport Beach resident and Newport Harbor High alumnus Gary Hill.
Gary acquired the tugboat in 1988 when it sat idle while damaged on the Columbia River in Oregon. "She was on a tow to Alaska and while coming down the Columbia River, she ran aground and the barge came up and smashed her stern," he explains. "So, I went up to Portland, Ore., with a well-known shipwright named Wayne Ettel and bought her without a survey."
At first, the damage to the boat seemed like it might be the end of her: "What a wreck she was, now looking back, and she leaked so bad coming down the Oregon coast we thought we might lose her," Gary recalls. "Then she just swelled up and stopped leaking."
Home Base
A resident of Newport Heights, Gary owns Hill's Boat Service, an on-the-water fuel dock situated between the Balboa Pavilion and Balboa Angling Club. His fuel dock holds 40,000 gallons of gas and diesel, and he boasts the only mobile fuel delivery via the waterways on the West Coast through the vessel Tanker 1, a smaller lightener that delivers fuel to yachts around the harbor.
Gary met Sandi, his wife of 34 years, when he was filling her boat's outboard engine with gasoline. The couple has three children—Casey, 28, Morgan, 25, and Carson, 22—two of whom can skipper the William B on their own. Additionally, Carson holds a 100-ton USCG Master's License with a tanker man endorsement.
"They have all enjoyed the tug from San Francisco to the Sea of Cortez," Gary says. "We have done some nice surf trips from the backside of Santa Rosa to the ranch at Point Conception to Scorpion Bay, Baja, and to the east end of Cabo San Lucas."
Growing up Newport Bay, Gary skippered boats before he had his driver's license, and he spent a lot of time on Shark Island—now Linda Isle—with a couple of other Newport locals, including Duffy Duffield of Duffy Boats and Mark Hillgren, owner of the Juno, a yacht. Those were the days when water skiing in the Back Bay was allowed, and after school Gary would visit his father at the fuel dock from his childhood home in Bayshores aboard his 10-foot boat with an old three-horse Johnson outboard.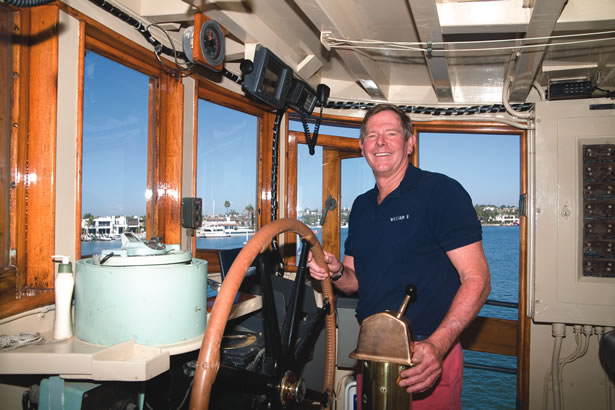 Back from the Dead
The William B is a traditional looking tug with a wooden hull that is planked with Douglas Fir resting on cedar frames. The 77-foot tug was originally built by Puget Sound Bridge & Dredge Company in Seattle for the United States Navy in 1943. Her wooden hull has a beam of 21 feet with a 10.5-foot draft, weighing in at 160 tons. The Foss Tug Company owned the tug from 1963 though 1974, after which several independent tug operators held title until her demise on the Columbia River.
Gary maintains the originality of the tugboat, even while it is being used by his family as a recreational yacht traveling from San Francisco to the Sea of Cortez. The galley is very similar to day one, with an original refrigerator and freezer built for Navy, and the equipment still works great today. He did replace the diesel oven with a propane unit, but stepping into the galley takes one back in time.
However, the electronics onboard were not on the drawing boards yet when the tug's keel was first laid. The bridge now includes Two VHF marine band radios, a Garmin Global Positioning System (GPS), a Foruno Radar, a Foruno fathometer, a Sperry autopilot, an Icom single-sideband, Signet weather, ACR Electronics EPIRB (Emergency Position Indicating Radio Beacon) and a CD Player. But no television is aboard, and Gary says there never will be."The last thing you need on a boat is a TV," he says. "I just like reading and playing all kinds of games."
The tug's single screw makes handling the tug a hands-on, learned skill that is not for the faint-hearted, especially when docking with a huge 10-foot by 5-foot barn door rudder, a massive rudder that is not normally found on boats of today—called a barn door due to its size. The vessel is powered by a Caterpillar D-348, with 725-horsepower turning a single five-blade propeller—hence the term "single screw." This gives a cruising speed of 9 knots with a range of 3,750 miles. The boat holds 6,000 gallons of fuel as well as 800 gallons of fresh water aboard.
The William B can easily sleep more than 10 people, not to mention the expansive working deck area, centered around a bait tank that is mounted amidships, allowing Gary to slow the tug down slightly from its cruising speed to a trolling speed for yellow fin tuna or other fish in the sea. The boat's single head and shower might have a line at the door, but, as Gary says, "This is what we call camping togetherness." For interior sleeping arrangements, the tug has three staterooms with original deck planking on the floors, and two of the rooms have double bunks. Yet, boats are not without creative sleeping areas: The wheelhouse can accommodate one for the evening, the outside dinette turns into a double bunk, and the foc'sle— the forward area near the bow of the boat that is usually the crew's quarters—will sleep five.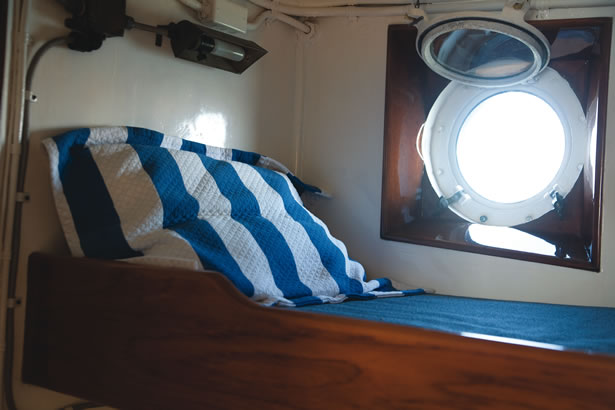 Creature comforts on this boat do not include heating or air conditioning, but there is a supply of fresh water produced from onboard water maker. Electricity is provided by a Northern Lights 8-kilowatt generator for AC power, along with an unusual 120-volt DC power system. After almost meeting her fate on the Columbia River, this resurrected working tugboat now cruises the waterways—but instead of towing a barge, the decks are filled with family and friends. Gary doesn't know how much he's paid to save the William B, but to him, it's worth every penny.
"If I knew how much I put into the tug, it would ruin my day," he says. "What my family has gotten out of this boat in the last 22 years is worth a million dollars to me."
Built 1943 by Puget Sound Bridge & Dredge Co. in Seattle, Wash.
Homeport: Newport Harbor, Calif.
Length Overall: 77 feet
Width/Beam: 21 feet
Draft: 10.5 feet
Weight: 160 tons
Fresh water capacity: 800 gallons
Fuel capacity: 6,000 gallons
Engine: Single Caterpillar D-348
Horsepower: 725
Prop: 5 Blade SS
Cruising Speed: 9 knots
Range: 3,750 miles
Fuel consumption at cruising:
1.6 gallons per mile
Generator: Northern Lights, 8 kilowatts
Bait capacity: 110 gallons, 10 scoops
Electronics: 2 VHF marine band radios, Garmin GPS, Foruno Radar, Foruno
fathometer, Sperry autopilot, Icom single-sideband, Signet weather, ACR Electronics EPIRB and CD Player
Berths: Three staterooms, foc'sle,
wheelhouse and dinette
Heads: One
Showers: One